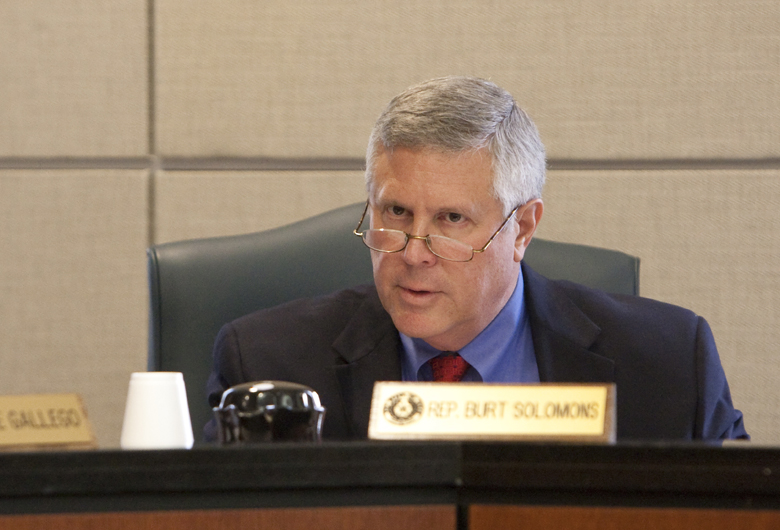 There are 101 Republicans in the Texas House. But according to the map released by Redistricting Committee Chair Burt Solomons, R-Carrollton, not all of them will get re-elected.
Some Republicans are concerned because the in new map, according to one analysis, only 92 districts would be likely to elect a GOP candidate in the next election. Solomons was unapologetic as he laid out his proposal today.
"This is a map that directly represents the input that was provided to my office from the members. I recognize that there are members who are not pleased with the results of the map," said Solomons. "However, this was a process which lead me to make some very difficult decisions."
Luis Figueroa says the map is disproportionate. Figueroa is with the Mexican American Legal Defense and Educational Fund. He says Solomons' proposal drops the number of Texas House districts with a majority of Latino registered voters from 29 to 28 — despite Census numbers showing 65% of the state's population growth over the decade has been Latino.
The Texas Tribune thanks its sponsors. Become one.
Audio: Ben Philpott's story for KUT News
Figueroa offered his own version of a redistricted map. It would add five Latino districts. The map does not follow a Texas constitutional edict to keep county lines intact if at all possible. Figueroa told Republican Larry Phillips that that is allowable under the federal Voting Rights Act.
"We believe the Voting Rights Act trumps the county line [rule] because federal law always trumps state law," said Figueroa.
Phillips and other Republicans on the committee weren't pleased to hear about the idea that federal law would trump state law.
Figueroa says there's also a problem with the way the state's Asian population was treated in the map. Specifically when looking at two majority Asian population districts in Houston that would be redrawn into one.
Solomons' committee is scheduled to meet again on Sunday and could vote on a House map as early as next week, sending it to the full House for debate.
Texas Tribune donors or members may be quoted or mentioned in our stories, or may be the subject of them. For a complete list of contributors, click here.