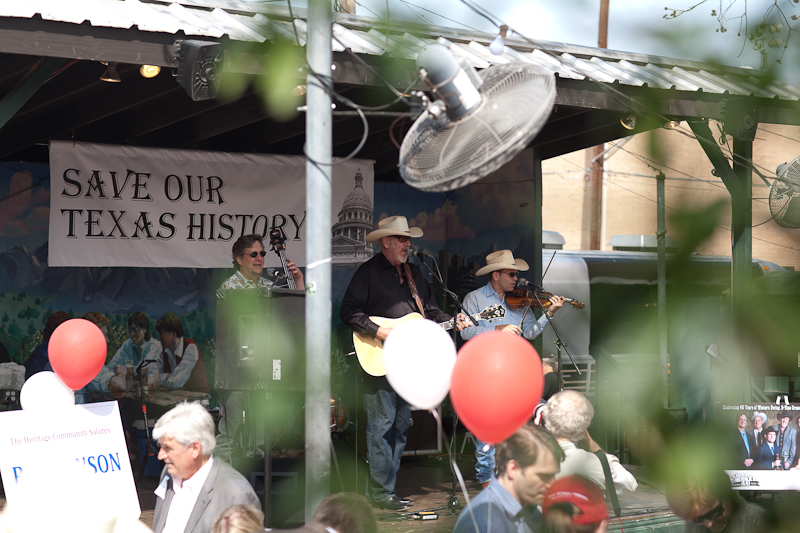 With the strum of a guitar and the whine of fiddle strings, Ray Benson and two other members of his band Asleep At The Wheel kicked off a rally Thursday to support the Texas Historical Commission, which faces deep budget cuts.
Benson and other supporters used the afternoon rally at Scholz Garten in Austin to raise awareness and morale for preservationists, who fear the loss of an agency the governor has recommended defunding.
Benson, a Grammy-winning musician who was just named the Texas Legislative Conference's Texan of the Year, said he came to Texas more than 40 years ago because of the state's music and culture. He said he cannot believe lawmakers are contemplating shutting down the state agency that looks after the state's history.
Although Gov. Rick Perry has recommended shuttering the agency, both the House and Senate budgets include far-reduced funding for it. Supporters have argued that the 77-percent cut in funding in those budget bills would mean eliminating most of the commission's programs — among them the Heritage Trails, Courthouse Restoration and Main Street programs, which bring money to small towns and tax revenue into the state's coffers.
The Texas Tribune thanks its sponsors. Become one.
The Senate Finance Committee has added funds for many of the commission's programs. The House budget bill, which goes before the full chamber on Friday, has added funding for just the Heritage Trails program.
Mark Wolfe, executive director of the commission, said Thursday he is encouraged by the Senate's willingness to add money. But former agency commissioner J.P. Bryan told the crowd that Texas history is under attack.
"I never thought I would be defending the history of the state of Texas, and if I did, I thought I would be defending it from some outside invading force, not from within the state," Bryan said.
Bryan suggested Perry must have skipped the grade where Texas History was taught in school.
"We have a sacred charge to keep, to protect and to make sure that this special history gets passed on to the next generation," he said.
Texas Tribune donors or members may be quoted or mentioned in our stories, or may be the subject of them. For a complete list of contributors, click here.