Surging Growth of Neonatal ICUs Brings Increased Budget Scrutiny
State health officials, searching for solutions to Texas' budget shortfall, are eying neonatal intensive care units, which they fear are being overbuilt and overused by hospitals eager to profit from the high-cost care.
An unlikely battlefield in Texas' budget war is a hushed pink-and-blue hospital nursery, where 1- and 2-pound babies bleat like lambs under heating lamps and neonatal nurses use tiny rulers to measure limbs no bigger than fingers.
State health officials, searching for solutions to Texas' multibillion-dollar budget shortfall, have set their sights on these neonatal intensive care units, or NICUs, which they fear are being overbuilt and overused by hospitals eager to profit from the high-cost care — and by doctors too quick to offer pregnant mothers elective inductions and Caesarean sections before their babies are full term.
The Texas Health and Human Services Commission (HHSC), under the gun to find cost savings in the state's huge Medicaid program, suggested last month it could save $36.5 million over the next biennium by better managing which babies end up in NICUs, curbing so-called convenience C-sections and refusing to finance elective inductions before the 39th week of pregnancy.
"When we look at the data, it indicates that, yes, there is overutilization of NICUs — more babies are being put in NICUs than need to be in NICUs," said HHSC Commissioner Tom Suehs, adding that two of his own grandchildren were put in Texas hospital NICUs in the last two years, even though they were healthy and their deliveries were uncomplicated.
Lawmakers are not ready to say with certainty that Texas has a NICU overutilization problem, though their comments suggest it. "We are seeing some trends that are a bit troubling," said State Rep. Lois Kolkhorst, R-Brenham, who has filed legislation to create a commission to study NICU use. Added Sen. Jane Nelson, R-Flower Mound: "We don't want to reduce services, but we need to combat inefficient, unnecessary use."
Nor will most hospitals admit to a NICU problem. Couple Texas' high birth rate, low health insurance coverage and limited prenatal care with the growth of in vitro fertilization, multiple-baby births and so-called geriatric — or past the age of 35 — pregnancies, hospital administrators say, and you have a full NICU. "The services exist because they fill a need," said Amanda Engler, spokeswoman for the Texas Hospital Association.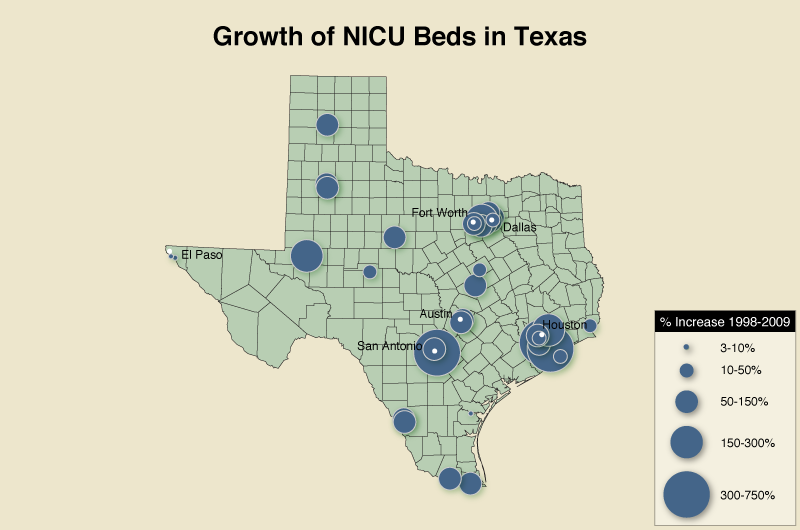 A need that Natasha and Mark Rosen felt acutely when their son Matthew was born at 1 pound, 14 ounces at Austin's Seton Medical Center in January, after Natasha had complications with her placenta and started contracting three months before her delivery date. "He only had a 35 percent chance of survival," she said, holding Matthew, still tethered to plastic tubes and no bigger than a kitten, against her chest, in a daily break from his incubator. "We were so lucky to be here."
The data suggests NICU beds may not be proliferating due to natural demand alone. Births in Texas are up nearly 18 percent since 1998, according to state health statistics. Meanwhile, the number of NICU beds in Texas hospitals has surged roughly 84 percent, to 2,510 in 2009 from 1,365 in 1998.
State health officials are not shy in suggesting there is a profit motive at play for hospitals. The average routine delivery costs Medicaid $2,500, according to state records; the average NICU stay costs $45,000.
Elective procedures like inducing labor prior to 39 weeks of gestation or delivering a baby via C-section at the mother's request are only contributing to complications that send babies to the NICU, these health officials say. In 1998, C-sections made up 23.8 percent of Medicaid births, state data shows; more than a decade later, they made up 35 percent. In 2009 alone, 137 Medicaid-covered newborns suffered complications resulting from elective inductions, according to state health officials, costing the Texas Medicaid program $1.6 million.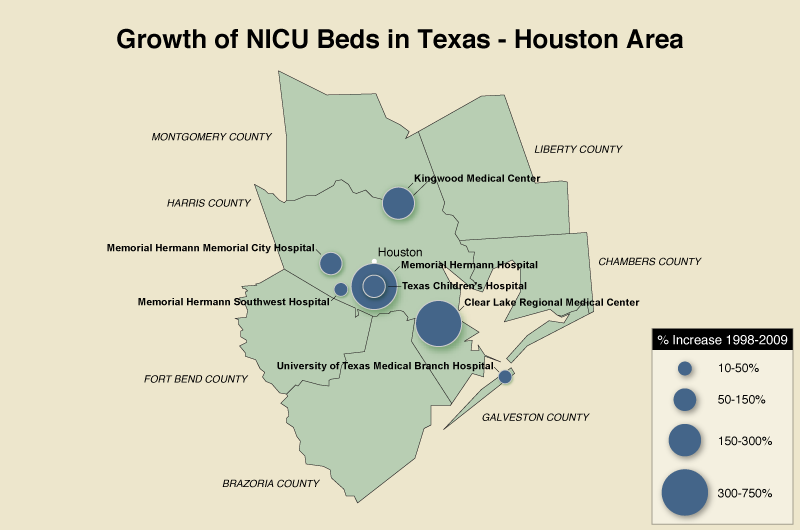 Dr. Charles T. Hankins, a longtime neonatologist at Texas Children's Hospital in Houston and an associate professor of pediatrics at the Baylor College of Medicine, suggested there is a far more nuanced motive than pure profit. Hospitals — hard hit by low reimbursement rates and high malpractice costs for routine obstetric care — are simply looking for ways to make up the difference. "A lot of facilities realize if they had a Level 3 nursery, they could help offset their costs," he said.
He thinks the NICU boom is often driven less by hospitals than by obstetricians, who do their residency training in facilities with NICUs and cannot imagine not having one available for their patients. "The doctors want their patients to be happy, and the hospital administrators want to keep the doctors happy," he said.
The problem is that diagnosing the need for neonatal care can be subjective, Hankins said. If a hospital wants to increase its NICU census, providers can admit more infants or lengthen their stays — and parents generally trust those assessments. And he said there is no state oversight, either of admission and discharge best practices, or of how NICUs advertise themselves. Some hospitals convert Level 2 NICU beds to Level 3 NICU beds with little to no increase in infrastructure or technology, he said, and no one challenges the designation.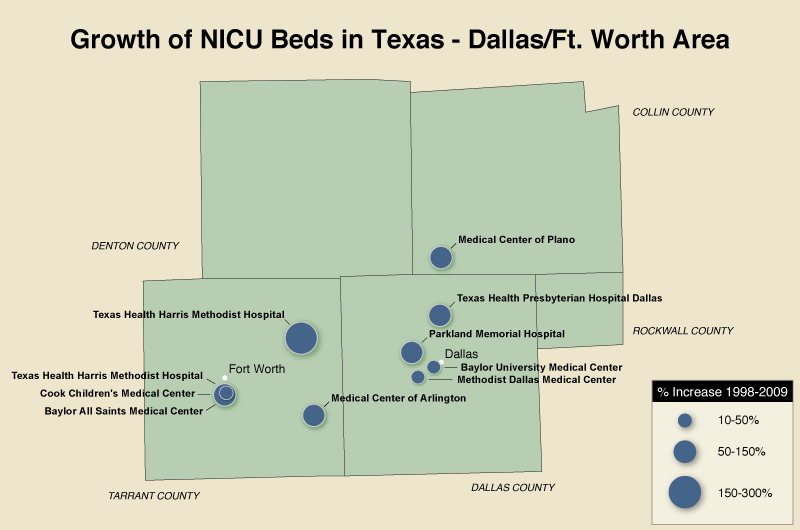 State health officials acknowledge that the NICU designation is up to the hospital and is not reviewed by the state. "Hospitals are willing to work together to accomplish the optimal care for these babies," Hankins said, but added that they need proper guidance to do so.
Some state lawmakers question what Texas' Medicaid program has been doing, if not offering this guidance. The growth in NICU beds — much of it along the Texas-Mexico border, which has the youngest population in the state, and in suburban hospitals outside of Houston, Dallas and San Antonio — comes despite years of improvements in prenatal care for mothers on Medicaid, the joint state-federal health program that covers more than half of Texas births.
"One of the tenets of Medicaid has long been better prenatal care, and less babies needing NICUs," said Sen. Bob Deuell, R-Greenville, a family practice doctor who, in a recent Senate hearing, suggested the cost savings health officials are looking for may not be ample in the delivery room.
But Dr. Frank Mazza, vice president and chief patient safety officer for the Seton Family of Hospitals, said state health officials are on the right path in considering birth inefficiencies. When Seton made the almost unheard-of move in 2005 of prohibiting elective inductions before 39 weeks — part of a system-wide effort to improve perinatal safety — the number of babies admitted to the NICU fell off dramatically. The hospital's revenue from them also dropped by 95 percent, to $186,000 per year from roughly $4.5 million per year.
"We should have in Texas the safest health care and the most cost-effective health care," Mazza said. "By keeping babies out of the NICU, you accomplish both."
Still, even Mazza acknowledged that if his own wife were having a baby today, he would choose a hospital with all the bells and whistles. "Of course I'd want her in a hospital with a NICU," he said, "with the latest and greatest technology."
Texas Tribune donors or members may be quoted or mentioned in our stories, or may be the subject of them. For a complete list of contributors, click here.
Your New Year's resolution list isn't complete without …
… supporting the Tribune. This new year, resolve to do your part to sustain trusted journalism in Texas. Join thousands of readers who power The Texas Tribune's nonprofit newsroom.
Donate now