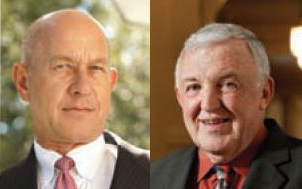 Abolishing the state's two existing juvenile justice agencies and creating one new department to prevent crime and treat and punish young offenders could save Texas up to $150 million, state Rep. Jerry Madden, R-Plano, and state Sen. John Whitmire, D-Houston, said at a press briefing today.
Madden, chairman of the House Corrections Committee, is holding the first of several hearings on HB1915 tomorrow. The bill would abolish the Texas Youth Commission and the Texas Juvenile Probation Commission and establish a Texas Juvenile Justice Department that would deal with young offenders. It's a move that the Texas Sunset Commission recommended as a cost-saving measure. But Madden and Whitmire said their hope is to do more than save money. The goal, they said, is that the new agency, along with other reforms, will continue efforts the state started in 2007 to revamp its approach to juvenile justice. "The time is now right to take advantage of the situation we're in," Madden said.
Whitmire said their reform plan would expand pilot programs started two years ago that keep young offenders in their communities for treatment and confinement instead of sending them to far-flung, rural TYC facilities. Most young offenders come from urban communities in Texas, and Whitmire said the pilot programs in cities like Houston have shown that youths who stay closer to home for treatment are less likely to commit future offenses. In urban areas, he said, resources like mental health care providers and substance abuse treatment are more readily available. In rural areas, those resources are harder to find. "It'll be a win-win situation," Whitmire said.
The plan would also close some TYC facilities in rural Texas. Those could be mothballed, some could be used by the local governments in the towns and counties where they are located and some might be repurposed as treatment centers for repeat DWI offenders in the adult corrections system, the lawmakers said. "I'm very optimistic we're going to pull this off," Whitmire said.
The Texas Tribune thanks its sponsors. Become one.
Both were careful to emphasize that the reform plans would not turn violent youths loose on the streets. The most dangerous offenders would still be locked in secure facilities. Already, the TYC population has dropped from more than 5,000 to about 1,400 because of previous reforms that allow only felony offenders to be sentenced to youth prisons. With so few youths in its custody, Whitmire said, it makes little sense to keep the large TYC agency as it is. "Why go forward with that kind of bureaucracy?" he asked.
Texas Tribune donors or members may be quoted or mentioned in our stories, or may be the subject of them. For a complete list of contributors, click here.