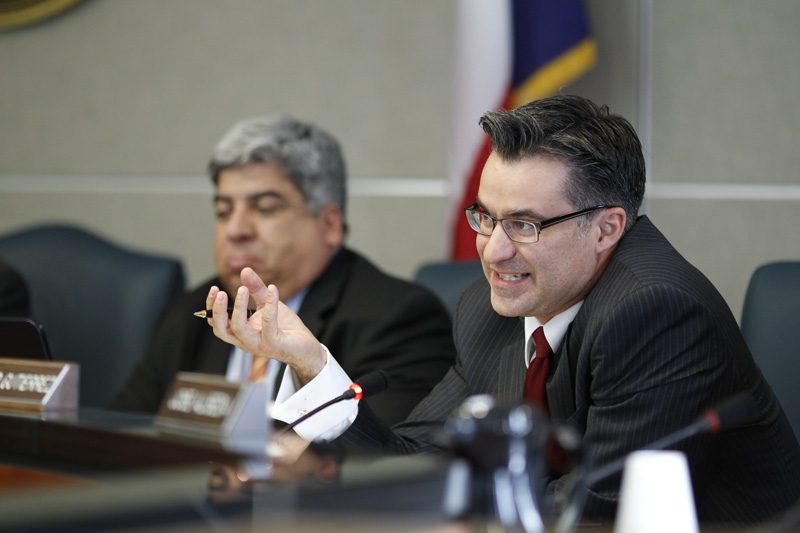 The controversial voter ID bill came before the House Select Committee on Voter Identification and Voter Fraud this morning — and it was a tense scene.
Even supporters of the measure had to grapple with some tough public testimony from people who endorse the bill on anti-illegal immigration grounds.
"The danger of voter fraud is the illegals that come into this country and vote fraudulently," said David Carter, an elections volunteer from Temple. "Photo ID kills that problem."
But state Rep. Aaron Peña, R-Edinburg, said there is surely not a "horde of illegal immigrants voting."
The Texas Tribune thanks its sponsors. Become one.
"It's a distraction and unjustified fear," said Peña, who supports the voter ID legislation because he says it will increase voter confidence.
Supporters of the bill argue that voter impersonation is a real problem but that it's hard to prove because of current voter registration laws. B.R. "Skipper" Wallace, legislative chairman of the Texas Republican County Chairmen's Association, said the only way to prove voter impersonation is for the election judge to know the person presenting a fraudulent registration card.
Gary Bledsoe, president of the Texas NAACP, said he is afraid that a photo ID requirement will disenfranchise some Texans, especially the poor and minorities.
"There seems to be a lot of anti-minority sentiment that seems to be occurring, and I feel that that anti-minority sentiment is at the root of some of these issues revolving around voter identification," he said. Bledsoe said a far greater problem than voter impersonation is intimidation at polling places.
Rep. Rafael Anchia, D-Dallas, who attended the meeting even though he is not on the committee, said it's wrong to assume all Texans have a driver's license or other form of ID.
Anchia said he believes the voter ID bill is missing a real potential cause of voter fraud: mail-in ballots, which are exempted from the measure.
The Texas Tribune thanks its sponsors. Become one.
"It misses the mark," he said of the bill.
The committee left the bill pending and will reconvene after the House adjourns today.
Texas Tribune donors or members may be quoted or mentioned in our stories, or may be the subject of them. For a complete list of contributors, click here.