TDCJ Bans Thousands of Books in State Prisons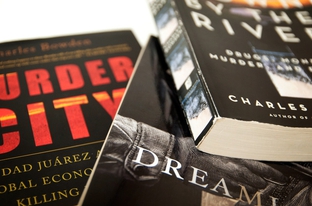 Inmates looking to catch up on their Shakespeare are out of luck. They won't find Love Poems & Sonnets in any Texas lock-up.
The Texas Civil Rights Project released a report today on the list of 11,850 books banned by the Texas Department of Criminal Justice — everything from a collection of DaVinci's sketchbooks to the works of Salman Rushdie. Even some winners of the Pulitzer Prize, the National Book Award and the O. Henry Award aren't allowed.
TDCJ officials say the purpose of the book review is to ensure publications don't "incite tensions" in the prison system. "It's not a matter of picking books we like and don't like," said agency spokeswoman Michelle Lyons. "It's a matter of maintaining a safe environment."
The Civil Rights Project argues the book-banning process is unreliable because it permits titles like Mein Kampf and Che Guevara's Guerrilla Warfare, which shows readers how to make their own mortar, but denies Shakespeare simply because of the cover, which depicts a nude portrait. They said it also leaves too much oversight with the prison mail room, which makes the ultimate decision on whether or not to deny an inmate a book.
Censorship rates have increased in the last five years though the number of inmates has leveled off, said Scott Medlock, director of the organization's Prisoners' Rights Program. And while inmates can appeal a ruling by requesting a review from a TDCJ committee, Medlock said 87 percent of appeals are denied.
"If the low-level mail employees make the wrong decision, that's one thing," Medlock said. "But if you have [virtually] no opportunity to appeal, that's even more disturbing."
Texas Tribune donors or members may be quoted or mentioned in our stories, or may be the subject of them. For a complete list of contributors, click here.