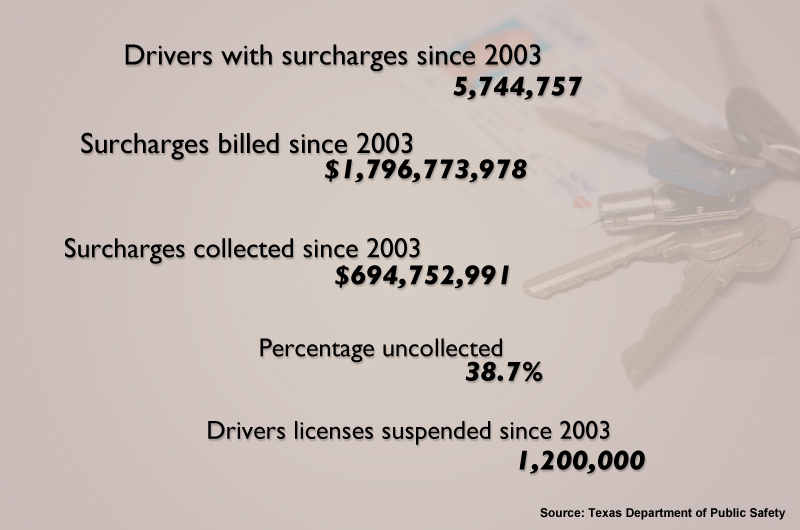 Lives are at stake if the Legislature fails to appropriate the full amount of the Driver Responsibility Program fund, medical professionals said at a Capitol press conference today.
Intended to solve the problem of uncompensated trauma care, the program receives the proceeds from surcharges for moving violations like driving while intoxicated and speeding more than 10 miles per hour over the limit. In initial budget proposals, lawmakers have resisted alloting the fund's full amount for trauma care because it helps pad the state's general revenue account.
"It's sort of a savings account for the state," said Dinah Welsh, CEO of Texas EMS Trauma and Acute Care Foundation. Because the funds are dedicated, they can't be appropriated for any other purpose — so if they're not marked for trauma care, "they sit in an account sort of in the sky," Welsh said. The Legislature appropriated $150 million last biennium for trauma care from the dedicated DRP fund, she said, but an additional $380 million stayed in the DRP account.
Money from the program has helped establish 70 new trauma centers in Texas since it started in 2004, said Dr. Craig Rhyne, EMS medical director for Covenant Health System in Lubbock. When hurricanes Katrina and Ike hit, the additional centers proved vitally important when half of the state's power centers lost power, he said. If they are consolidated to save money, he said, "unequivocally, that won't work" — and people will die.
The Texas Tribune thanks its sponsors. Become one.
"The Legislature, bless their hearts, they need to understand how critical this is in the lives of Texans," he said.
"[DRP] has generated a substantial amount of revenue for the state of Texas, problem is that truly we don't appropriate all of that money," said state Rep. John Zerwas, R-Simonton. "Right now, in the budget that's proposed, all of that money is not appropriated. And, in fact, less than the money we spent last year is intended to be distributed."
According to one study, the state had $200 million worth of uncompensated trauma care in 2003. But Jorie Klein, director of trauma and disaster management at Parkland Hospital in Dallas, said that even though the DRP generates enough money, the Legislature has never appropriated enough money for trauma care. "That means that the trauma centers are absorbing some of the costs of running that trauma center or they're making decisions to cut other programs," Klein said.
Dudley Wait, the city of Shertz's EMS director, says cities with large tax bases don't realize the tremendous difference DRP dollars have for rural areas in Texas. "I'm talking about the parts of the state where they're selling baked goods and barbecue to be able to afford diesel for the ambulance," Wait said. "Their counties and their cities are tapped out."
Texas Tribune donors or members may be quoted or mentioned in our stories, or may be the subject of them. For a complete list of contributors, click here.