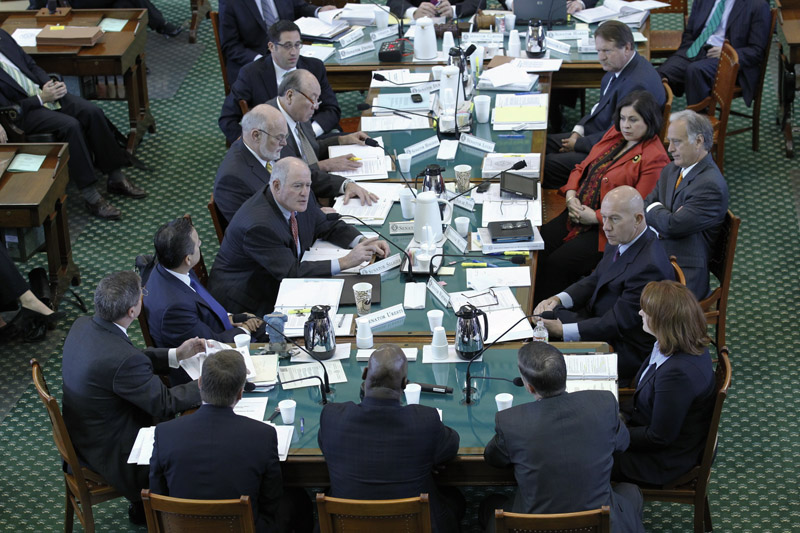 At a state Senate hearing this morning on Texas' rolling blackouts earlier this month, the Electric Reliability Council of Texas released the first list — albeit a very partial one — of power plants that failed during the Feb. 2 crisis.
The list, which Sen. Kirk Watson, D-Austin had pressed ERCOT for, comprised only those generators that had voluntarily agreed to waive their 60-day confidentiality prerogative, and whose information could be double-checked, according to ERCOT.
First on the hot seat in what may be day-long hearing held jointly in the Senate chamber by the Business & Commerce and Natural Resources committees were the state's bigwig utility regulators: Barry Smitherman, chairman of the Public Utility Commission; Trip Doggett, chief executive of the Texas grid operator (ERCOT); and Michael Williams of the Railroad Commission. They tried to explain why 82 power-generating units — roughly one-eighth of the state's fleet — failed on Feb. 2 during extremely cold weather, and what could be done to prevent similar occurrences in the future.
Several senators expressed incredulity that so many plants had gone down when power plants elsewhere in the country routinely manage the cold just fine.
The Texas Tribune thanks its sponsors. Become one.
"If a pipe busts in my house, I know whose fault it is: It's mine," said state Sen. Glenn Hegar, R-Katy.
Power plant operators do file winterization plans with the Public Utility Commission, said Smitherman — although the main impetus in having them file was to make sure the plants were prepared for hurricanes.
Smitherman said he expects to go back and review the weatherization plans. Asked by Sen. John Carona, R-Dallas, whether any legislative action was needed to prevent future recurrences, Smitherman replied, "I think we have all the authority that we need."
Testimony from several other groups will be heard from throughout the day — including from an executive from Luminant, which had several big new coal plant units go down during the blackouts.
Texas Tribune donors or members may be quoted or mentioned in our stories, or may be the subject of them. For a complete list of contributors, click here.