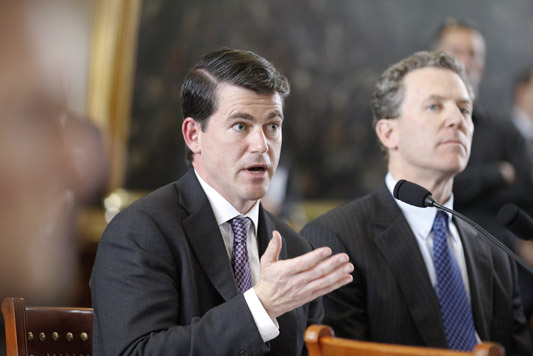 As Senate hearings continued this afternoon at the Capitol, power plant owners tried to explain why so many of their operations failed during the Feb. 2 rolling blackouts.
Luminant's chief executive, David Campbell, said that his company had 11 power-plant units (four powered by coal, seven by natural gas) go down, due partly to faulty instrumentation.
"We're very disappointed that the units went down," he said, adding that the outcome was "very costly for us."
NRG Energy, by contrast, lost one coal unit and had problems getting full production out of some smaller gas plants, but overall it carried through the power crisis at more than 90 percent capacity, according to John Ragan, who heads the company's Texas operations.
The Texas Tribune thanks its sponsors. Become one.
Sen. Mike Jackson, R-La Porte, had some critical words for Luminant, whose coal-plant failures included some of its newest plants. "The brand new stuff ought to be the best," Jackson said.
David Stevens, the chief executive of El Paso Electric Company, which experienced probably the worst outages in the state (though El Paso is not on the rest of the Texas grid), testified that "most" of his company's plants went down in the frigid temperature, due to problems with instrumentation and other issues.
"We have not had this problem for 40-plus years," Stevens said. "I will tell you, we're going to learn from this."
Sen. Troy Fraser, R-Horseshoe Bay, who chairs the Senate Natural Resources Committee, had some warning words for the power companies. "All of you as generators have a seat at the table at ERCOT," he said, referring to the Texas grid operator. "I've always been really nervous at ERCOT because we've always had the market participants designing what we're doing." He added that he expected the power companies to put measures in place to prevent a recurrence. "I would prefer a free-market solution if we can do it," Fraser said, "but, guys, we're here — we're governing."
Texas Tribune donors or members may be quoted or mentioned in our stories, or may be the subject of them. For a complete list of contributors, click here.