Rick Perry at CPAC: Local Government Governs Best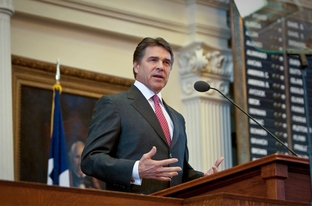 In a rock concert-like setting, at times reaching Howard Dean-like volumes and jumping in the air, Gov. Rick Perry used his speech at the Conservative Political Action Conference in Washington to deliver his resounding message: The government closest to the people is the one that governs best.
"That is beautiful in its simplicity," said Perry, who has denied having ambitions to run for the presidency in 2012 — but stokes the fire with his growing national presence. "The American people are fed up with bureaucrats telling them how to live their lives, unspooling red tape every day," he added.
Perry said that on one hand, the federal government has willfully neglected its responsibilities — a shout-out to border security. On the other, he said, it has intruded. The federal government isn't responsible for "solving every problem for every person in this country," he said. "It's not in the Constitution, I'm sorry."
But he said that doesn't mean Republicans are "reactionary or lacking compassion." "Do you agree with them that the only answer to our challenges is more taxation? More borrowing? More spending? More central control?" he asked. "Me neither."
Perry said he doesn't want to suggest that Texas is somehow problem-free — though, he joked, "it's close." But its problems are "compounded by Washington, D.C., by Washington's obsession with the primacy of their ideas, their love affair with one-size-fits-all solutions." He took the opportunity to again slam "Obamacare" but also to demand a federal waiver and block grants for Medicaid.
"Do what you can," he said, "to elect conservative governors in 2012."
Texas Tribune donors or members may be quoted or mentioned in our stories, or may be the subject of them. For a complete list of contributors, click here.