Community Colleges Uneasy as Ax Hangs Over Health Benefits
The Legislature's initial budget proposals to close four community colleges caught many lawmakers off guard. But what largely escaped their attention — the slashing of health benefits across all such institutions — concerns community college officials the most.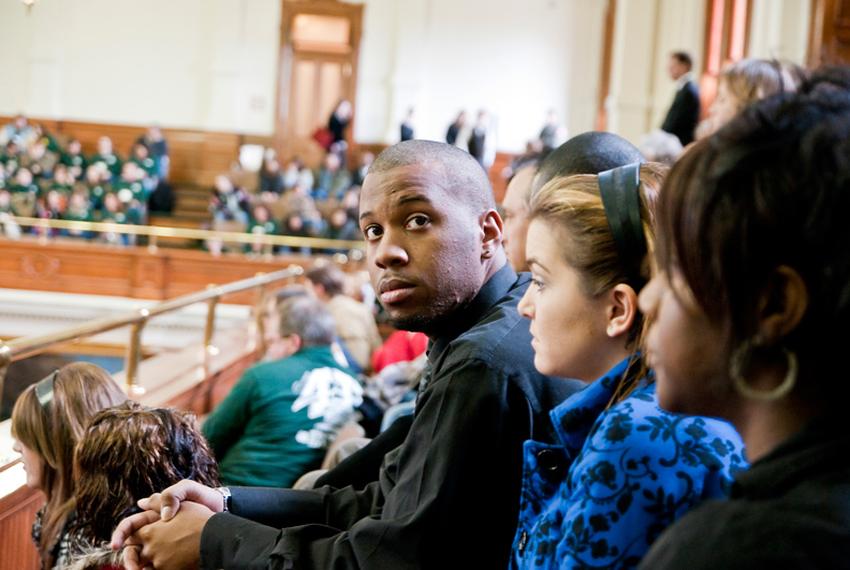 The Legislature's initial state budget proposals calling for the closing of four community colleges caught many lawmakers off guard. But what largely escaped their attention — the slashing of health benefits across all such institutions — is what concerns community college officials the most.
The Senate's proposed budget would finance only 50 percent of health care costs for community college employees, down from 83 percent currently. The House budget would cover even less, about one-fifth of current financing, or $75 per eligible employee per month.
If these cuts are approved, community colleges will have to scramble to squeeze millions of dollars more out of their already tight budgets — most likely leading to fewer teachers, fewer classes and higher tuition for their growing population of students.
"Colleges are going to get smaller; there is going to be less access; there's going to be fewer employees; there's going to be fewer programs. And that has ramifications for the state's economy," said Steven Johnson, a spokesman for the Texas Association of Community Colleges.
Like state agencies and public colleges and universities, community colleges receive state money to cover the premiums for employee health insurance. This financing is discretionary, meaning lawmakers can cut it.
But while community colleges are facing such large cuts in their health coverage financing, Johnson said, such financing for the state's four-year institutions has never dropped below 90 percent.
Texas' community colleges trimmed their budgets by 5 percent last year, on Gov. Rick Perry's orders, and they submitted budgets with 10 percent cuts for the 2012-13 biennium, as state leaders requested.
Leo Zuniga, a spokesman for Alamo Colleges, a community college system in San Antonio, said he was not sure how the schools would further reduce spending or raise more money.
College officials have already taken several steps, including raising local taxes, instituting a hiring freeze, increasing class size and increasing tuition.
Complicating matters is the fact that the student body in the state's community colleges is growing exponentially. Zuniga said enrollment at Alamo Colleges had jumped to nearly 64,000 students in the fall of 2010 from about 52,000 in 2008.
"It is a tremendous reduction," Zuniga said of the proposed cuts, "and I don't know how we would deal with it."
Statewide, community college enrollment has grown by nearly 67 percent since 2000, according to the Legislative Budget Board. Community colleges now educate more than 50 percent of all college students in Texas. In the fall of 2010, 64 percent of all first-time college students enrolled in community colleges, according to the Texas Higher Education Coordinating Board.
State Rep. Dennis Bonnen, R-Angleton, was among the most vocal lawmakers displeased with the House budget, which would close Brazosport College in his district. While Bonnen said he was confident that the college would get enough state money to keep its doors open, he said restoring money for employee health care financing was just as important.
"It's a hell of a cut," he said. "I mean, the money's got to come from somewhere."
Texas Tribune donors or members may be quoted or mentioned in our stories, or may be the subject of them. For a complete list of contributors, click here.
Support public-service journalism that gets the context right
Your donations make our reporting possible and keep it free for all to access. Support our nonprofit newsroom by May 11, and your gift will help us unlock $25,000 in matching funds from our partners at Tito's Handmade Vodka, the Bernard & Audre Rapoport Foundation and the Suzanne Deal Booth Charitable Trust.
Yes, I'll donate today