Advocates: Prison Health Cuts Will Prompt Lawsuits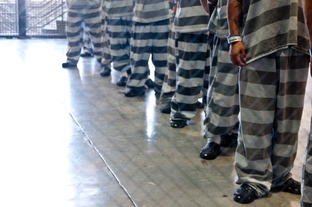 Health care in Texas prisons is already so abysmal it borders on being unconstitutional, according to a report released today by the Texas Civil Rights Project. The cuts lawmakers are now considering, they said, will almost certainly spark lawsuits that could cost Texas more money than it would spend to simply improve the system.
"Cutting the budget for prison health care will be a disaster for taxpayers of the state," said Brian McGiverin, an attorney with the Civil Rights Project.
Texas pays just $9.88 per day per prisoner for health care, according to the Project's report. In California, where the prison system is under judicial supervision and was ordered to release 40,000 prisoners after it was found unconstitutional, the state spends about $28 per prisoner per day. Under proposed cuts lawmakers are considering for the 2012-13 budget, Texas would pay just $6 per prisoner per day for health care. "This would be the ultimate penny-wise, pound-foolish decision," said Scott Medlock, director of the Project's prisoners' rights program.
Instead of slashing the limited care prisons already provide, the Project said lawmakers should require the Texas Board of Pardons and Paroles to more vigorously exercise its authority to release prisoners who qualify for parole, and particularly elderly and ill inmates who are little threat to society but a big cost to care for institutionally.
About 65 percent of the 154,000 prisoners, according to the report, are eligible for parole. And despite the fact that prisoners over the age of 55 make up just 5.4 percent of the total population, they account for 25 percent of prison hospitalization costs. Although doctors have recommended hundreds of severely ill patients for release under medically intensive supervision, the parole board has only granted about 10 percent of those cases.
If more prisoners who are eligible for parole are released from state institutions, more money will be left to provide improved care for inmates who remain behind bars, said Jim Harrington, executive director of the Project. That might mean higher costs to the state for parole services, but that would be less than costly litigation the state could face if its health care services worsen.
Texas Tribune donors or members may be quoted or mentioned in our stories, or may be the subject of them. For a complete list of contributors, click here.