Last Words: "All Right, Warden, Let's Do It."
Before prison officials administer the lethal cocktail of drugs used to carry out executions, the condemned may say their final piece. The Texas Department of Criminal Justice keeps a record of these last statements.
Before prison officials administer the lethal cocktail of drugs used to carry out executions, the condemned prisoners are offered the chance to say their final piece. The Texas Department of Criminal Justice has kept a record of these statements since 1982, when the state resumed the use of the death penalty. Below are some final statements of convicted murderers. Click on the document to see photos of the prisoner and a description of the crime.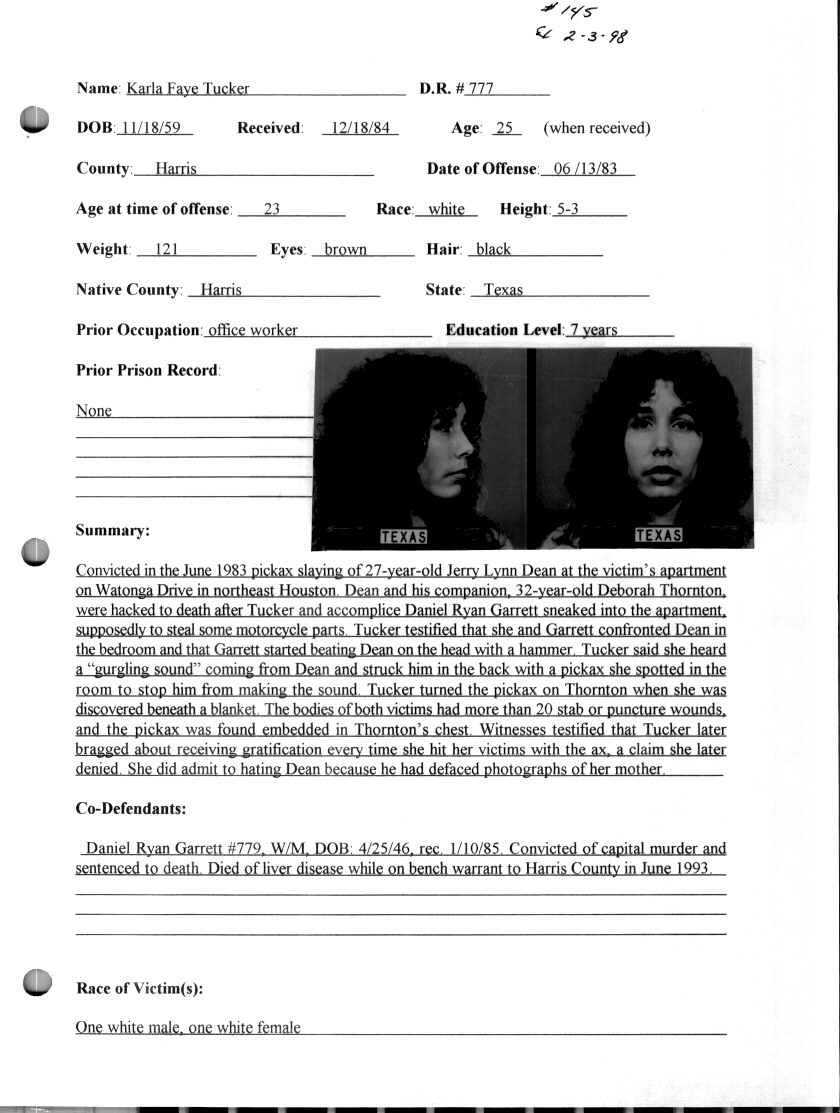 Karla Faye Tucker — Executed 2/3/98
"Yes sir, I would like to say to all of you – the Thornton family and Jerry Dean's family that I am so sorry. I hope God will give you peace with this.
Baby, I love you. Ron, give Peggy a hug for me. Everybody has been so good to me.
I love all of you very much. I am going to be face to face with Jesus now. Warden Baggett, thank all of you so much. You have been so good to me. I love all of you very much. I will see you all when you get there. I will wait for you."
---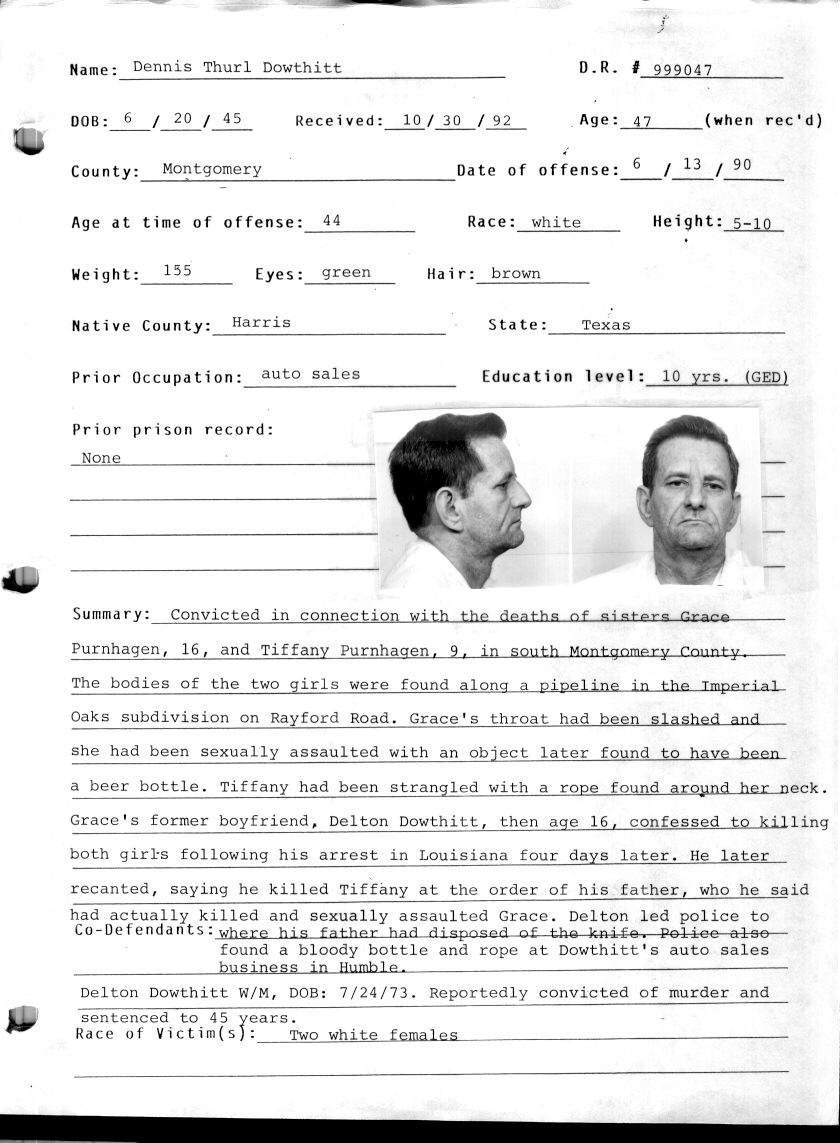 Dennis Dowthitt — Executed 3/7/01
"I am so sorry for what y'all had to go through. I am so sorry for what all of you had to go through. I can't imagine losing two children. If I was y'all, I would have killed me. You know? I am really so sorry about it, I really am. I got to go sister, I love you. Y'all take care and God bless you. Gracie was beautiful and Tiffany was beautiful. You had some lovely girls and I am sorry. I don't know what to say. All right, Warden, let's do it."
---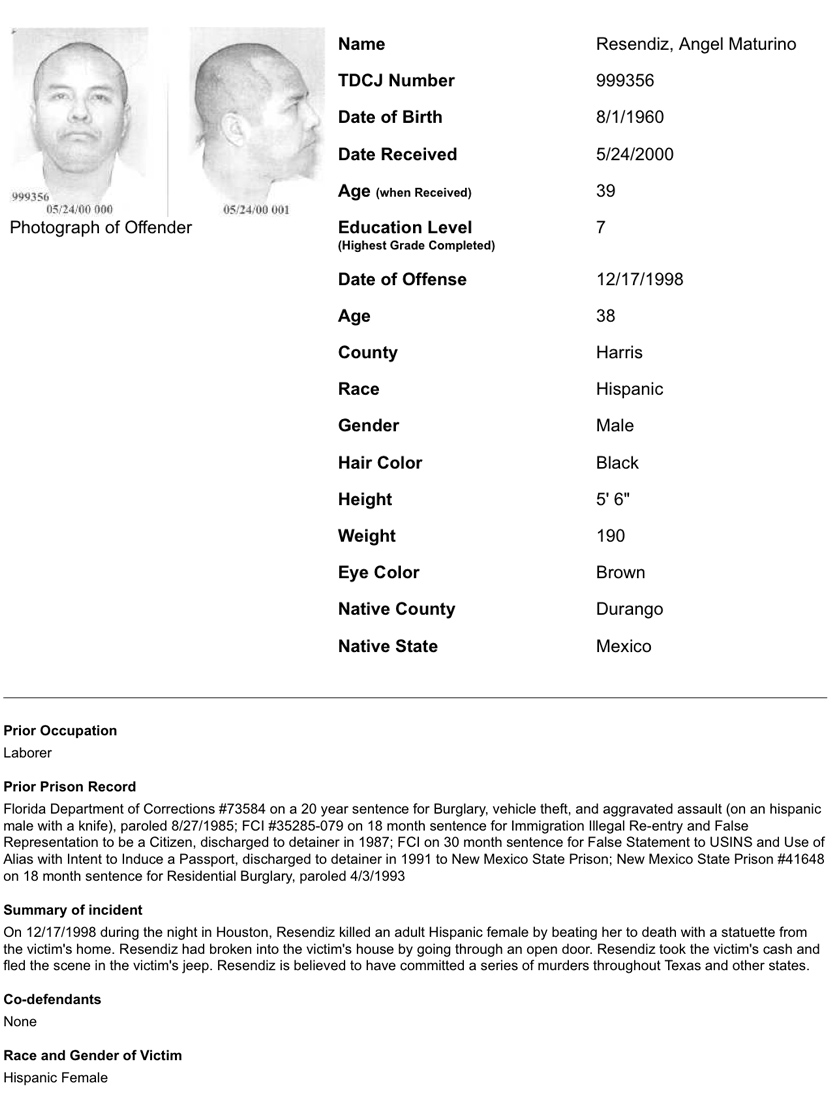 Angel Maturino Resendiz — Executed 6/27/06
"Yes sir. I want to ask if it is in your heart to forgive me. You don't have to. I know I allowed the devil to rule my life. I just ask you to forgive me and ask the Lord to forgive me for allowing the devil to deceive me. I thank God for having patience with me. I don't deserve to cause you pain. You did not deserve this. I deserve what I am getting."
---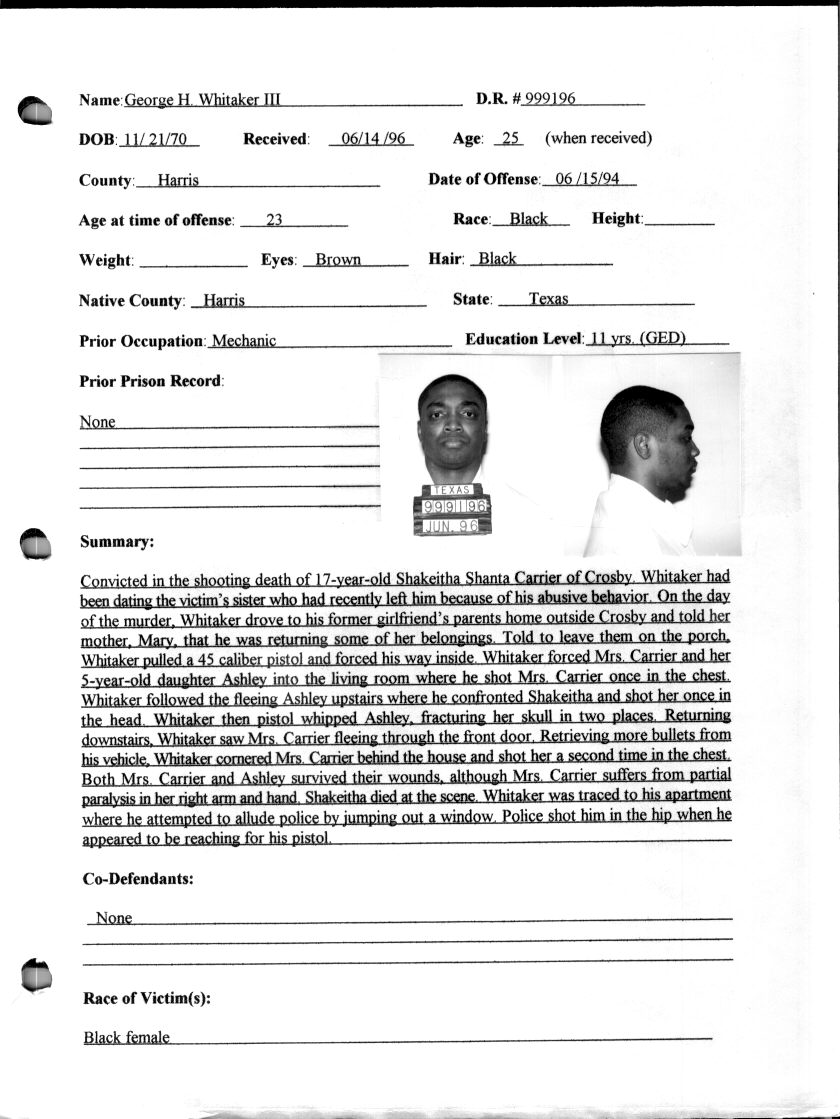 George Whitaker III — Executed 11/12/08
"First off I'd like to say to Mr. and Mrs. Carrier, I apologize for your pain and suffering. I pray Lord, please forgive me. To my family, to my brother Gerard, I love you. Harold, I love you. To my step father Paul, I love you. Momma, I will always love you. Take care of my daughters, Kaneisha and Ieisha. Dad loves you. Continue to pray for me, I am fine. I have made peace with God. Please don't ever forget me. I love you mom. I love you all, take care. I love you too Pop, keep your head up. Take care. I am going to sleep."
---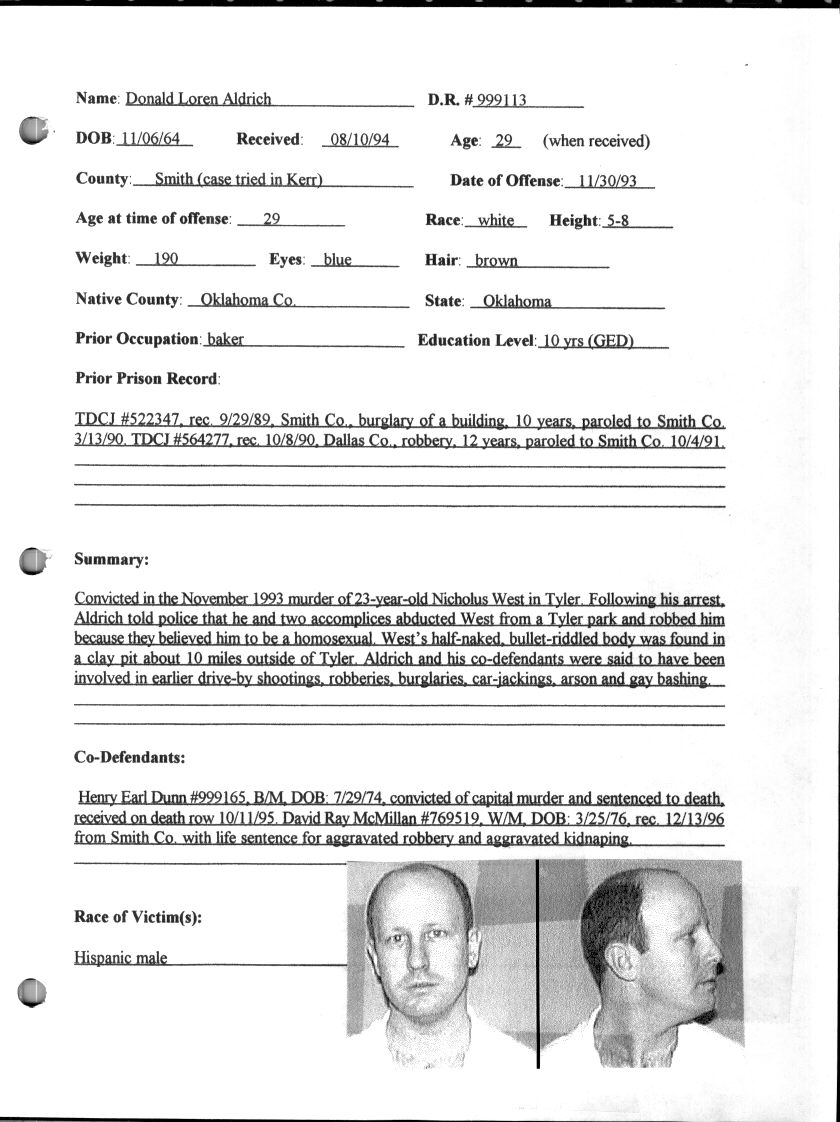 Donald Aldrich — Executed 10/12/04
"Yes sir, I would. To the West Family, I would just like to apologize for your loss. I hope that you can forgive me. To my family and loved ones and friends, I thank all of you all for your support and I am sorry for the pain and hurt I have caused you. I love you all and I will see you on the other side. O.K. Warden."
---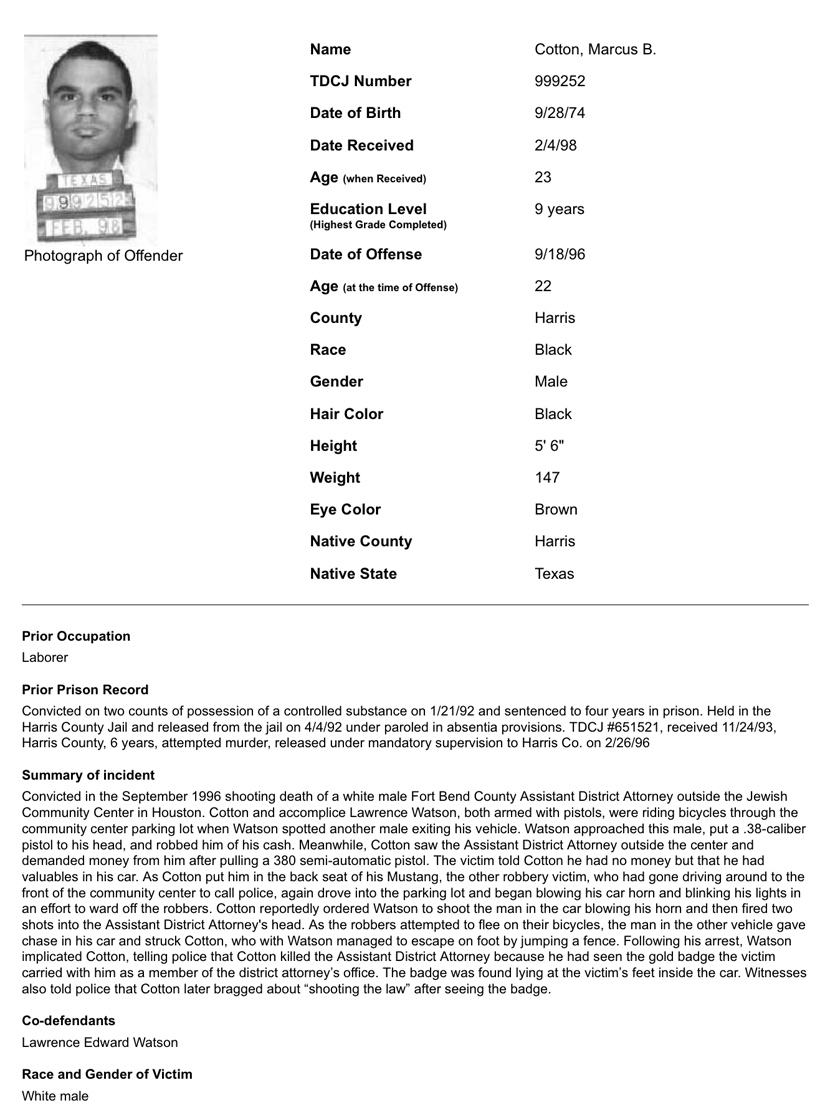 Marcus Cotton — Executed 3/3/04
"Yes Warden, I do. Well Mom, sometimes it works out like this. Love life; live long. When you are dealing with reality, real is not always what you want it to be. Take care of yourselves. I love you. Tell my kids I love them. God is real. He is fixing to find out some deep things that are real. Bounce back, baby. You know what I'm saying. You all take care of yourselves. That is it."
---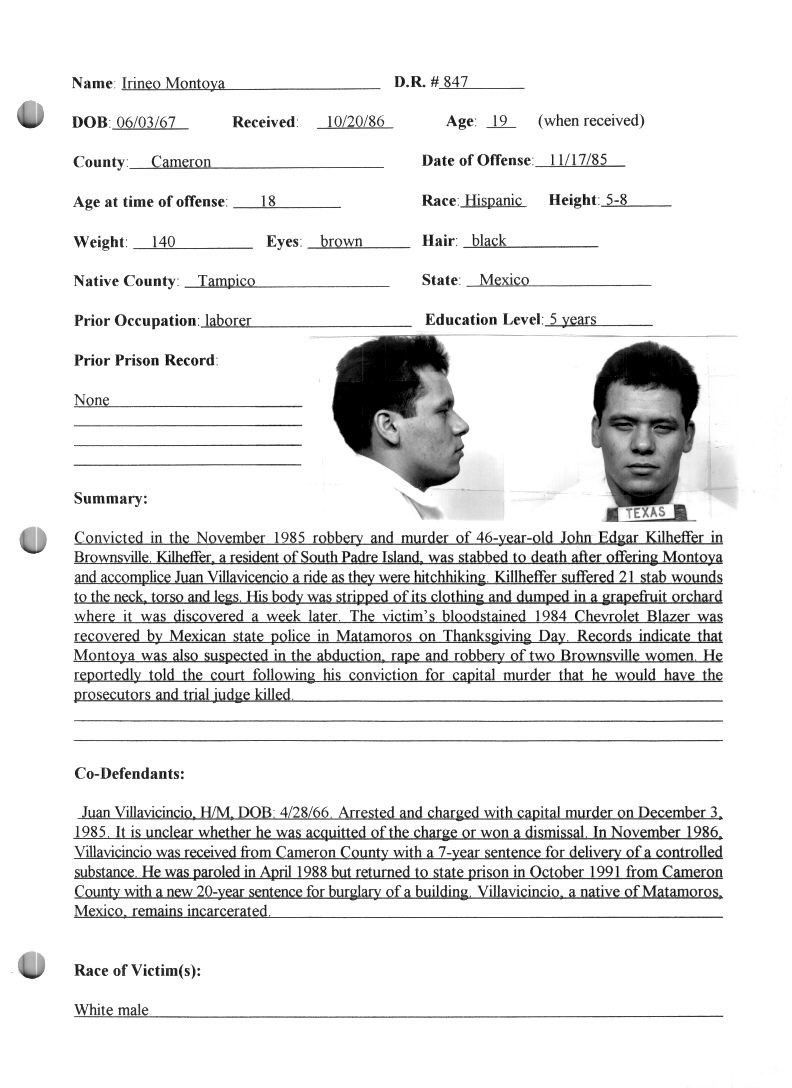 Irineo Montoya — Executed 6/18/97
"Goodbye. I will wait for you in Heaven. I will be waiting for you. I love my parents. I am at peace with God. Fight for the good."
---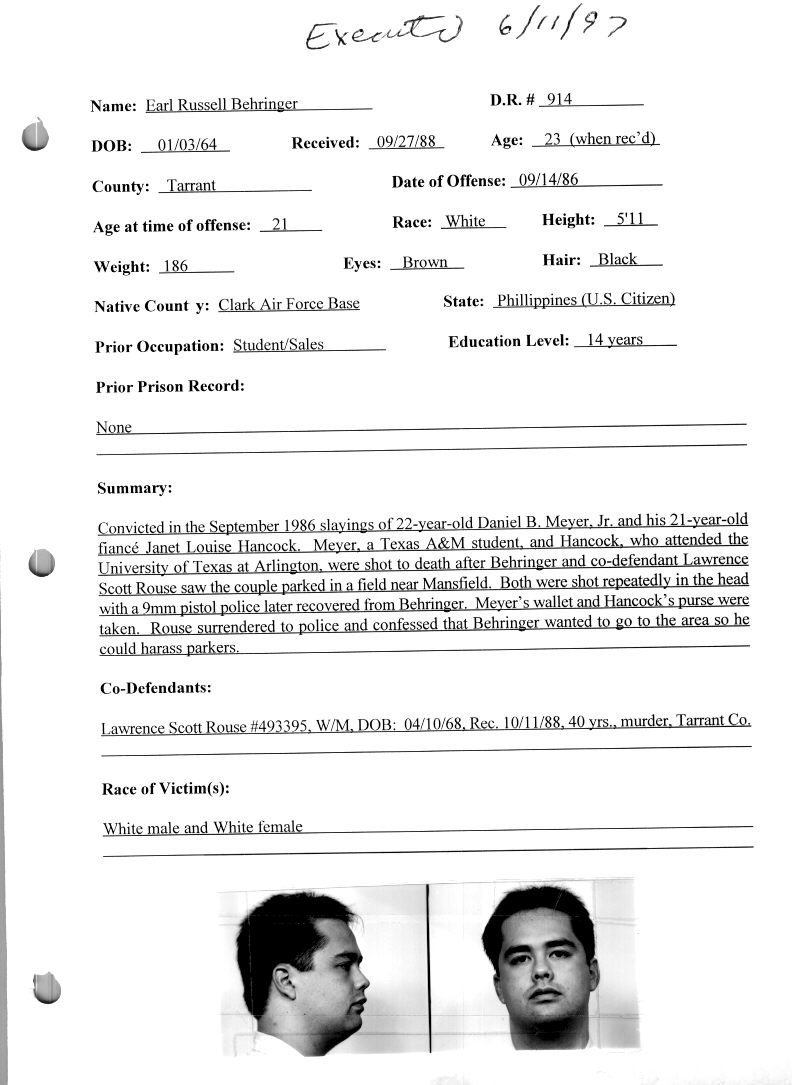 Earl Behringer — Executed 6/11/97
"It's a good day to die. I walked in here like a man and I am leaving here like a man. I had a good life. I have known the love of a good woman, my wife. I have a good family. My grandmother is the pillar of the community. I love and cherish my friends and family. Thank you for your love.
To the Hancock family, I am sorry for the pain I caused you. If my death gives you any peace, so be it.
I want my friends to know it is not the way to die, but I belong to Jesus Christ. I confess my sins. ..."
---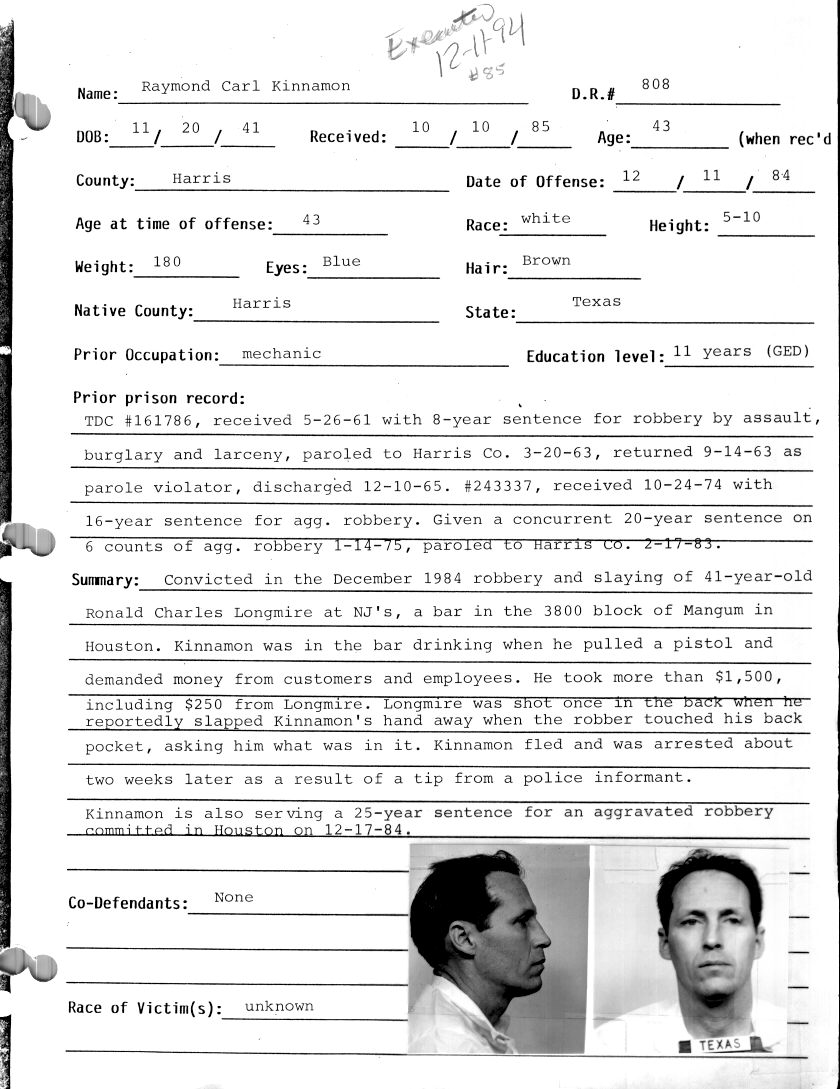 Raymond Kinnamon — Executed 12/11/94
"…guys like them got tied up in something like this. Thank Chaplain Taylor and Jane. I just got your letter. Thanks to Carolyn and Gloria, who have been my friends for over four years. I want to remember Patsy Buntion, Gladys and a lot more friends.
I want to thank the prosecutor in my case; it took courage for him to do what he did but he did what he did because he believed in the judicial system.
I'm not ready to go, but I have no choice; I sent several letters to my family; they'll be very moving when you get them. I want to say goodbye again to my boys. I know I'm missing somebody, but if there's anything I have left to say, it would be that I wish I had a Shakespearean vocabulary, but since I was raised in TDC, I missed out on some of my vocabulary.
If my words can persuade you to discontinue this practice of executing people, please do so. If the citizens don't do away with the death penalty, Texas won't be a safe place to be. I have no revenge because hate won't solve anything."
---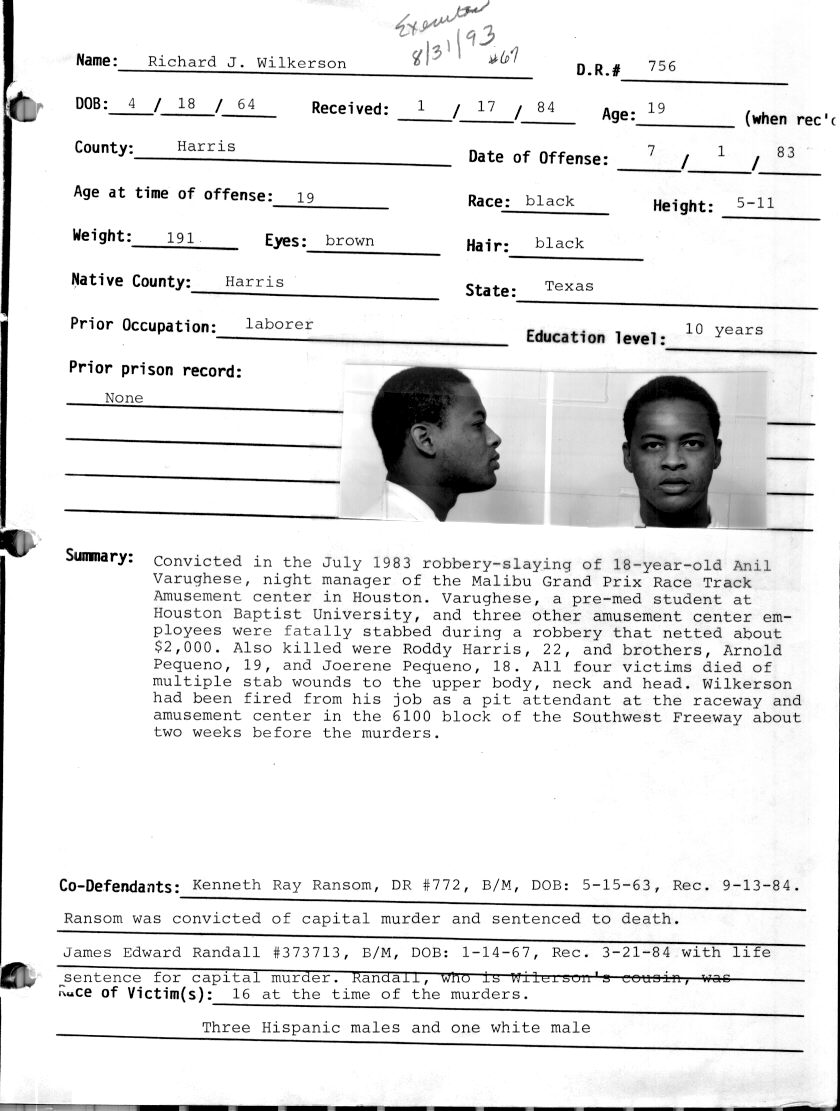 Richard J. Wilkerson — Executed 8/31/93
"Seeing Through the Eyes of a Death Row Inmate"
Sometime I wonder why, why he? Why did he go out into the world to see? To be out there and see what really did exist, now his name is written down on the Death Row list. I can only imagine how lonesome he was all by himself. We both knew he had no future left! His hopes and dreams became a fantasy. He often said, "There's nothing left of me." I have asked myself, why did he get involved with drugs? He could never explain why he hung around with thugs? Did it really make him feel like a king – Did he actually think he was capable of getting away with anything? He knew the thought of life wasn't ticking in his head. There's nothing left but the memory of those who lay dead. What was did, cannot be undone. He was confessed, he was one of the guilty ones. What would he say to the victim's family? – I'm sorry and my head wasn't on straight. I hope you will accept my apology, even though it's too late. I never knew I would take a life and commit a crime. I regret it because now I have to face the lethal injection while doing death row time. I knew I would pay with struggle and strife, but I never thought the cost would be me losing my life.
Written through his sister, Michelle Winn
---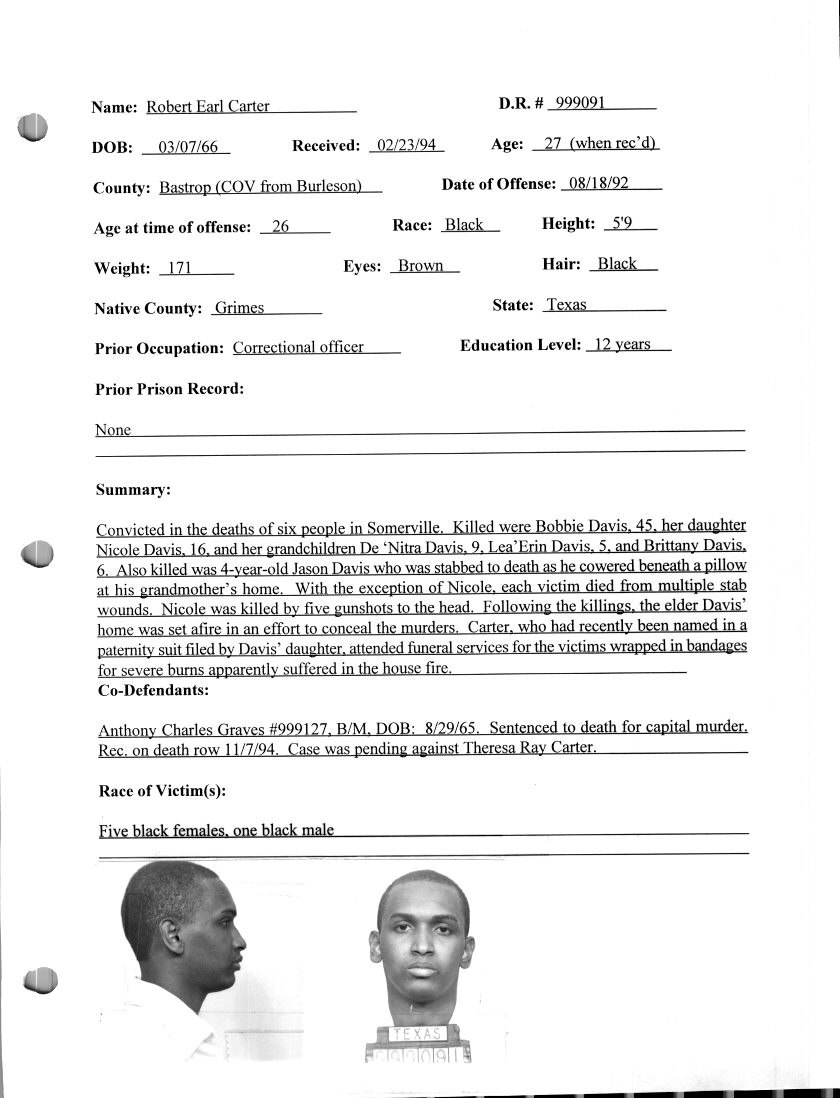 Robert Carter — Executed 5/31/00
"To the Davis family, I am sorry for all of the pain that I caused your family. It was me and me alone. Anthony Graves had nothing to do with it. I lied on him in court. My wife had nothing to do with it. Anthony Graves don't even know anything about it. My wife don't know anything about it. But, I hope that you can find your peace and comfort in strength in Christ Jesus alone. Like I said, I am sorry for hurting your family. And it is a shame that it had to come to this. So I hope that you don't find peace, not in my death, but in Christ. Cause He is the only one that can give you the strength that you need. And to my family, I love you. Ah, you have been a blessing to me and I love you all and one day I will see y'all, so I hope y'all find y'all peace, comfort, and strength in Christ Jesus alone, because that's where it's at. Abul, behold your son, and Anitra, behold your mother. I love you.
I am ready to go home and be with my Lord."
---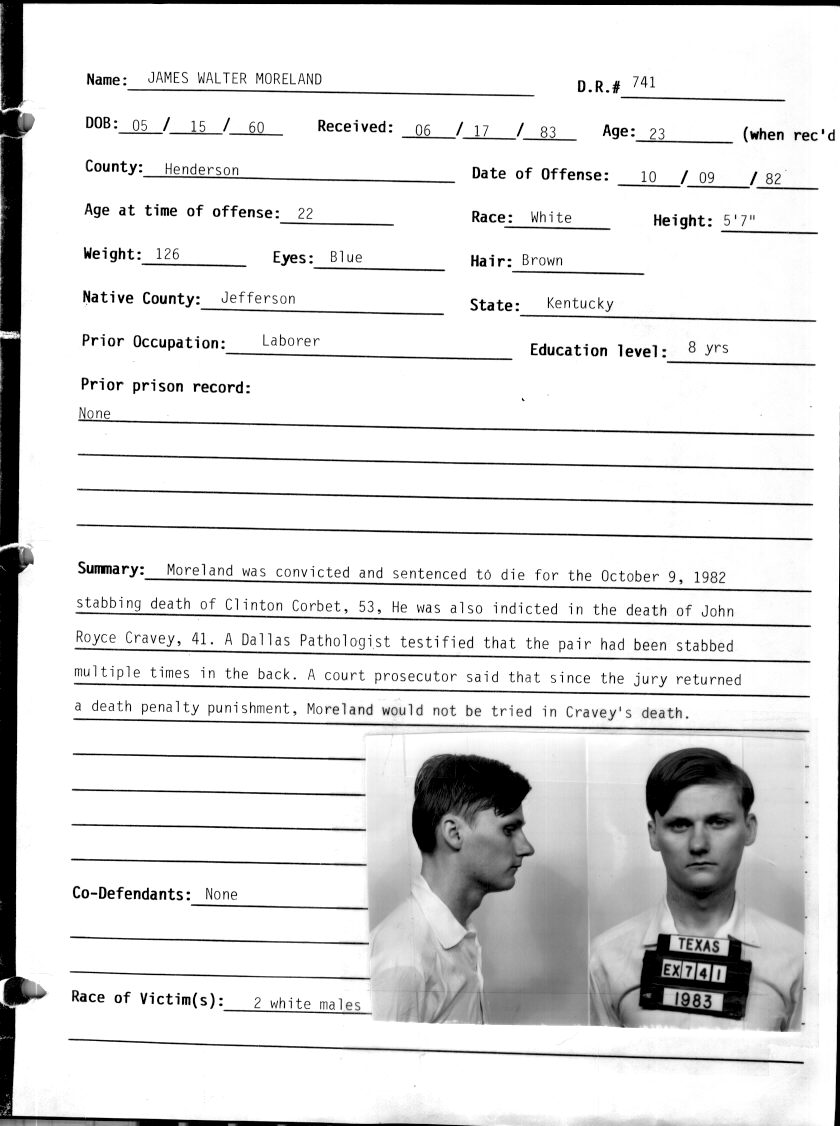 James Moreland — Executed 1/27/00
"Dad, I love you both. You've been the best. All of you, all of you have truly been the best. And ah, I believe I'm going home. I'm sorry, and I really mean that, it's not just words. My life is all I can give. I stole two lives and I know it was precious to ya'll. That's the story of my whole life, that's what alcohol will do for you. Oh Jesus, Lord God, take me home. Precious Lord. Take me home Lord. Take me home. Yes, sir. Take me home, oh Lord."
---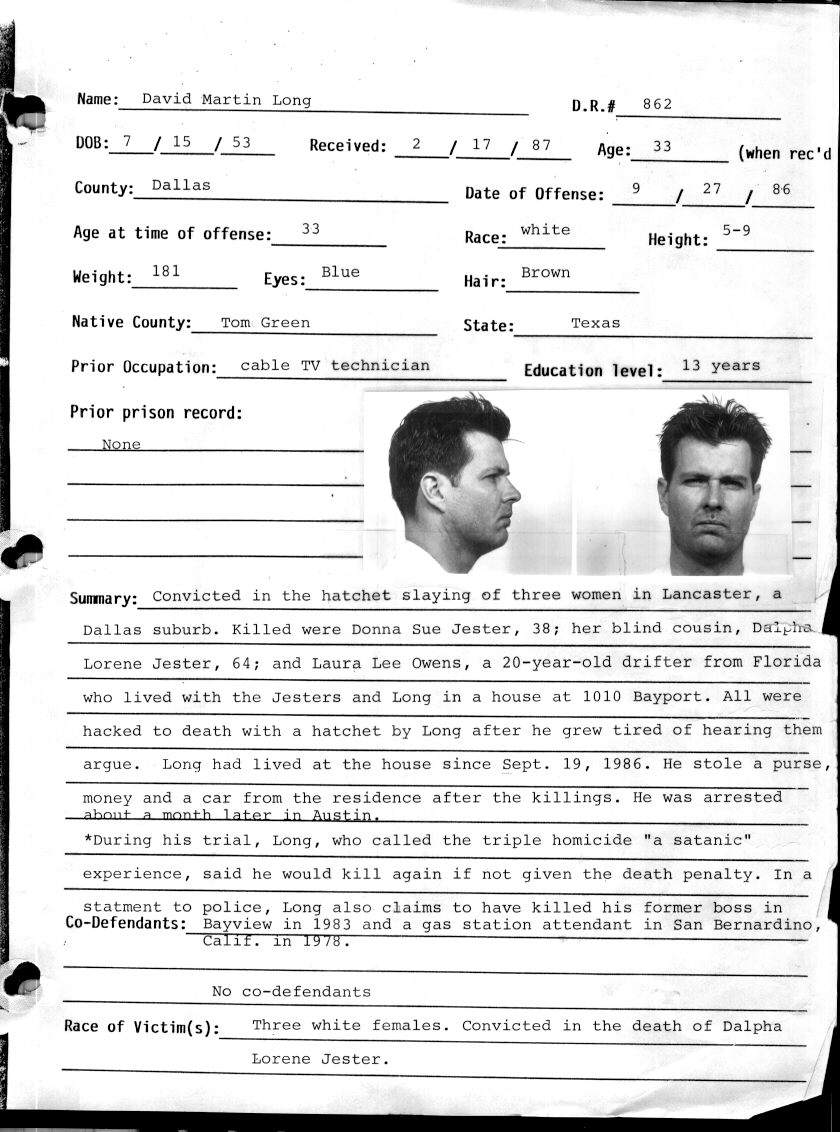 David Long — Executed 12/8/99
"Ah, just ah, sorry ya'll. I think of tried everything I could to get in touch with ya'll to express how sorry I am. I, I never was right after that incident happened. I sent a letter to somebody, you know a letter outlining what I feel about everything. But anyway I just wanted, right after that to apologize to you. I'm real sorry for it. I was raised by the California Youth Authority, I can't really pin point where it started, what happened, but really believe that's just the bottom line, what happened to me was in California. I was in their reformatory schools and penitentiary, but ah, they create monsters in there. That's it, I have nothing else to say. Thanks for coming Jack."
---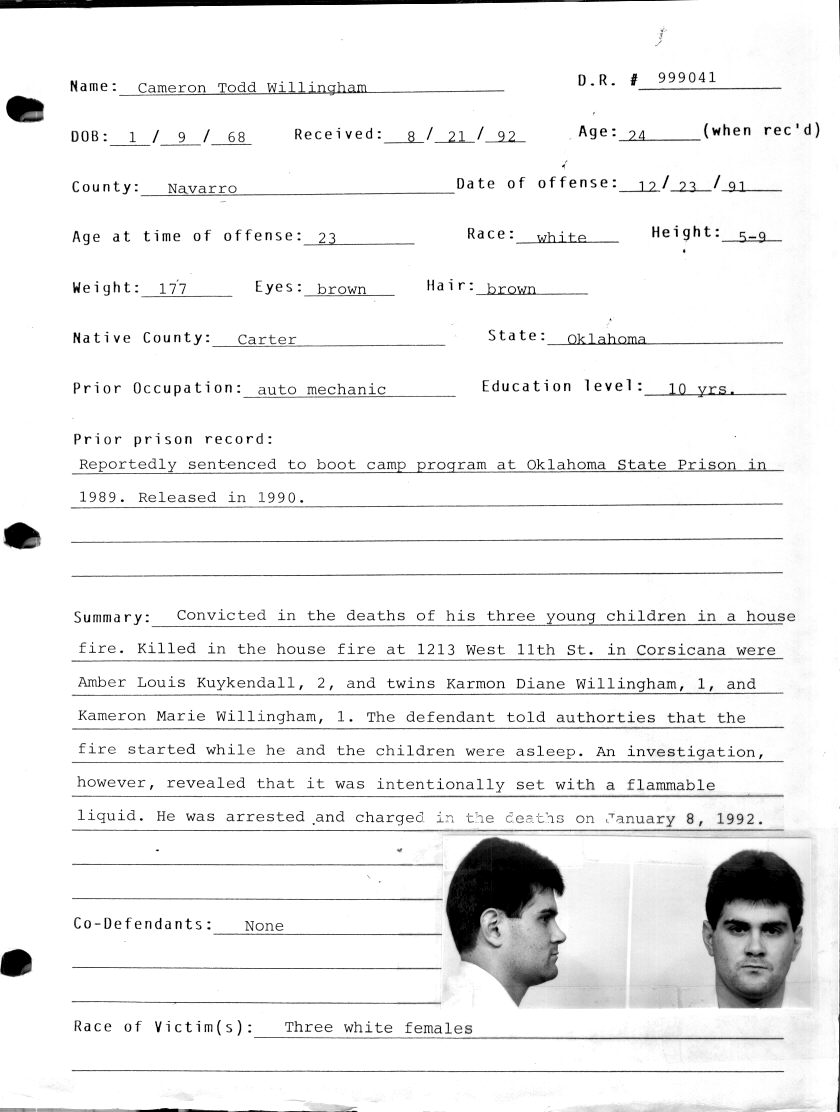 Cameron Todd Willingham — Executed 2/17/04
"Yeah. The only statement I want to make is that I am an innocent man — convicted of a crime I did not commit. I have been persecuted for 12 years for something I did not do. From God's dust I came and to dust I will return — so the earth shall become my throne. I gotta go, road dog. I love you Gabby." [Remaining portion of statement omitted due to profanity.]
---
Texas Tribune donors or members may be quoted or mentioned in our stories, or may be the subject of them. For a complete list of contributors, click here.
Texans need truth. Help us report it.
Our Fall Member Drive is underway, and we need your support. The Texas Tribune is a critical source of truth and information for Texans across the state and beyond — and our community of members, the readers who donate, make our work possible. Will you join as a member with a tax-deductible donation of any amount?
Yes, I'll donate today
---
Information about the authors
Explore related story topics