Texas Senate Debates but Doesn't Change Two-Thirds Rule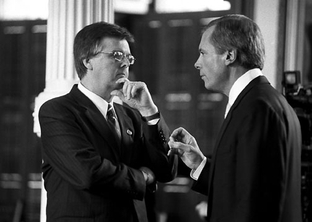 In a party-line vote, the Texas Senate adopted its rules today without making any changes to the rule that requires the consent of two-thirds of the body in order to bring an issue to the floor. Of course, no change means that controversial legislation on voter ID — as it was last session — is exempt.
Though there was still some heated discussion around the matter, which will likely continue as long as Sen. Dan Patrick, R-Houston, is in office.
Though he lacked the votes to do away with the so-called two-thirds rule, Patrick still rose to express his opposition to its existence. He would prefer a simple majority or a compromise of a three-fifths rule because the two-thirds rule is "inhibiting" the rule of the majority. " I don't stand alone," Patrick said. "I stand on the shoulders of our Founding Fathers."
Interestingly, the first person to rise in support was Sen. John Carona, R-Dallas, who famously stood against his party when it passed the voter ID exemption last session. "I stand somewhat in contrast to my position two years ago," he said. The reason: a flood of calls from constituents — he estimated between 150 and 200 — supporting the rule.
In response, the longest-serving member, Sen. John Whitmire, D-Houston, said he was "disappointed" that, after two sessions, Patrick had not developed an appreciation for the rule, which he said "requires us to sit down and talk." He cited an apocryphal story of Thomas Jefferson comparing the purpose of a senate to the same reason coffee is occasionally poured into a saucer before being consumed — to cool things down.
Minor tweaks were made to the rules dealing with the referral of local bills and allowing more time to consider budget changes proposed in conference committee. The Republicans all voted in favor of the rules, and Democrats — still opposed to the voter ID exception — voted against.
Lt. Gov. David Dewhurst said he supported the majority opinion maintaining the two-thirds rule, with the understanding that they have historically always managed to reach an agreement allowing them to raise important legislation.
Texas Tribune donors or members may be quoted or mentioned in our stories, or may be the subject of them. For a complete list of contributors, click here.