25-Year-Olds on State Insurance Face Coverage Gap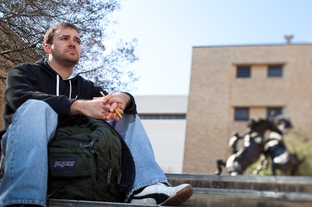 The federal health care reform's biggest benefit for young adults — a requirement that insurance providers cover dependents until they reach age 26 — won't apply to thousands of 25-year-old Texans for one simple reason: Their parents or guardians work for the state.
The federal provision, which went into effect in late September, forced all insurance providers to extend their dependent age cap to 26 at the start of their next "plan year." For many private providers, that began Jan. 1.
But for Texas' Employees Retirement System, which administers health coverage for hundreds of thousands of state employees, retirees and their dependents, the plan year is tied to the state's fiscal year, which doesn't begin until next September. That means Kace Layton, a Texas State University student who was covered by his grandmother's state insurance until he turned 25 in July, won't get the extra year of coverage — and neither will at least 5,500 other Texas dependents.
"Many of our peers, older and younger, enjoy the benefits of the reform," Layton said. "But we do not, simply because our parents or guardians worked for the state of Texas."
Extending dependent coverage up to age 26 has received a lot of attention since health care reform passed in March, because it's one of the first elements to take effect, and because young adults are disproportionately uninsured. The rule change benefits young adults even if they're not living with a parent and are no longer in school.
In Texas, providers have already been required to cover dependents until they turn 25. John Greeley, a spokesman for the Texas Department of Insurance, said that after the federal provision took effect on Sept. 23, some insurance carriers voluntarily extended coverage to those who are currently 25, as opposed to waiting for their plan year to start. But ERS, which administers health insurance for nearly 300,000 state employees and retirees, including higher education workers outside the University of Texas and Texas A&M systems, discussed the option this summer, Greeley said, and determined it wasn't affordable.
ERS, which already covers nearly 230,000 dependents, is facing its own budget crunch, agency spokeswoman Mary Jane Wardlow said, and simply doesn't have the resources to pay for this extra year of care. "There was a budget gap that had to be closed from the last biennium," she said. "In good stewardship, we couldn't justify increasing costs at a time when we're asking members to put more money up front."
Instead, Layton argues, the state is deferring these costs to young people like himself, who are working hard to get an education and can't afford private insurance. Layton, who was orphaned as a child, has long relied on his grandmother and legal guardian, a 30-year veteran of Texas' community college system, for state insurance coverage. Now, the journalism and Spanish double major, who's strapped with student loans and works 30 hours a week to pay his rent and living expenses, is going without. By the time ERS gets around to offering health insurance to 25-year-olds, Layton will be an ineligible 26.
"Thousands of Texas students and young adults aren't getting the federal assistance they deserve," he said.
Greeley, with the insurance department, said parents and guardians have taken notice. He said the overwhelming number of calls to his agency's consumer protection division since health care reform passed have been on this 25-year-old "loophole." Greeley has a firsthand understanding of the issue: His own son turned 25 on Sept. 11 — and was dropped from the state's insurance plan.
"Unfortunately," he said, "it's just the luck of the draw."
Texas Tribune donors or members may be quoted or mentioned in our stories, or may be the subject of them. For a complete list of contributors, click here.