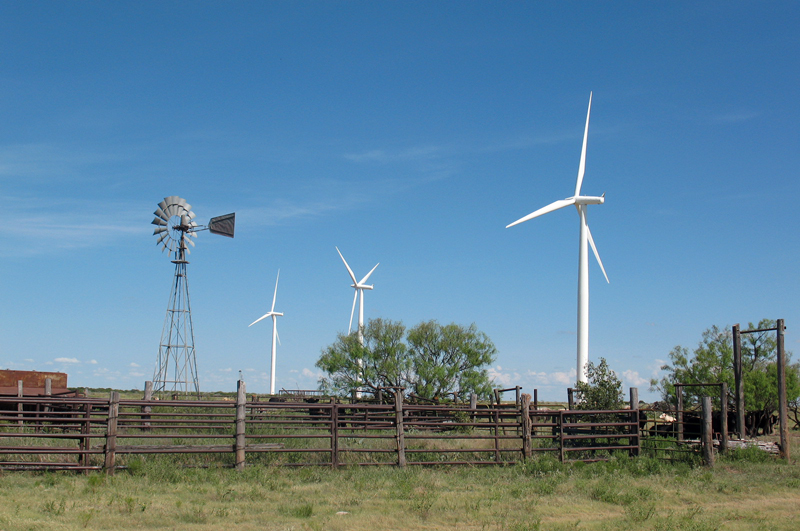 Texans are using an increasing amount of electricity, and the wind is generating an ever-larger share of it, according to figures released today by the Electric Reliability Council of Texas, the grid operator, known as ERCOT.
Electric use on the Texas grid rose by 3.5 percent in 2010. And wind generated 7.8 percent of the grid's power, up from 6.2 percent in 2009 (and 4.9 percent in 2008). In April and November, when the breezes blew especially strongly, wind averaged 12.1 percent of the grid's generation.
Wind may have risen, but natural gas fell: Gas stood at 38.2 percent of electricity use on the Texas grid last year, compared with 42.1 percent in 2009. Coal usage rose too, surpassing gas generation for the first time since at least 2002 (earlier ERCOT records were not immediately available): In 2010, 39.5 percent of Texas's grid's generation came from coal, up significantly from 36.6 percent a year earlier. However, over a longer time frame — going back to 2005, when coal was 39 percent of ERCOT's generation — coal's share has held more or less steady. That contrasts to the national trend, where coal has fallen from 49.5 percent of electric generation nationwide in 2005 to 44.6 percent in 2009.
ERCOT, which is the name for the Texas grid as well as the grid operator, covers 75 percent of Texas's land area and 85 percent of its population. The upper Panhandle, the El Paso area and a few other pieces of Texas belong to other grids.
The Texas Tribune thanks its sponsors. Become one.
Click here for a spreadsheet showing the ERCOT numbers.
Texas Tribune donors or members may be quoted or mentioned in our stories, or may be the subject of them. For a complete list of contributors, click here.