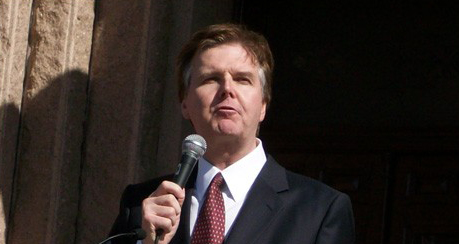 After the election last month, state Sen. Dan Patrick, R-Houston, promised to start a Tea Party Caucus in the Texas Legislature. He calls the Tea Party, which helped usher into the Texas House an unprecedented 101 Republicans, "the most important political movement of our lifetime." Today, Patrick has followed through on his promise, announcing the first 48 legislators to join him in what he says is a first-of-its-kind legislative caucus.
"This is a grassroots-up, not a Legislature-down caucus," Patrick says.
What will set the Tea Party caucus apart, he says, is input from outside of the Capitol. The caucus will make its agenda the agenda of the state Tea Party Advisory Board. That's as it should be, Patrick says, because the party showed such power at the ballot box, helping elect so many conservative legislators. Those lawmakers ought to be accountable to the voters who put them in office. "We want them to stay engaged, and we want to help them stay engaged," Patrick says.
Only one senator, so far, has joined Patrick's new caucus: newcomer Brian Birdwell, R-Granbury. The remaining caucus members are from the House, and they include a number of newly elected representatives. What's more, not all of the caucus members seem to have the same ideological values, and not all of them support the same House speaker candidate. But Patrick's not worried about divisions in the group, and he's confident they will attract more legislators to their ranks. "This caucus is not about speaker politics," Patrick says. "The mission of the Tea Party Caucus is to pass conservative legislation."
The Texas Tribune thanks its sponsors. Become one.
Here's the list of new caucus members:
Sen. Dan Patrick, chair
Rep. Wayne Christian, co-chair
Rep. Beverly Woolley, co-chair
Rep. Brandon Creighton
Rep. Allen Fletcher
Rep. Dan Flynn
Rep. Todd Hunter
Rep. Phil King
Rep. Lois Kolkhorst
Rep. Jodie Laubenberg
Rep.-elect George Lavender
Rep. Sid Miller
Rep. Geanie Morrison
Rep. Ken Paxton
Rep.-elect Raul Torres
Sen. Brian Birdwell
Rep.-elect Jose Aliseda
Rep.-elect Marva Beck
Rep. Leo Berman
Rep. Dwayne Bohac
Rep.-elect Erwin Cain
Rep. Bill Callegari
Rep. Angie Chen Button
Rep. Warren Chisum
Rep. Byron Cook
Rep. Rob Eissler
Rep. Gary Elkins
Rep. Mike "Tuffy" Hamilton
Rep. Harvey Hilderbran
Rep. Charlie Howard
Rep. Patricia Harless
Rep. Kelly Hancock
Rep.-elect Dan Huberty
Rep. Bryan Hughes
Rep.-elect Jason Isaac
Rep. Tim Kleinschmidt
Rep. Ken Legler
Rep. Tryon Lewis
Rep. Jerry Madden
Rep.-elect Jim Murphy
Rep. Tan Parker
Rep. Larry Phillips
Rep.-elect Four Price
Rep. Debbie Riddle
Rep.-elect Connie Scott
Rep. Larry Taylor
Rep. Randy Weber
Rep.-elect James White
Rep. John Zerwas
Texas Tribune donors or members may be quoted or mentioned in our stories, or may be the subject of them. For a complete list of contributors, click here.