Diabetic Shock
The number of adult Texans with diabetes is expected to quadruple over the next three decades, a massive spike that demographers and health care experts attribute to the state's aging population and obesity epidemic.
The number of adult Texans with diabetes is expected to quadruple over the next three decades — a massive spike that demographers and health care experts attribute to the state's aging population and out-of-control obesity epidemic.
Currently, one in 12 adult Texans — roughly 2 million people — have been diagnosed with diabetes; another half million are believed to be undiagnosed. That number is likely to grow to nearly 8 million by 2040, according to Responding to the Epidemic: Strategies for Improving Diabetes Care In Texas, a report being released today as part of a collaboration between the nonprofit Texas Health Institute, the State Demographer's Office and Methodist Healthcare Ministries of South Texas.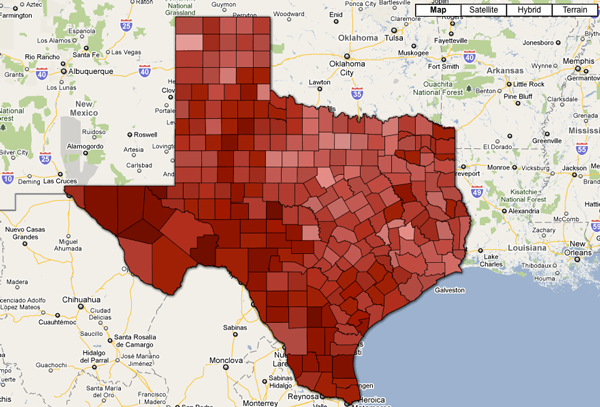 Interactive: Texas Diabetes Maps, by Ryan Murphy
Part of the problem, the report says, is that Texans are fatter than ever: Twenty-nine percent of Texans are currently obese, and 43 percent are expected to be by 2040. Expanding waistlines — which mostly used to appear in late middle age — are now showing up in young adults and pregnant women, leading to pre-diabetes, a precursor to the disease. In all, one in three adult Texans are either diagnosed with diabetes, have it but don't know it or have pre-diabetes and are at high risk for developing the disease within a decade, according to the report.
The state's ethnic and age makeup is also shifting, which has a direct link to diabetes rates. The fastest-growing populations in Texas — older people and Latinos — are those most likely to be obese and have diabetes. Over the next 30 years, the number of Latino adult Texans with diabetes is projected to grow from 855,000 to 4.7 million, more than the number of white and black diabetics combined. These rates will be particularly pronounced in South Texas and the Rio Grande Valley, demographers suggest, where obesity is particularly prevalent and health insurance coverage is extremely low.
"There's not going to be any part of the state that will be untouched by this," said Klaus K. Madsen, vice president of programs for the Texas Health Institute. "South Texas will continue to have a much higher prevalence rate than much of state, but all the major urban areas — Dallas County, Bexar County, Travis, El Paso, Harris counties — are going to see explosive increases as well."
The numbers, while staggering, are only part of the picture. Diabetes, the sixth-leading cause of death in Texas, currently costs the state more than $12.5 billion a year, according to the American Diabetes Association. One in 10 health care dollars is attributable to the disease. Meanwhile, Texas Medicaid reimbursement for diabetes-related services — the No. 1 cause of office visits for the state's Medicaid patients — reached more than $550 million in 2009.
"Our health system needs to do a better job of educating patients to manage their diabetes so they can prevent serious and costly complications," said state Sen. Jane Nelson, R-Flower Mound.
Talk about diabetes rates and the lifestyle choices that can prevent it is nothing new. Despite Texas' efforts — the state and the federal Centers for Disease Control have spent roughly $7 million per biennium to combat the problem — the diabetes rate for Texas adults nearly quadrupled in the 10-year period between 1997 and 2007.
The report's authors say Texas needs to act, and fast. In a series of statewide roundtables funded by diabetes giants Novo Nordisk and Roche Diagnostics, health care experts offered a range of strategies. But those that appear most effective — implementing a statewide screening program, expanding diabetes self-management training for patients and closing the benefit gap between Medicaid and CHIP so pregnant mothers can have access to gestational diabetes supplies — come at a cost that lawmakers are unlikely to meet when they're starting down a potential $25 billion budget hole.
Texas won't be able to get its spiraling diabetes rate under control until it educates people suffering from the disease about its horrific complications, from amputations to vision loss and kidney disease, said Donna Rice, president of the Baylor Health Care System's Southern Sector Health Initiative, which focuses on diabetes care and prevention in South Dallas.
"It's not only the prevalence but the devastation of the disease," she said. "How do we impact the care of people with diabetes so we can delay the progression of those complications?"
Texas Tribune donors or members may be quoted or mentioned in our stories, or may be the subject of them. For a complete list of contributors, click here.
Your New Year's resolution list isn't complete without …
… supporting the Tribune. This new year, resolve to do your part to sustain trusted journalism in Texas. Join thousands of readers who power The Texas Tribune's nonprofit newsroom.
Donate now