Texas A&M Stakes Claim as Leader in Pharmaceuticals
One hundred miles from the nearest major city, where there was nothing but flat earth seven months ago, a 145,000-square-foot facility has sprung up on the Texas A&M Health Science Center campus. Starting in January, its cavernous rooms will be filled with racks of tobacco-like plants expected to produce as many influenza vaccines in a single month as a traditional lab does in one year, at a fraction of the cost. Dr. Brett Giroir, the vice chancellor for research at the Texas A&M University System, calls it the most exciting project of its kind in the world, the potential savior of the next pandemic. And, he says, "it's in Bryan. Go figure."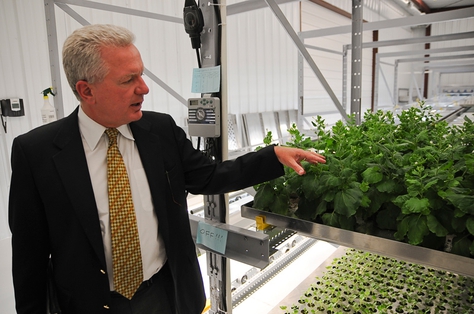 One hundred miles from the nearest major city, where there was nothing but flat earth seven months ago, a 145,000-square-foot facility has sprung up on the Texas A&M Health Science Center campus. Starting in January, its cavernous rooms will be filled with racks of tobacco-like plants expected to produce as many influenza vaccines in a single month as a traditional lab does in one year, at a fraction of the cost.
Dr. Brett Giroir, the vice chancellor for research at the Texas A&M University System, calls it the most exciting project of its kind in the world, the potential savior of the next pandemic. And, he says, "it's in Bryan. Go figure."
Giroir says he believes a confluence of factors has primed Bryan and neighboring College Station, where Texas A&M's flagship campus is located, to be the country's "third coast" of pharmaceutical manufacturing, with dozens of companies cropping up in the next five to 10 years — a tall order for a highly agricultural area with a population of around 200,000 and an economy driven almost solely by the university.
Bryan Mayor Jason Bienski says that a few years ago, he considered it a success if the region lured businesses offering minimum wage jobs. Now, the city is courting biotech companies promising six-figure salaries. Indeed, Bryan-College Station is an active partner in what has become a public-private effort; more than 1,400 acres of a proposed 3,500-acre biotech research corridor lie on city and county land.
Project GreenVax, the vaccine-producing collaboration between the A&M System and G-Con, LLC, a private Bryan-based company, will be the first major test of the area's potential — and it has already received a $40 million vote of confidence from the Defense Advanced Research Projects Agency, the research and development office of the United States Department of Defense.
From the federal perspective, the developments at Texas A&M are strategically well-timed. In August, in the wake of a frustratingly slow response to the swine flu pandemic, the U.S. Department of Health and Human Services issued a report calling for "the nimble, flexible capacity" to produce medical countermeasures like vaccines "in the face of any attack or threat, known or unknown."
Nimble and flexible is what A&M hopes to do best, thanks to G-Con's customizable mobile labs: interchangeable "pods" that can float in and out of a facility on air bearings. Another new campus facility, the National Center for Therapeutics Manufacturing, scheduled for completion late next year, will include a 104,000-square-foot bioprocessing wing with space for up to 20 pods. Project GreenVax will also utilize the pods, allowing the simultaneous production of multiple vaccines and — it is hoped — other drugs.
But federal support does not guarantee success. Matt Winkler, an Austin-based biotech entrepreneur, has watched the capital city's biotech industry grow from nothing to "almost critical mass," but it took 25 years. Bryan-College Station may face an even tougher road, he says. "People would rather live in California or Massachusetts than live in Austin," Winkler says, "and people would rather live in Austin than College Station."
Giroir says that recruiting talent from the coasts has not been difficult. Despite its recessionary woes, he says, Texas is "like the Garden of Eden," compared to California and Massachusetts in terms of economy and opportunity.
He speaks from experience. When Giroir visited A&M for the first time in 2007, it was not with the intention of joining the staff. He was there because he was the director of the defense science office at DARPA and was seeking a way to save soldiers bleeding out on the battlefield. He found what he was looking for — animal models that could simulate hemorrhaging soldiers — at the Texas A&M Institute for Preclinical Studies, which specializes in studying disease therapies in large animals.
"It was very clear to me that there was a core of a bigger piece that clearly the federal government needed, but probably Texas needed, too," Giroir says. By 2008, he had accepted his current position and had begun to lay the groundwork for a biotech cluster.
Public perception is hard to change. Though Texas is considered a leader in basic biomedical research, the well-established research hubs on the East and West coasts dwarf the state's biopharmaceutical infrastructure.
Texas is working to change that. For starters, as Barry Holtz, the G-Con president puts it, the state has "declared a major in cancer," funneling money to research and development projects through two major state-run grant programs: the Cancer Prevention Research Institute of Texas and the Texas Emerging Technology Fund.
Some suspect that A&M's ability to leverage those resources depends largely on the generosity of its most powerful alumnus: Gov. Rick Perry. But his support has come with some complications. When the Emerging Technology Fund granted $50 million to the National Center for Therapeutic Manufacturing without going through the usual channels, lawmakers balked. Perry's Texas Enterprise Fund, designed to stimulate economic development through relocation incentives, made headlines by spending $15 million for the Texas A&M Institute for Genomic Medicine, a genetic research center that has taken years to get off the ground.
That the governor's ties to A&M are credited anytime money flows to the school bothers Giroir. "It's much more than that," he says. "Certain kinds of things come here because this is the best place in the world to do them."
But with a biennial state budget shortfall that could be $20 billion or more, state grant programs face an uncertain future.
Even so, Texas could do more to roll out the red carpet, says Thomas Kowalski, president of the Texas Healthcare & Bioscience Institute, the industry's state advocacy organization. Texas is one of a handful of states that do not offer research and development tax credits, Kowalski says. "It's a competitive industry," he says. "All 50 states are engaged now. Globally, you have India, China, Japan. The race is on."
Giroir says people need to understand that the innovations in Bryan-College Station have not been attempted anywhere else. They come with incalculable risks, he says, but they are subsiding all the time.
"Is there a chance that all of this can fail? Yes," he says. "Is that chance a whole lot lower today than it was two years ago? Absolutely."
Texas Tribune donors or members may be quoted or mentioned in our stories, or may be the subject of them. For a complete list of contributors, click here.