What an End to Earmarks Would Mean for Texas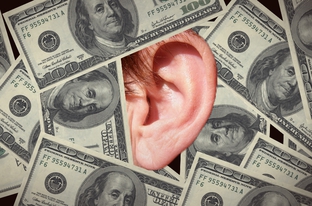 Enlarge
Illustration by Todd Wiseman
U.S. Sen. Kay Bailey Hutchison says she will join fellow Texas Republican Sen. John Cornyn in calling for a ban on all Congressional earmark spending. In the past, both used the controversial budget maneuver to funnel hundreds of millions of dollars back to the state.
Government watchdog groups, especially fiscally conservative ones, contemptuously call this kind of spending "pork" and cite extreme cases like the infamous "bridge to nowhere" in Alaska, which cost hundreds of millions of dollars with little perceived benefit to anyone. Texas received more than $400 million in earmarks in 2010, but according to Dave Levinthal, a former Dallas Morning News reporter who is editor of the watchdog blog OpenSecrets, "compared to some of the states in the United States, such as Hawaii, North Dakota, West Virginia, Vermont, Texas is way, way down the list in terms of the amount of money per capita that is it actually receiving and having funneled to it the earmarking process." Levinthal says Texans get about $17 each in earmark spending compared with $318 per resident of Hawaii.
Much of the Texas money goes to non-controversial projects like military spending. "Texas is one of the biggest states, period," Levinthal says, "but also one of the biggest states in term of its military presence, with earmarks oftentimes benefiting defense contractors or defense installations." Fort Hood, for example, has received more than $48 million dollars over the last three years just from U.S. Rep. John Carter, R-Round Rock. The money paid for, among other things, a new family center, a chapel and a maintenance hangar on the Killeen Army base.
One way to think about earmarks is that the issue isn't good spending versus bad spending — it's whether a project meets a federal mission or doesn't. "To the extent that they're not part of the federal mission, they probably shouldn't be funded through earmarks," says John Crutchfield, president of the Greater Killeen Chamber of Commerce, who isn't worried that the proposed ban will disproportionately affect the base. "I don't think funding for Fort Hood would be impacted a great deal going forward. It shouldn't, because Fort Hood is part of the federal mission, and it should be funded appropriately."

Still, that doesn't mean Crutchfield, the chamber and the local elected officials won't have more work to do to get the same money. He says that without earmarks, all projects will go through the regular budget process. He says the chamber has already started thinking about how it will pay for one project. "We now know that if you're going to fund it, you're not going to be able to use earmarks," Crutchfield says. "You've got to find a different way to do it. So we're having those kinds of discussions, and we're very comfortable with the fact that we'll be able to adjust and do what needs to be done thought the available funding remedies that are out there now."

And there will be money out there. Former state Rep. Talmadge Heflin, the director of the Center for Fiscal Policy at the conservative Texas Public Policy Foundation, doesn't think eliminating earmarks will eliminate all the spending. Some of the more egregious pork projects might be cut in the budget process, and a local road — no matter how important — isn't likely to find federal funds. But others will be funded just like the always have.

"If they make it through within the limits that they set for themselves on spending," he says, "then, hey, that's the way the process works. But hopefully it will have some limiting effect on spending."
At least this time, he says, the debate over whether to spend or not will happen in public.
Texas Tribune donors or members may be quoted or mentioned in our stories, or may be the subject of them. For a complete list of contributors, click here.