Going Head to Head
Whether reconditioned football helmets sufficiently protect young players from concussions and other serious injuries has become a subject of fierce debate. Texas parents are torn between the desire of their kids to play and increasingly hard-to-ignore studies about the relationship between football and long-term brain damage. Coaches struggle to balance safety with fans' cries for harder hits, bigger players and crushing wins. And at least one upstart manufacturer is contributing to the public's unease by challenging the industry's long-standing practice of refurbishing old helmets.
The helmet-on-helmet cracks at North Forney High School's 7 a.m. football practice aren't music to Hank Semler's ears. The head coach of the fledgling Division 3A Falcons — the pride of this $70 mllion exurban high school — still suffers migraines and dizziness that doctors attribute to years of football concussions.
Semler's players, convinced of their invincibility, tease him about his obsession with safety technology. He investigated the science behind every available helmet before settling on a top-of-the-line model. "I want to be able to say, 'Your child is one of the most protected athletes in the state, if not the nation,'" Semler says.
But what constitutes safety — and whether any brand of helmet provides more safety than the others — has lately become a subject of fierce debate. Parents are torn between the desire of their kids to play and increasingly hard-to-ignore studies about the relationship between football and long-term brain damage. Coaches struggle to balance safety with fans' cries for harder hits, bigger players and crushing wins. And at least one underdog manufacturer, Xenith, which makes the helmet Semler chose, is raising safety concerns about the industry's long-standing practice of refurbishing old helmets and pitching its own product as a solution.
The buzz around Xenith, a relative newcomer, stems from its founder and CEO's credentials: Vincent Ferrara, 37, played quarterback for Harvard University and went on to get an MD and an MBA from Columbia University. Passionate about preventing head injuries, Ferrara hired an elite crew of doctors and scientists at the University of Ottowa's Neurotrauma Impact Lab to help design his X1 helmet, which uses a web of patented shock absorbers — not traditional helmet pads — to reduce the sudden head movement that causes brain injuries.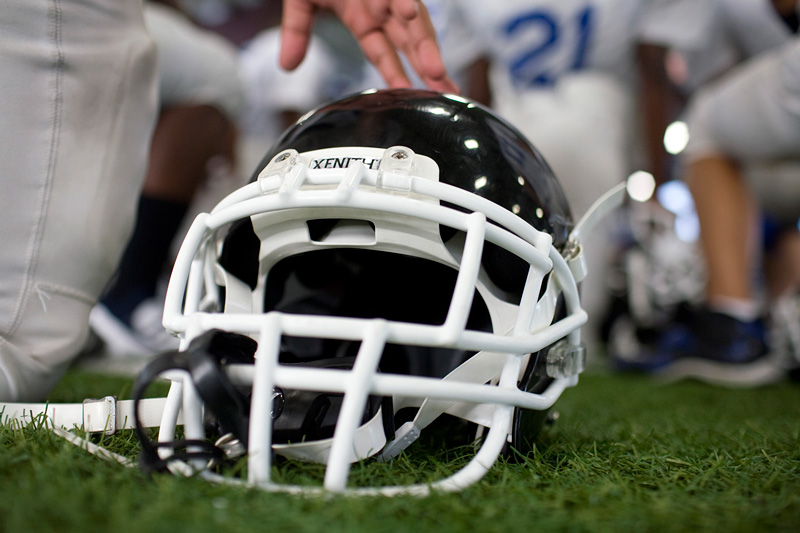 But it's Ferrara's safety message, and his not-so-veiled swipe at the country's helmet reconditioning industry, that have made headlines lately. In Xenith's "One Player, One Helmet" advertising campaign, Ferrara argues that the approach of most youth athletics programs — buy a stash of helmets from big companies like Riddell and Schutt at $150 to $200 a pop, then refurbish them every year or two — is unsafe.
Almost every high school, middle school or youth league football team in the country uses the reconditioning process, as do many university teams. Their helmets are inspected for obvious flaws: crumbling pads, dents and dings, cracked shells, chipped paint. They're then sent off to reconditioning plants to get the worn parts replaced and the helmets power-washed, disinfected, buffed and repainted. Random samplings are drop-tested — literally dropped, then judged by "shock measurements" — to ensure they meet national standards. If they don't, they're rejected. The helmets that pass are sent back to the school for the following season.
No direct link
Ferrara has not claimed a direct link between reconditioned helmets and head injuries, and there is no data to suggest one. But in the same way a driver would be wary of buying a once-totaled used car, he suggests, parents should be concerned about letting their children wear helmets that have endured hundreds of hits. Helmet technology changes almost by the year, but in many cases, teams keep them for a decade — an unofficial policy referred to as the "10 years and out" rule.
"When you bring your car in for repairs, you know what it's been through. When you come out with four used tires, with used safety belts, you don't," Ferrara says. "Ninety-nine percent of parents have never even thought about this. … We want to end this paradigm of teams owning helmets, outfitting youth in helmets, that are a decade old in some cases."
Ferrara's Xenith helmets are comparable in price and life cycle to other helmets on the market. But they also have interior pads that are labeled with special bar codes and come out in one piece so they can be returned to the right helmet after they're washed. When traditional helmets are taken apart to be reconditioned, Ferrara says, the pads are taken out and washed in big bags — and are routinely returned to different helmets. Ferrara says he's seen one-year-old helmets come back with pads that are obviously six or seven years old. He says he's seen helmets returned that have the wrong size face masks attached, bending the helmet shell to the point of cracking.
Texas high school athletic directors, some who refused to be named for fear of upsetting their vendors, list a range of nerve-wracking experiences, including having a newly reconditioned helmet get rejected the following year — even though it sat unused on a shelf for the entire season.
"I'm not trying to set off a panic," Ferrara says. "But if you're a part of a high school freshman team, you're probably getting a used helmet with parts that have been mixed and matched."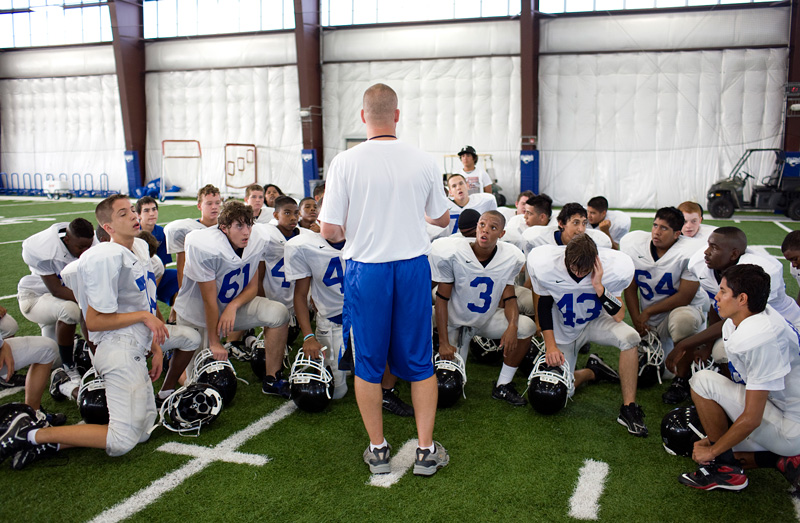 Profit motive?
Reconditioners counter that Ferrara's "One Player, One Helmet" initiative is little more than a marketing ploy. With the rise of technology said to reduce concussions and prevent staph infections, they say, helmets — including reconditioned ones — are safer than ever. "It's how they want to get into the marketplace," says Ed Fisher, executive director of the National Athletic Equipment Reconditioning Association.
Fisher, whose organization inspects the country's 30 certified reconditioning facilities, says most kids and school districts don't have the money for new helmets, making reconditioning a necessity. Reconditioners say they feel an incredible responsibility for the 1.75 million helmets they refurbish for young players every year — and take great care to ensure their top-notch condition. "You take the nature of the game, and it's going to be impossible to eliminate all of the risk," Fisher says. "It's our job, when they show up to play, that the helmet they're given provides the best protection we can possibly give them."
It did little to quell critics' concerns when Riddell — the 70-year-old behemoth football helmet manufacturer that makes NFL helmets — announced it would move its San Antonio reconditioning operations to Mexico. At first, even the reconditioning association had questions, which Fisher says have since been answered. Thad Ide, vice president of research and development for Riddell, says the Mexico move allows the company to provide "enhanced reconditioning services" in a more efficient and technologically advanced setting. "Brand new equipment, machinery and lines have further enabled us to provide the highest quality reconditioning services in the industry," he wrote in a statement.
Riddell is no stranger to the head injury debate. Its Revolution helmet, introduced in 2002, was the first in the country designed to reduce concussion risk.
A deadly blow
Industry wide, helmet manufacturers have been searching for the right design and the right message to withstand mounting concerns about the lifetime effects of football brain injuries on young players.
On the far side of the spectrum are parents like Dick Benson, whose son Will, a 17-year-old star quarterback at St. Stephen's Episcopal School in Austin, died in 2002 following a traumatic brain injury sustained from helmet-to-helmet hits in two football games. For Benson, who believes his son was wearing a reconditioned helmet when his first injury was sustained, there's no such thing as "safe" football gear. He has spent the last eight years lobbying Congress and the Texas Legislature for stronger safety standards for what he calls a "modern American gladiatorial sport." The grief he still feels every day is intense. "There's no way in hell I would let any kid of mine play football again, period," he says.
Other parents, like the ones Southlake Carroll ISD athletic director Kevin Ozee hears from, increasingly ask if they can buy Xenith helmets for their kids. His district, which generally retires its reconditioned helmets at the six-year mark, happily obliges. "We're lucky enough to have a district where parents are comfortable spending the money to put a kid in what they think is the best product," Ozee says. "But in most districts, because of economics, it's a different situation all together."
Texas Tribune donors or members may be quoted or mentioned in our stories, or may be the subject of them. For a complete list of contributors, click here.
Texans need truth. Help us report it.
Our Fall Member Drive is underway, and we need your support. The Texas Tribune is a critical source of truth and information for Texans across the state and beyond — and our community of members, the readers who donate, make our work possible. Will you join as a member with a tax-deductible donation of any amount?
Yes, I'll donate today
---
Information about the authors
Explore related story topics