Texas Democratic Trust Fails to Reach Its Goals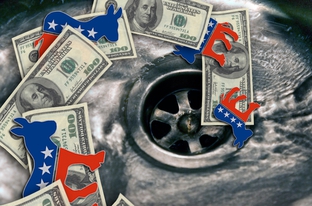 Enlarge
Illustration by Todd Wiseman
The Texas Democratic Trust might have been the biggest single loser in Tuesday's election, as Texas Republicans swept away most of the advances that group financed and fought for during the last three election cycles. And the losses came as the Trust prepared to shut down its operations — its mission ended, if not accomplished.
In 2005, wealthy trial lawyer Fred Baron (now deceased) founded the Trust, a fundraising outfit that boasts more than a dozen high-ticket donors, with a very specific five-year mission: win back a majority in the Texas House and get at least one Democrat elected statewide.
With the 2010 election cycle behind them, the Trust, one of the biggest donors to the Texas Democratic Party, is preparing to close its doors as planned. Democrats still have no statewide leader to speak of and 12 fewer seats in the House than when they started. Still, Trust director Matt Angle, who estimates that the group poured around $13 million into Democratic efforts over the last three cycles, shuns the notion that the effort has been little more than a five-year boondoggle.
"We certainly shouldn't think that we didn't achieve all of our goals," Angle says. "We just didn't achieve all of our principal, very ambitious electoral goals."
Angle says, per his commitment to its founder and other donors, there's no possibility of the Trust continuing in its current form. But he says its legacy will live on in the party's massive voter file, talented staff and other structural improvements that Trust money helped build. "There is a base now to build upon that there wasn't six years ago," Angle says. This is especially true, he says, in Dallas County, which has shifted from being completely red six years ago to being uniformly Democratic today.
While Democrats failed to mount any successful challenges to Gov. Rick Perry and his fellow statewide officeholders, the Trust's efforts to build toward a Democratic majority in the Teas House appeared to be progressing — at least until this week. When the Trust was founded, the Republicans had an 87-to-63 seat majority in the lower chamber. By 2009, that had shrunk to a scant two-seat majority: 76 to 74.
"I think that just because of the outcome of the election in 2010, we can't discredit the amount of work that happened in the Legislature over the last four to five years," says Phillip Martin, a communications specialist for the Trust. Without the aid of the Trust, he says, Democrats would not have had the necessary votes to pass teacher pay raises in 2007 and 2009, restore health insurance to about 215,000 children through a series of legislative actions or pass a massive tax cut for small businesses in 2009 — a bill that was carried by state Rep. Rene Oliveira, D-Brownsville.
Still, the Democrats now find themselves on the weak end of the biggest power imbalance the House has seen since the Republicans were outnumbered 95-to-55 in 1985. Martin and other partisans say the party's current predicament is the result of an indiscriminate national Republican tsunami. "I'm not sure if we'd had $100 million to spend, it would have helped us build a dam high enough and strong enough to keep that wave at bay," says state party chairman Boyd Richie.
Angle says the 2010 rise of the Republicans was unforeseeable when the Trust formed and established its goals. "What we saw," he says, "was the urbanization of Texas and the opportunities to build effective coalitions between fair-minded Anglos, African-Americans and Hispanics. What we didn't see was the nationalization of an election in which the independent voters turned almost entirely against Democrats."
Richie says the Democrats have been preparing for life without the Trust, knowing that its days were numbered. He says the party has shifted its focus to building up its small donor base and will likely build a financial council that will focus on maintaining relationships with the donors who write the big checks. But, he says, Tuesday night's results will make things a bit more difficult. "The road that we travel going forward is going to look a little different than it did last week," he says. "But we're not going to give up, and we're not going to be waving a white flag."
Texas Tribune donors or members may be quoted or mentioned in our stories, or may be the subject of them. For a complete list of contributors, click here.