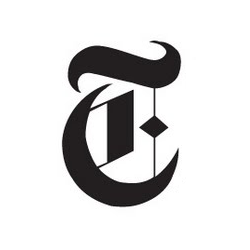 Today is the first day you'll see robust journalism produced by the reporters of The Texas Tribune in the pages of The New York Times and on nytimes.com. We're the third local content provider to team up with the iconic national newspaper, and we couldn't be happier to have the chance to get in front of even more people around Texas and across the country.
For our inaugural Texas pages, Matt Stiles wrote a terrific piece about the single largest political donor in Texas over the last decade, Houston home builder Bob Perry, and Kate Galbraith reported on the fears of some preservationists that the successful state program to renovate historic county courthouses will be defunded as part of the budget shortfall solution; both stories appear on the Tribune site as well. We also coaxed a column out of the smart and chatty writer Jason Cohen on the reversal of fortune by the Texas Rangers and the Dallas Cowboys (though the Rangers are playing a lot more Cowboys-like the last two nights), and we teamed up with Texas Monthly to create what will be a regular Friday look, by Michael Hoinski, at the upcoming week's most fun and interesting things to do around Texas. Those two pieces do not appear on the Trib site, as we're about politics and public policy, not culture, sports, etc. But we're happy, of course, to have a hand in pulling them together as part of our new partnership.
I spoke this afternoon at an Online News Association lunch in Washington, D.C., and I said the Times partnership was ancillary to our mission. It is — but I also said I was damn proud of it, and I am. What an honor to be thought of as Times-worthy after not quite a year in business. And what a great thing for all of us. Without a doubt, the visibility, validation and brand association is going to be very good for the Tribune. And, trust me, the work we're going to do together will be very good for Texas and Texans.
Texas Tribune donors or members may be quoted or mentioned in our stories, or may be the subject of them. For a complete list of contributors, click here.