Study Shows Who Votes Early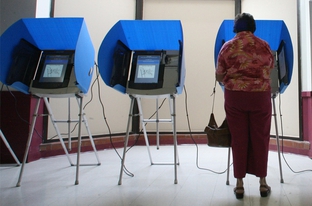 If you voted today — the first day of early voting for the Nov. 2 elections — you're probably more partisan, Anglo, older and a woman, according to a report released today by the Center of Public Policy and Political Studies at Austin Community College.

Professor Stefan Haag released the center's report today on the effects of early voting in Texas. Not surprisingly, Haag says, early voters "tend to be the extremes, either very conservative or the very liberal individuals" — older than 55 and female. "They're informed and they know the issues and they go out and vote."
In comparing Election Day voters and early voters both are equally as likely to cast straight ticket ballots, Haag's report found. Of those who voted early, 59 percent also voted in the primary elections, compared to 47 percent of Election Day voters.
The differences between early voters and Election Day voters can have a significant effect on a politician's campaign strategy, Haag says. Because early voters are more likely to vote based on ideology, he says, campaigns should target those who are committed to the party early, then concentrate on the independents, nonpartisans and those less likely to vote.
Although the goal of early voting is to increase voter turnout, the report shows just a 3-percent increase. Adding more convenient early voting locations such as in grocery stores or shopping malls — rather than a greater number of locations — could help raise that percentage. Metropolitan and suburban counties with the highest early voter turnout also have more convenient voting sites. "I know a bunch of these counties where there's one place to go vote," says ACC Center Director Peck Young. "That's why you have low turnouts."
More days for early voting, especially on weekends, could also significantly increase voter turnout, according to the report. On Thursday, the center will release its findings on early voting in the current elections.
Texas Tribune donors or members may be quoted or mentioned in our stories, or may be the subject of them. For a complete list of contributors, click here.