Hank Skinner's Last Chance
The U.S. Supreme Court heard testimony Wednesday in a case that could have far-reaching ramifications for criminal justice nationally. Lawyers for Henry "Hank" Skinner maintain that the Texas death row inmate has a civil right to access DNA evidence that could exonerate him in the 1993 murders of his live-in girlfriend and her two sons. Lawyers for the state argue that Skinner exhausted his opportunity to analyze potentially exculpatory evidence when his defense team declined to request testing at his original trial, fearing that the results might be incriminating.
It's a simple question that should have a simple answer: Does a death row inmate have a civil right to access DNA evidence in his case?
That's the argument attorneys for Henry "Hank" Skinner presented to the U.S. Supreme Court on Wednesday, saying that the Pampa resident, who awaits execution at the Polunsky Unit in Livingston, ought to have the chance to test DNA evidence he says could exonerate him. "We remain hopeful that this court will allow us to seek this testing through the Civil Rights Act," Rob Owen, Skinner's attorney, told reporters. But attorneys for Gray County District Attorney Lynn Switzer — the prosecutor Skinner sued to get access to the DNA — said it's more complicated than that: If the court agrees with the convicted killer, it would undermine state law and create an expensive onslaught of inmate lawsuits demanding evidence.
In a ruling that could have far-reaching ramifications for criminal justice nationally, the high court will decide whether Skinner can pursue his quest for DNA testing under civil rights laws or if, as lawyers for the state argue, he missed his opportunity to test the evidence in question at his original trial. "He has had four, five, six bites at the apple," said Switzer's Austin-based attorney, Gregory Coleman.
Skinner was convicted in 1995 of murdering his live-in girlfriend, Twila Busby, and her two mentally disabled sons, Randy Busby and Elwin Caler, in their small Pampa home. Busby was strangled and bludgeoned to death; the young men were stabbed. Skinner doesn't deny he was in the house that New Year's Eve in 1993 but maintains that he was too incapacitated from a mixture of vodka and codeine to carry out the attacks. He believes the real killer was probably Twila's uncle, Robert Donnell, an ex-con with a violent temper who has since died.
At the original trial, Gray County DA John Mann showed jurors DNA evidence from blood on Skinner's clothes that belonged to Twila and Elwin. The state's star witness, Skinner's ex-girlfriend, Andrea Reed, described how he showed up at her home that night covered in blood. She said Skinner told her he thought he had kicked Twila Busby to death, ordered her to sew up a wound on his hand and threatened to kill her if she called the police. The jury returned a guilty verdict in less than two hours.
Skinner, 48, has always denied committing the murders and says he loved Busby and her boys. In 1997 Reed recanted her courtroom testimony, saying the police intimidated her into testifying against Skinner. Since 2000, Skinner has asked the state to release other evidence for DNA testing, including a rape kit, biological material from Twila's fingernails, sweat from a man's jacket resembling one that Donnell often wore, a bloody towel and knives. Those items weren't tested at his original trial because his attorney at the time worried the results might be incriminating, but Texas courts have repeatedly denied Skinner's requests for testing in the years since, saying that he had his chance in 1995 and contending that more tests wouldn't prove that he wasn't the murderer.
Habeas corpus exhausted
Two types of criminal proceedings are at issue in the case now before the Supreme Court. Habeas corpus proceedings seek to prove that a person was wrongfully imprisoned and to overturn or shorten a sentence based on civil rights violations. A so-called "1983" civil rights lawsuit — named for the section of the federal Civil Rights Act it refers to — can be used to address any alleged constitutional rights violation, not just one that resulted in wrongful imprisonment. Some circuit courts allow defendants to bring DNA testing requests under federal civil rights law, but the 5th Circuit Court of Appeals in New Orleans, which has jurisdiction over Texas and Skinner's case, requires those claims to be filed under habeas corpus laws.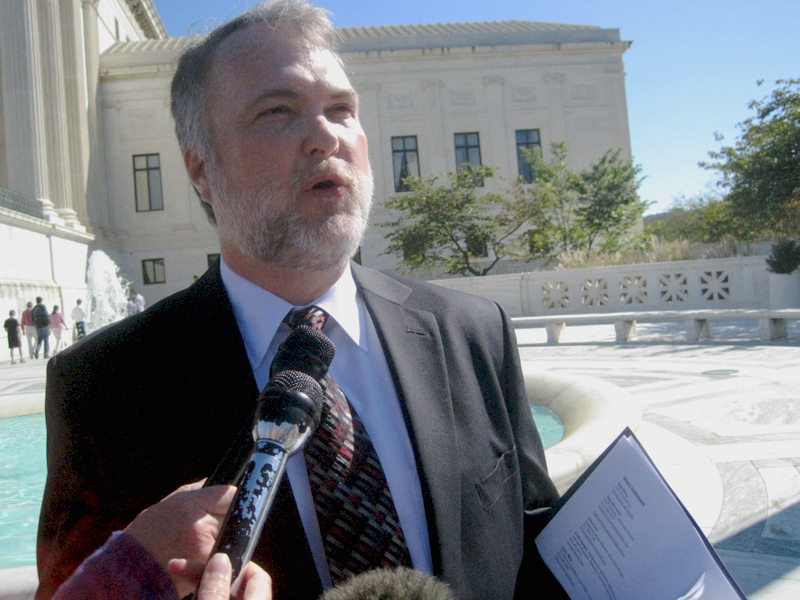 Skinner already has exhausted all the avenues of habeas corpus unsuccessfully. He unsuccessfully attempted to use Texas' 2001 law allowing convicted criminals access to DNA evidence after their trials are over. Rob Owen, co-director of the University of Texas' Capital Punishment Clinic, filed the civil rights lawsuit against Switzer, the current Gray County DA, as a last-ditch effort to get access to the DNA before Skinner's scheduled execution. The 5th Circuit dismissed the case. But just less than an hour before Skinner was set to die by lethal injection in March, the U.S. Supreme Court issued a stay.
In briefs filed before oral arguments on Wednesday, Skinner's lawyers argued that his lawsuit should proceed because the DNA testing he seeks would not necessarily result in the overturning of his sentence. If the high court allows Skinner's case to proceed, a lower federal court would decide whether to allow the testing — and even if that were to happen, there's no guarantee that the DNA test results would be exculpatory. If they were, Skinner would then have to go through another legal process to be exonerated. "It does not necessarily imply … the conviction is lawfully invalid," Owen told the justices. The way the Texas Court of Criminal Appeals interpreted the state post-conviction DNA law, Owen says, would bar anyone who didn't have evidence tested at trial from doing so subsequently, and that violates due process.
Catch-22
Coleman, Switzer's attorney, argued in his brief that Skinner's request must be a habeas proceeding because it ultimately seeks to undo his death sentence. Under Texas post-conviction DNA testing law, he argued, Skinner cannot reject testing at his original trial — a legal strategy meant to protect the defendant at the time — and then later claim he was deprived of a right to analyze the evidence. (Skinner has claimed that his original trial lawyer declined the tests against his wishes.) Allowing a federal court to reverse state court denials of the DNA testing would make the federal courts the overseers of state DNA laws — a situation that Congress has been careful to avoid, Coleman argued, by allowing states to decide their own post-conviction DNA testing laws. Skinner should not be able to sue Switzer to get the DNA, he said, because the DA is simply carrying out the law passed by the Texas Legislature.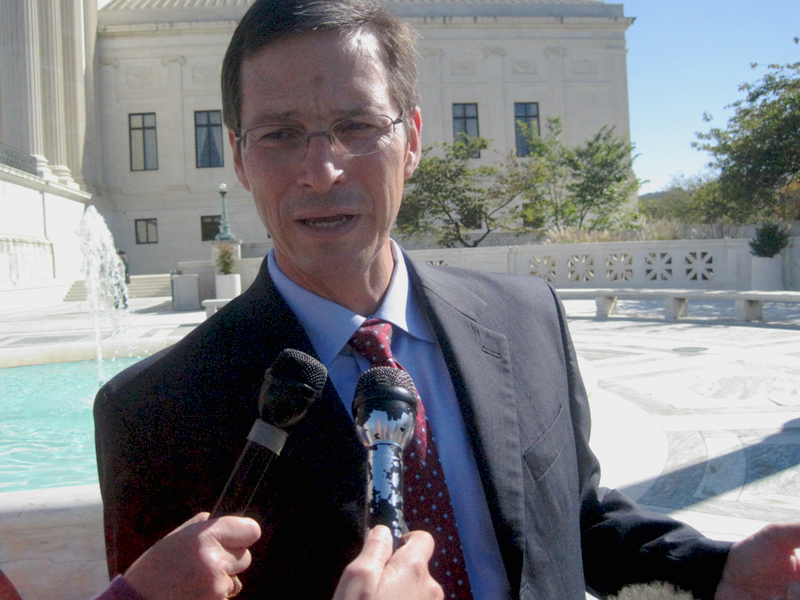 In the courtroom, Justice Antonin Scalia questioned whether the high court ought to intervene in the Texas courts' interpretation of state DNA testing laws. "It's up to them how they want to interpret it. We don't reinterpret state statutes because the state Supreme Court interpreted it strangely," he told Skinner's attorney. And the justices pressed attorneys on both sides to specify what criteria ought to be used to differentiate a habeas corpus case from a "1983" civil rights case if the eventual result of both is to alter the conviction. The question in the Skinner case presents something of a Catch-22, Justice Stephen Breyer pointed out. "He thinks [the DNA is] going to be exculpatory. He doesn't know that until he gets it," Breyer said. "Getting the DNA does not necessarily spell speedier release; it all depends on what that DNA shows."
The attorneys general of nearly two-dozen states, including Texas, Oklahoma and Colorado, submitted a brief supporting Gray County DA Switzer in the Skinner case. They argue that if the court were to allow Skinner to seek a federal court's approval for DNA testing, it would undermine post-conviction DNA laws in 48 states. "Sound principles of federalism and judicial restraint demand that this Court reject Skinner's invitation," the attorneys general wrote. A ruling in Skinner's favor, they said, would also invite hundreds of inmates to file similar litigation, overtaxing scarce state funds. But Owen said that was unlikely to happen: In states that do allow civil rights lawsuits for those seeking DNA evidence, he argued, inmates have not flooded the courts with lawsuits. "It's going to be a safety valve for highly unusual cases like our case," he said.
Skinner's daughter, Natalie Skinner, and his wife, Sandrine Ageorges-Skinner, were among the observers at the proceedings Wednesday. Outside the court, Natalie, with tears in her eyes, remembered the relief she felt in March when the court spared her father's life at the last minute and agreed to take up his case. "I'm just happy for the opportunity," she said. "But it's not about how I feel. It's about the legal issues of the case."
Texas Tribune donors or members may be quoted or mentioned in our stories, or may be the subject of them. For a complete list of contributors, click here.
Texans need truth. Help us report it.
Independent Texas reporting needs your support. The Texas Tribune delivers fact-based journalism for Texans, by Texans — and our community of members, the readers who donate, make our work possible. Help us bring you and millions of others in-depth news and information. Will you support our nonprofit newsroom with a donation of any amount?
Yes, I'll donate today
---
Information about the authors
Explore related story topics