Series Explores Texas' Transmission Lines for Wind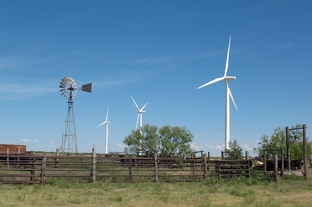 This week, the Tribune put together a three-part series exploring the state's $5 billion transmission-line build-out to support wind power, which is mostly generated in West Texas but needs to be shipped to cities in Central and East Texas. The project is known as CREZ, short for Competitive Renewable Energy Zones.
The first piece examined how even as more transmission lines are getting approved by regulators, opposition is gathering around the state:
Between the windy plains and the cities demanding power lie many people who fear that their scenery will be despoiled. So the proposed transmission network has unleashed an army of lawyers and angry landowners, who do not want the power lines and tall lattice towers cutting a 160-foot-wide swath through their acres.


The second looked at Hill Country residents' strong opposition to two lines that would cross their area:
Hill Country loyalists — some of whom have lived on their land for generations — employ every available argument to keep the transmission lines at bay. Besides the simple beauty of the hillsides, they cite endangered bird species, like the golden-cheeked warbler or the black-capped vireo; unique landforms, such as the Llano Uplift; the historic Pinta trail used by Indians and pioneers; a large bat colony; and much more.


The third examined transmission prospects for the Panhandle, which is the windiest part of Texas but far from the population centers:
On a wind map of the United States, the pinks and purples — indicating average speeds of 17 to 20 miles per hour at nearly the height of modern wind-power turbines — carve a great, meandering swath through the Great Plains. Some of the deepest hues reside in the Texas Panhandle, where howling gales roar through desolate, treeless plains several thousand feet above sea level.
Texas Tribune donors or members may be quoted or mentioned in our stories, or may be the subject of them. For a complete list of contributors, click here.