Getting Away With Murder
Tow truck driver Steven Hardin was shot and killed in April 1998 by Houston firefighter Barry Crawford during a dispute over a parking space. At the end of a high-profile trial, a jury found Crawford guilty of first-degree murder but sentenced him only to probation. A judge required the convicted killer to comply with various terms, including the payment of child support to the victim's family, but he failed to do all he was ordered. Nonetheless, a few months ago, he was released from his probation, leaving Hardin's mother with no recourse but to lobby for a change in state law.
On a humid Houston morning, Carolyn Hardin sits on a white marble bench near her youngest son's grave. More than a decade after a Houston firefighter killed him, Carolyn's oversized glasses slide down her nose on a stream of tears. "He was a good kid," she sobs. "He did not deserve to die over a parking space."
Steven Hardin, a tow truck driver, died in April 1998 when Houston firefighter Barry Crawford shot him in the chest during a towing dispute. In a high-profile trial with a shocking outcome, a jury found Crawford guilty of first-degree murder but sentenced him to only probation. Harris County District Judge Ted Poe, now a Republican U.S. congressman, imposed numerous and strict terms on Crawford's 10-year probation sentence. He was supposed to help support Steven's two children, to carry a photo of the 26-year-old in his wallet, to complete 1,000 hours of community service and to pay thousands of dollars to the family in restitution.
Since the jury handed down the sentence that Carolyn Hardin likens to a "slap in the face," she has watched in frustration as Crawford has failed repeatedly to comply with the terms of his probation. Twelve years after Steven's death, she has little more than a stack of piddling checks from Crawford. He failed to complete all the community service he was ordered to perform and still owes thousands of dollars to the Hardin family, though it's impossible to know precisely how much he owes because of court policies that shield such records. In June, despite Crawford's failings, Harris County Judge Lee Duggan signed an order ending his probation.
The Hardins' struggle with the criminal justice system ended in defeat, but Carolyn says she's not done fighting. She plans to take her cause to the Capitol next year and ask legislators to pass a law that would make it harder for probationers to get away with not fulfilling the terms of their sentences. "If a judge is going to put terms of probation on a person, make sure they do them, not just half-ass do them — excuse my French," Carolyn says.
Crawford did not respond to requests for an interview, and his attorney, Alvin Nunnery, declined to comment. In court, Crawford has argued that he was defending himself and that an injury kept him from completing the terms of his probation. After a 2008 court hearing, Crawford told the Houston Chronicle, "The Hardins aren't the only victims. I lost my wife. I lost my car. My daughter isn't doing well in school."
Murdered over a parking spot
On April 17, 1998, Steven Hardin showed up in a tow truck at the El Dorado Mobile Home Community in northeast Houston. For months, Crawford, his neighbors and the mobile home park's management had been bickering over a single parking space behind the firefighter's trailer. Hardin had nothing to do with any of it until that day.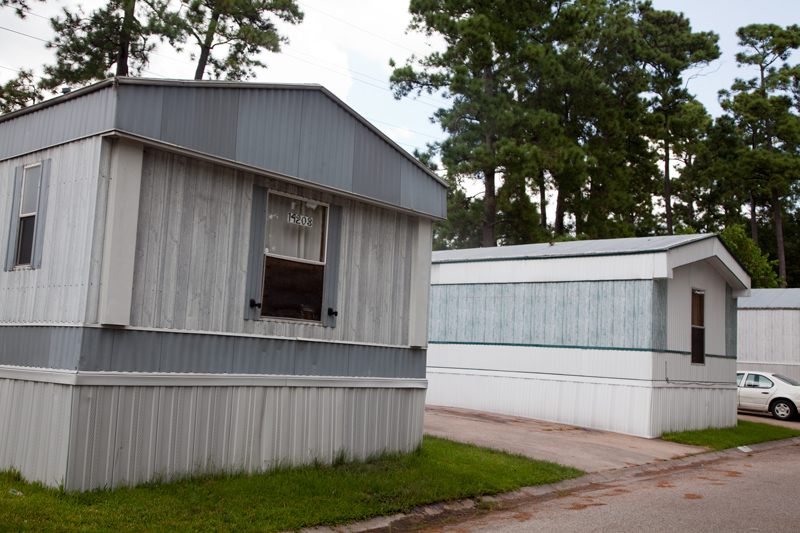 Crawford claimed that when he first moved into his double-wide trailer three years earlier, the management told him he could use the parking space next to his home. But after a couple of years, new management took over, and new neighbors moved in. The new managers asked Crawford at least six times in three months, including requests in two formal letters, to stop parking his Mitsubishi Mighty Max truck in the adjacent space. Crawford enlisted the advice of his police officer brother and a private lawyer and continued parking there.
Finally, Crawford's neighbors had had enough. Irma Rodriguez, who was visiting her father-in-law at the trailer park, talked to the management. They told her she could call a wrecker and have the truck removed. She told police that she dialed the number and that a truck showed up about 20 minutes later. "I was sitting at the table eating when I heard what sounded like chains rattling," she said in a police statement. "Moments later I heard my husband say, 'He has a gun!'"
Witnesses told police that Steven Hardin arrived at the trailer park in his tow truck and started hooking chains up to the Mighty Max. Crawford, then 37 years old, nearly 6 feet tall and more than 200 pounds, stormed out the back door of his trailer. He yelled and cursed at the tow truck driver and then started hitting and kicking him.
In his own statement to police, Crawford didn't mention anything about attacking Hardin first, but he said the tow truck driver wouldn't respond to his questions about why he was taking the vehicle. So he went back into his trailer and grabbed his .22. Hardin continued to hook up the truck. When Crawford tried to unhook the tow chains, he said, Hardin came at him with a shovel he grabbed from the tow truck. "I told him to stop or that I would shoot," Crawford told police. "I shot one round, striking him. The man dropped the shovel and he said, 'Oh no, I've been shot.'"
Carolyn Hardin says her son was entering the prime of his life when the bullet from Crawford's gun pierced the "F" in the green Tommy Hilfiger T-shirt he wore that day and struck his heart. Though he had his wild days, Carolyn says her son was settling into adulthood. He loved his own children, a son and a daughter, and loved being a tow truck driver. "That was his life's ambition," she says. And he was generous: He'd do just about anything to raise her out of a bad mood, she says, and he would go on daylong shopping trips with his sister. "He was my baby," Carolyn says.
When Crawford went to trial in July of 1998, the Hardins hoped and expected that the jury would send the admitted killer to jail for decades — maybe for life. But his defense lawyers presented a virtual parade of uniformed firefighters to testify on his behalf. And Crawford explained to jurors that he shot Hardin in self-defense after he felt threatened by that shovel. When the jury returned the verdict — guilty of first-degree murder — the Hardins were elated. Then, Judge Poe read the jury's decision on sentencing: 10 years of probation. It felt like a punch in the gut. "Texas is known as the killing state," Carolyn says. "We never heard you could get probation for murder."
A check for $1.24
When the jury's sentence came back, Poe added a series of additional requirements to Crawford's probation term. He had to spend six months in jail and complete 1,000 hours of community service. He had to pay for Hardin's funeral costs (about $5,300) and pay child support (initially about $455 monthly) for both of Hardin's children until they were 18. He had to put flowers on Hardin's grave twice each year — on his birthday and on the day he died. He had to erect a marker in Hardin's honor and tend to it for 10 years. He had to carry a sign in public describing his crime five times each year, and he had to have a photo of Hardin with him at all times.
On the day Poe read aloud those terms, Carolyn Hardin says she vowed to personally see to it that Crawford did as instructed. She figured there was no way he could comply, and that when he failed, she would be there to make sure he went to prison — "where he belonged to begin with." She would wait from dawn to sunset on her son's birthday and the anniversary of his death to make sure Crawford placed flowers on the gravestone etched with an image of his beloved tow truck. She would ensure Crawford carried the sign explaining that he had murdered her son. And she would count the pennies he paid in restitution and child support.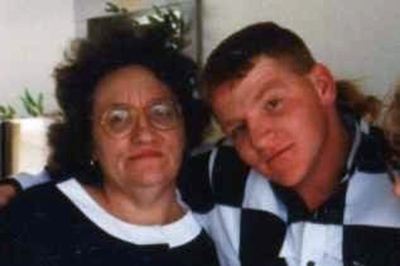 Crawford did comply, sporadically, with some of the terms. He left flowers on a few occasions at Hardin's grave. He carried the sign a few times. But he soon faltered. By the end of his probation, Crawford was sending Carolyn checks as minuscule as $1.24. From 2000 through 2010, his terms were amended eight times. Judges reduced the amount of child support and restitution he owed, ordered him to pay up and threatened to send him to prison. Finally, in 2009, the Hardins filed a motion to revoke his probation, a last-ditch effort in the waning months of his term to get him to pay or spend time behind bars. In court filings, the Hardins claimed that Crawford hadn't completed his community service hours, that he owed $8,400 in court fines, about $5,100 in restitution and more than $9,000 in child support.
Hardin's family, along with the Houston mayor's crime victims' advocate, Andy Kahan, put so much pressure on one of the judges who oversaw the Crawford case that he eventually recused himself. In 2009, District Court Judge Marc Carter wrote an e-mail to Harris County District Attorney Pat Lykos explaining that he had received letters from people all over the country demanding that he send Crawford to prison. Some of the probation terms, he wrote, had to be modified because they created face-to-face confrontations between Crawford and the Hardins. Community service time was changed because Crawford was injured. And, Carter wrote, Crawford was delinquent with restitution in part because it's hard for a convicted murderer to find work. "I cannot revoke probation for failure to pay restitution," he wrote. "As far as I know the law regarding debtors prisons has not changed."
Bringing the fight to the Legislature
In January, Judge Lee Duggan denied the Hardins' motion to revoke Crawford's probation. Duggan, who also did not respond to requests for comment, ordered Crawford to resume payments to the family by March 2010. Carolyn Hardin still has that tiny, insulting check from Crawford, the last one he sent, for $1.24. She also has the letter she got shortly thereafter informing her that Duggan had released Crawford from his probation term on June 21. The letter was addressed to Steven Hardin. "That was just the last slap in the face," she says.
It's unclear just how much Crawford still owed in restitution, court costs and community service time when Duggan signed the "unsatisfactory termination" order ending the probation sentence. In comments on the order, the judge wrote the termination was unsatisfactory due to "illness related prohibitions affecting ability to make restitution payments." Mia Settle, general counsel for the Harris County Community Supervision and Corrections Department, says that agency doesn't keep track of how much money or time probationers still owe when their sentences end. Only the supervising court, she says, can release that information about specific probationers.
Kahan, who has worked with the Hardin family over the last decade, says their case, while an extreme example, points to a much broader failure by courts to enforce probation. Thousands of probationers and parolees in Harris County — and likely other jurisdictions statewide — are released from their terms without fulfilling the requirements that were initially mandated. Kahan and the Hardins want lawmakers to make sure that criminals pay their debt to society, which is why they plan to ask lawmakers during the 2011 session to approve legislation that would give judges the discretion to extend a probation term for up to five years for noncompliance. And they want any unpaid balances the probationer owes to automatically be filed as a civil lien, so that whenever the individual comes into money, the victims' families can immediately go after any restitution they are still owed. "It might induce them to actually fulfill their court-ordered duty," Kahan says.
When Kahan and the Hardins come to Austin next year, it won't be their first audience before the Legislature. After the jury sentenced Crawford to probation in 1999, they tried to change the law to make sure no other killer could get off without prison time. It took nearly a decade, but in 2007, state Rep. Scott Hochberg, D-Houston, passed a measure that prevents juries from giving murderers probation — though judges can still approve deferred adjudication for the crime. Even if it takes another 10 years to complete their next mission, Kahan and the Hardins say they will keep battling to make sure Steven Hardin didn't die in vain, because, as Kahan says, "There's nothing to lose by trying."
Texas Tribune donors or members may be quoted or mentioned in our stories, or may be the subject of them. For a complete list of contributors, click here.
Texans need truth. Help us report it.
Independent Texas reporting needs your support. The Texas Tribune delivers fact-based journalism for Texans, by Texans — and our community of members, the readers who donate, make our work possible. Help us bring you and millions of others in-depth news and information. Will you support our nonprofit newsroom with a donation of any amount?
Yes, I'll donate today
---
Information about the authors
Explore related story topics