Harris County Officials Talk About Jail Crowding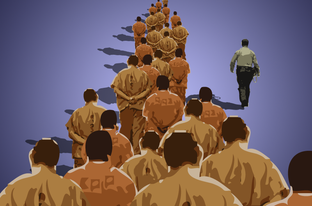 It wasn't so much a grilling as a polite discussion this morning between Harris County officials and members of the Texas Commission on Jail Standards. Despite continued overcrowding at the county's four facilities and ongoing concerns about inmate conditions, the county is expected in November to ask the commission for permission to continue filling the jails with hundreds of so-called "variance beds" — beds beyond the capacity for which the buildings were designed.
Houston area lawmakers, in a letter last week, asked the commission to ensure that county officials were making measurable progress to reduce the jail population before granting permission for the continued variance beds. They wrote that they were worried the conditions could lead the U.S. Department of Justice to take over managing the jail or even to inmate deaths.
The jail facilities in Harris County are designed to hold up to about 9,400 inmates. But currently, more than 10,200 inmates are in county custody, including about 1,500 who have been shipped to jails in other Texas counties and in Louisiana. "We're still aggressively outsourcing inmates," Major Mike Smith, who is in charge of Harris County's jail facilities, told the commission. They're outsourcing, he said, not only because the jail is short on space, but also because it's less expensive than hiring all the staff and paying all the overtime it would require to guard all those inmates. "If we get the population down, we would like to bring as many back as we can," Smith said.
He also explained that although Harris County jail is not using all of the 1,600 variance beds it currently is permitted to have, it's critical for officials to have the flexibility the additional beds provide. Part of the need for flexibility comes from ongoing renovation at one of the facilities to improve the electrical system and intercoms. That work is expected to be complete sometime next year, Smith said.
Caprice Cosper, director of Harris County's Office of Criminal Justice Coordination, said the jail population is falling, but solving the problems will require more policy adjustments than the sheriff alone can implement. District attorneys, judges, probation and parole officers and mental health care providers are all working on policies that they hope will get offenders the treatment they need to avoid jail time and prevent recidivism. She told the commission that 70 percent to 80 percent of inmates in Harris County who are awaiting trial have a prior criminal history. "Change in the criminal justice system does not usually come easy," she said. "It's generally not as simple as it may look on its face."
Jail commission executive director Adan Muñoz said he hoped the discussion today would provide the nine-member commission with more knowledge upon which to base its decision in November about whether to continue allowing Harris County additional beds.
Texas Tribune donors or members may be quoted or mentioned in our stories, or may be the subject of them. For a complete list of contributors, click here.