Formula to Come Under Scrutiny in Ratings Release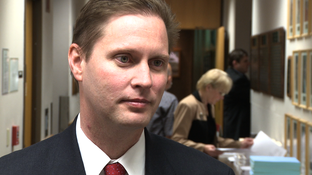 The Texas Education agency plans to release school accountability ratings for every public school in Texas on Friday at 1 p.m., with a news conference and a release of data on this page of the agency's website. For the second year, the rankings will be filtered through the controversial Texas Projection Measure, which credits schools and students who fail state tests but are projected to pass in the future.
In light of recent criticism that the formula has inflated school ratings, state Education Commissioner Robert Scott has alternated between defending the statistical validity of the formula and saying he's "happy to scrap" it if the criticism grows into a consensus. The results to be released on Friday could either fuel or dampen the furor over the measure, which the state has called a "growth measure," but which in reality projects future student growth — often inaccurately — rather than measuring and crediting past student improvement. Essentially, schools get credit for students who get close to passing, regardless of their academic performance history or recent growth toward the goal.
Last year, the projection formula more than doubled the number of schools labeled "exemplary" — the highest of four rating categories — from 1,044 to 2,158, while simultaneously slashing the number of "unacceptable" schools, the lowest category, from 603 to 245. In all, the state called 62 percent of Texas schools either "exemplary" or "recognized," a big jump from 46 percent the previous year. Meanwhile, less than 3 percent of state public schools were considered failing.
If schools improved at even a modest rate this year — or simply became more adept in applying the measure and getting borderline students over the lowered bar it sets — that could push the number of schools in the top two categories to 70 percent of more. Which begs the question: If nearly three-fourths of schools are "recognized" or better, how are parents supposed to tell one great school from another? And if "failing" schools are reduced to a tiny sliver of all schools, how are state and local policymakers supposed to tell which schools need help or sanctions? That was the chief goal of accountability systems in the first place: To spotlight failure and mediocrity as a way to pressure districts, principals and faculties to turn schools around.
But most Texans, even those with school children, don't have time to monitor the intricacies of an ever-evolving accountability system that over the years has grown mind-numbingly complex — it takes a 220-page manual just to lay out the rules. And yet the system, after slicing and dicing all that data, spits out four rather vague and simplistic answers about school quality: Exemplary, Recognized, Acceptable and Unacceptable. As one critic, Bill Hammond of the Texas Association of Business, put it to me recently: "When the schools hang a banner over the door that says, 'recognized,' they don't explain it was because of the Texas Projection Measure."
In light of the continuing debate over the projection measure, the TEA does plan to release this year's rankings in two different ways: Calculated with the measure and without. So it will be clear, hopefully, exactly how many schools jumped over the lowered bar.
Texas Tribune donors or members may be quoted or mentioned in our stories, or may be the subject of them. For a complete list of contributors, click here.