The Brief: July 26, 2010
It'll likely be Gov. Rick Perry on the defense in this week's round of Your Murky Business Dealings Make You Unfit for Office.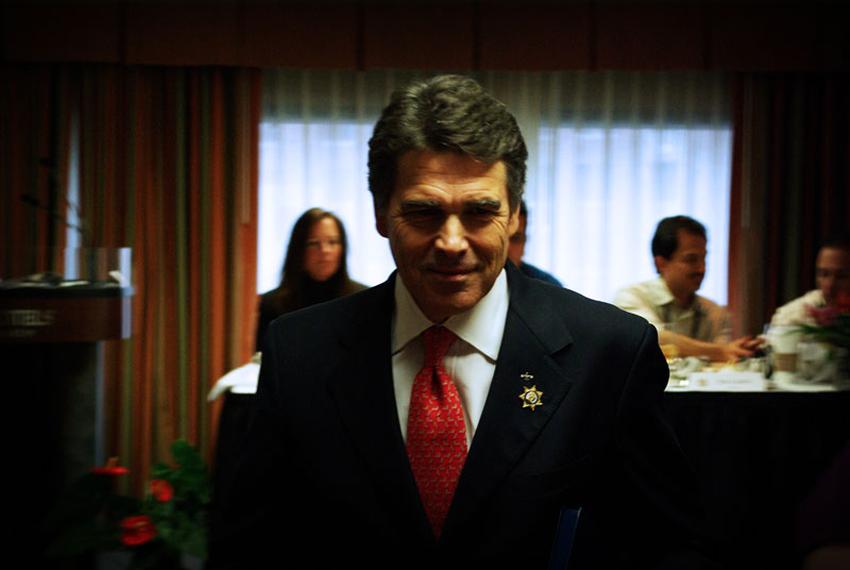 THE BIG CONVERSATION:
It'll likely be Gov. Rick Perry on the defense in this week's round of Your Murky Business Dealings Make You Unfit for Office.
The latest controversy in the governor's race, coming a week after the The Dallas Morning News reported on profits that challenger Bill White made from an investment in a troubled oil company, involves questions of political favoritism surrounding a real estate deal Perry closed in 2007. The report is sure to provide White, still taking hits from the Perry camp for allegedly failing to disclose said profits, with an opening to hit back in what has become an increasingly heated and personal race for the state's top post.
In a nutshell (which you might need, given the News' almost 4,000 words on the matter), the winding story goes a little something like this:
In 2001, State Sen. Troy Fraser, a Perry ally, sold a piece of land to Perry below the parcel's market value. In 2007, Perry then sold the land to Alan Moffatt above its market value. (The News hired an independent team to conduct the land appraisals.) Moffatt is a business parter of Doug Jaffe, who originally sold the land to Fraser. "Anything they do is wheeling and dealing," a source is quoted in the News saying of the Jaffe family, who has complicated ties to state politics. Perry has not disclosed any gifts he might have received, which state law requires. (Get the full story here.)
Perry's camp has called these deals clean, citing a bank's appraisal. The News' research team has deemed that appraisal "unsupported."
Perry told the paper last week that he has been "open and honest" with his business dealings. "So I would just have folks take a look at the record, and I think the record pretty much speaks for itself," he said.

CULLED:

The Texas Forensic Science Commission concluded Friday that arson investigators were guided by "flawed science" in the case of the fire that killed three child and led to the execution of their father, Cameron Todd Willingham. But the commission also concluded that it wouldn't punish the investigators, given that at the time they operated without knowledge of changing scientific standards.
"I respectfully cautioned House leadership that it would make the voter ID debacle look like child's play." — State Rep. Rene Oliveira, D-Brownsville, on the prospect of a fight over an Arizona-style immigration bill in next year's legislative session
MUST-READ:
Teen mom seeks right formula to pass TAKS math test — The Dallas Morning News
Reputed Juárez cartel leader arrested — El Paso Times
For Swift, it isn't easy being Green — San Antonio Express-News
Voices from Baylor campus: Ken Starr getting rave reviews so far — Waco Tribune-Herald
After Efforts to Fix Food Stamps, Some Still Struggle — The Texas Tribune
Texas Tribune donors or members may be quoted or mentioned in our stories, or may be the subject of them. For a complete list of contributors, click here.
Your New Year's resolution list isn't complete without …
… supporting the Tribune. This new year, resolve to do your part to sustain trusted journalism in Texas. Join thousands of readers who power The Texas Tribune's nonprofit newsroom.
Donate now