Baby Bump
At a hearing today, the Department of Family and Protective Services will consider stricter caregiver-to-child ratios for child care centers — but improved care for Texas toddlers could also mean less income for child care providers and higher tuition for families.
Imagine 30 toddlers — their piles of toys, their penchants for light sockets and mess-making, their cries over boo-boos and wailing for snacks. Now imagine that just you and one other person are responsible for their well-being.
At the moment, Texas Department of Family and Protective Services regulations require just two professional caregivers to attend to the needs of up to 30 toddlers in child care centers. At a hearing today, the agency will consider stricter standards for its Child Care Licensing division. While some child care professionals believe passing the new standards would improve care for Texas children, others worry they would mean less income for their businesses and higher tuition for families. And that could result in low-income parents being forced to abandon state-approved licensed centers and to turn to unlicensed, unmonitored neighborhood babysitters.
Early childhood advocates worked with legislators during the 2009 session on several bills that would have required a smaller caregiver-to-child ratio at child care centers. None of the bills were enacted, but the push re-emerged during a required review of child care licensing standards this year. Current standards allow two caregivers to watch up to 22 two-year-olds and up to 30 three-year-olds. Under the proposed new standards, two caregivers could oversee up to 18 two-year-olds and up to 28 three-year-olds.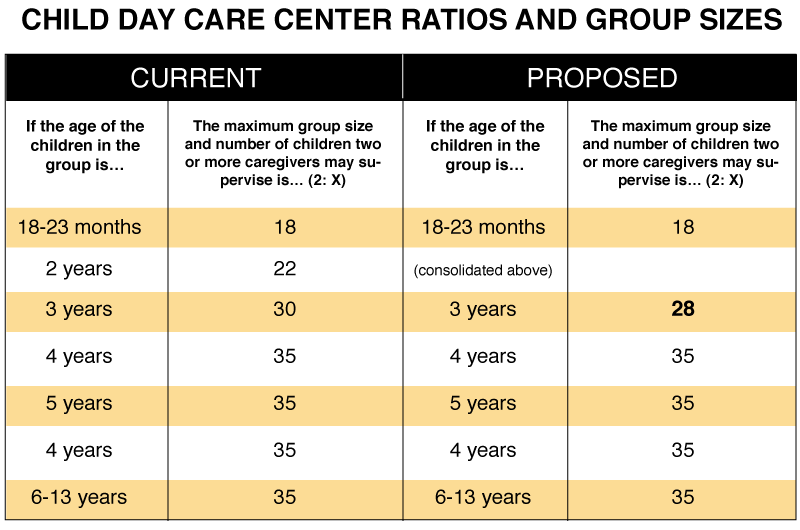 Susan Craven, executive director of the Texas Association for Infant Mental Health, says that neither the existing or revised standards are good enough — that instead, Texas should cut the maximum child group sizes in half. The American Academy of Pediatrics and national child care experts recommend two caregivers for eight to 10 two-year olds and two caregivers for up to 14 three-year-olds. And a recent study by the Baylor College of Medicine showed that children who played more and were touched more as infants have larger brains with more neural pathways than children who received less attention when they were babies.
Trinity Child Development Center in Austin abides by the national recommendations. It's more expensive and challenging to hire more caregivers for fewer children, says director Gloria Newnaber, "but relationship-wise and curriculum-wise, it makes so much sense."
Most child care centers in Texas already come close to meeting the proposed new state standards, according to a recent DFPS survey. But only 6.9 percent of the nearly 9,300 Texas child care centers meet the national recommendations, according to a report by the National Association of Child Care Resource and Referral Agencies.
Some private child care centers fear that smaller group and ratio sizes will cost too much and drive them out of business. The Texas Licensed Child Care Association (TLCCA), which opposes the proposed changes, says its main goal is to protect children in Texas while keeping the child care business economically viable.
The association's legislative chair, Nancy Chick, who owns Blue Bonnet School of Cedar Park, says it could cost thousands of dollars for centers to hire enough staff to come in line with the proposed standard, and that the increase would primarily be absorbed by parents paying higher tuition — perhaps as much as $39 more per child per week, or more than $2,000 extra per child per year.
"Child care centers are unique places where children rule," Chick says. "But no matter how much you love children, you have to bring in more money than what goes out the door."
The new standards would most affect providers who care for low-income children and take in large groups to keep tuition prices down, Chick says. Families who can't afford higher tuition, she says, may be forced to send their children to unlicensed care providers, meaning the state would have no control over the kind of care the children receive.
Alternately, private child care centers might be forced to reduce the number of children they take under the state child care subsidy program, Chick says. The Texas Workforce Commission helps some low-income families pay for child care, but the rate the state pays is lower than the regular tuition price at most child care centers. If the cost of providing care goes up, care providers won't be able to accept as many children from the subsidy program, she says. That, in turn, would contribute to what is expected to be a growing backlog of families on the waiting for child care subsidies in Texas. Today the subsidies are being paid with money from the Recovery Act, but those run out at the end of this year.
"Money makes the world go round," Chick says. "You are going to have to provide some sort of economic benefit for centers to prevent an unintended consequence that is bad for children."
If the new standars are approved, they would take effect Dec. 1, with enforcement beginning in two years.
Texas Tribune donors or members may be quoted or mentioned in our stories, or may be the subject of them. For a complete list of contributors, click here.
Your New Year's resolution list isn't complete without …
… supporting the Tribune. This new year, resolve to do your part to sustain trusted journalism in Texas. Join thousands of readers who power The Texas Tribune's nonprofit newsroom.
Donate now