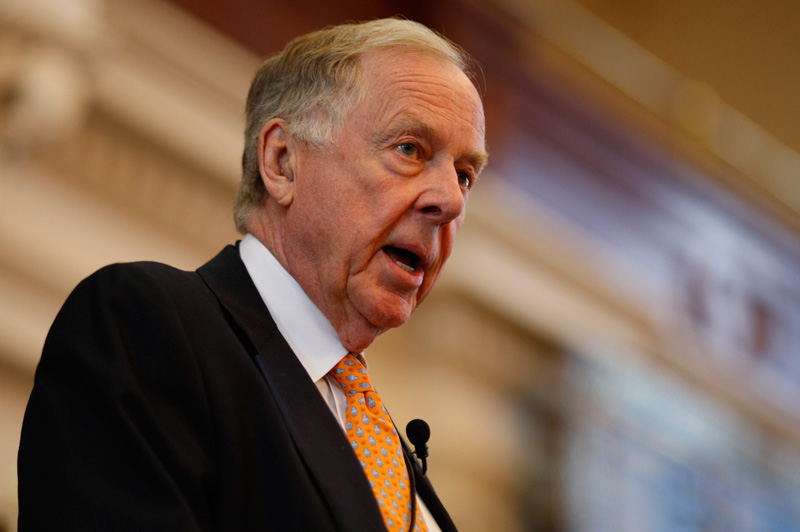 T. Boone Pickens, the billionaire Texas oilman, today updated the presentation for his Pickens Plan to get the country off of foreign oil. The updated plan focuses almost entirely on natural gas, and makes no mention of the wind power he also peddled two years ago.
Using his signature whiteboard, Pickens argued that the country's 8 million 18-wheeler trucks were the key to cutting the country's oil imports from OPEC (5 million barrels per day) in half. The trucks, which currently run on diesel, could be converted to natural gas in seven years, he said.
If we don't use natural gas, "we will go down as the absolute dumbest crowd that ever came on the streets," Pickens said.
Natural gas, he explained, is "30 percent cleaner than diesel. It's abundant. It's cheaper." (Its extraction from newly accessible shale-gas reserves is also environmentally controversial.)
The Texas Tribune thanks its sponsors. Become one.
The original Pickens Plan whiteboard from June 2008 also promoted the use of natural gas in vehicles. (Pickens is the founder of Clean Energy Fuels, a company that builds national gas fueling stations.) But it also urged the country to develop its wind resources, citing Sweetwater, Texas, as a hub of wind development. Pickens argued (somewhat simplistically) that wind could replace natural gas in electricity generation — and the freed-up natural gas could be used to power vehicles.
But Pickens's wind vision has fallen apart. Back then, he claimed to be building the world's largest wind farm, in Pampa, Texas. No longer: Pickens did order some turbines from General Electric, but as he told the Texas Tribune last month, he has given up his Pampa lease and no longer plans to build a wind farm in Texas. The low price of natural gas — which has fallen by about two-thirds since Pickens' original presentation — has pulled down electricity prices, and thus hurt the economics of wind power. Last month Pickens told the Tribune he would announce new wind farm plans "pretty quick," but he hasn't yet.
Pickens has not given up on alternative energy sources altogether. In the presentation today, Pickens argued that the other half of OPEC oil imports could be eliminated by cars running on a variety of fuels, including ethanol, natural gas, electricity, propane and butane.
Pickens noted that President Obama promised in 2008 (when accepting the Democratic nomination) to wean the country from its dependence on Middle Eastern oil in 10 years. "He's already used up two years," Pickens said.
Texas Tribune donors or members may be quoted or mentioned in our stories, or may be the subject of them. For a complete list of contributors, click here.