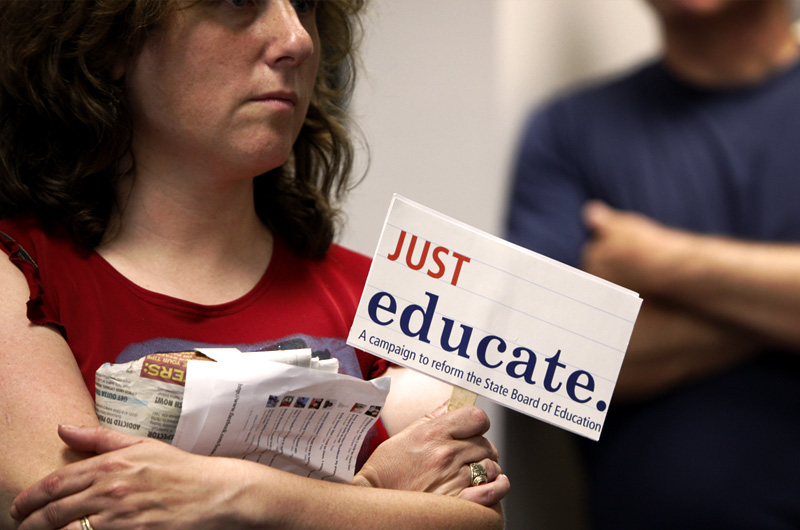 Texans overwhelmingly reject the way the State Board of Education sets requirements for textbooks and curriculum, which ignited a nationwide controversy earlier this year, according to a statewide survey the Texas Freedom Network released today.
The data from TFN — an activist group that promotes religious freedom and has vocally opposed the SBOE's process of adopting textbook and curriculum standards — also suggests that Texans may not be as divided on some hot-button "culture war" issues.
Among the findings:
72 percent of likely Texas voters (including 84 percent of Democrats, 63 percent of Republicans, and 76 percent of independents) want teachers and scholars, not politicians, to be responsible for writing curriculum requirements for public schools.
80 percent of likely Texas voters agree that high school classes on sex education should teach "about contraception, such as condoms and other birth control, along with abstinence."
88 percent of likely Texas voters think public schools should be required "to protect all children from bullying, harassment, and discrimination in school, including the children of gay and lesbian parents or teenagers who are gay."
The issue of religion in public schools produced more divisive responses. While 68 percent said "separation of church and state is a key constitutional principle," 49 percent said "religion should have more influence in public schools." Fifty-five percent opposed publicly funded vouchers for students attending private and religious schools.
The Texas Tribune thanks its sponsors. Become one.
"The future of education in Texas stands at a crossroads," Kathy Miller, president of TFN, said in a release. "Texans want a cease-fire in the divisive 'culture war' battles that have dominated education issues in our state and think what our schoolchildren learn should be based on the knowledge and expertise of teachers and scholars, not the personal agendas of politicians on the State Board of Education."
But Texas Education Agency spokeswoman Debbie Ratcliffe points out that it was educators who initially proposed revisions to the curriculum. And by Texas state law, only the SBOE has the power to revise the curriculum. "The best way [voters] can impact the process is to learn about state board candidates and vote for the one that is most closely aligned with their beliefs," she said.
The survey consisted of 972 likely voters in Texas with a margin of error of +/- 4 percent. It should be noted that the survey included an oversample of likely voters aged 18-29.
The full report is available here.


Texas Tribune donors or members may be quoted or mentioned in our stories, or may be the subject of them. For a complete list of contributors, click here.