The Midday Brief: July 9, 2010
Your afternoon reading.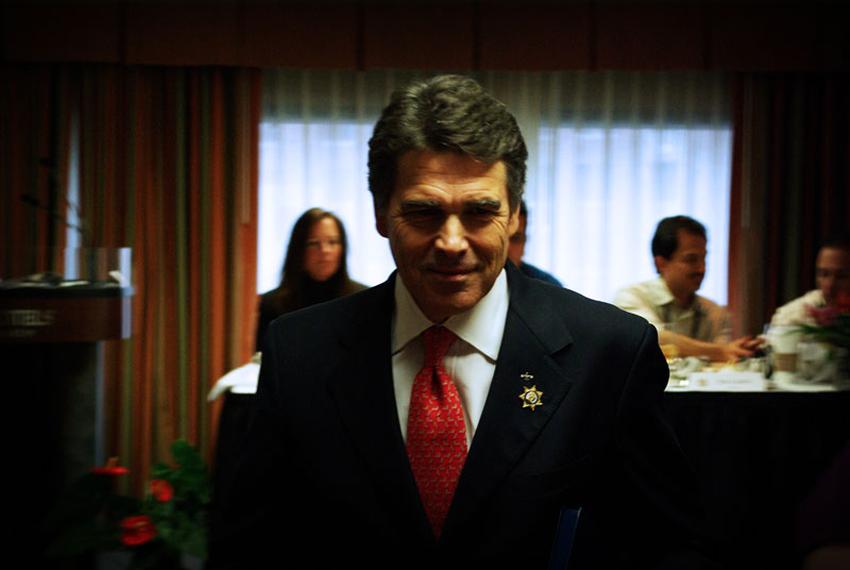 Your afternoon reading:
"Democratic lawyers are trying to serve former Rick Perry chief of staff Mike Toomey with a subpoena to find out what he knows about the Green Party petition case. Word is that Toomey is on vacation, possibly on an island that he owns with the governor's chief political strategist Dave Carney." — No candidate's an island: But Perry allies in Green Party case own one, Trail Blazers
"Democrats have seized on comments by Nevada GOP Senate candidate Sharron Angle, who yesterday referred to BP's $20 billion escrow fund as a "slush fund." She later walked back her comments on her website." — Angle replaces Barton as new Democratic punching bag, Trail Blazers
"An earmark placed in a war spending bill by a Texas Democrat would provide a processing center for Fort Hood soldiers preparing for overseas duty, replacing the one that became the site of a lone gunman's rampage last year." — Edwards seeks new Fort Hood processing center, Texas on the Potomac
"The Associated Republicans of Texas are back with force. Taking a more active role in fundraising than in several of the past election cycles, the group announced Thursday that it has raised nearly $1.5 million for the year and, as of June 30, had more than $1 million on hand. We haven't yet seen their actual report to the Texas Ethics Commission (due July 15), but somebody is giving these guys a lot of money." — GOP group shows its strength, First Reading
New in The Texas Tribune:
"Anger and fear were on display at a public meeting the Environmental Protection Agency convened in Fort Worth to discuss a natural gas drilling technique called hydraulic fracturing." — Anger Surfaces at EPA Shale Gas Meeting
"The Texas Institute for Genomic Medicine — essentially a high-level mouse lab that has been a tangential topic in the race for governor — just won a grant that could quiet its detractors." — TIGM Receives $12 Million Award
Texas Tribune donors or members may be quoted or mentioned in our stories, or may be the subject of them. For a complete list of contributors, click here.
Support public-service journalism that's always free to read.
It's been a busy year. Through it all, The Texas Tribune's journalists have not missed a beat. And with redistricting starting in earnest next week and the 2022 elections on the horizon, we know our journalism will continue to be fundamental for Texans everywhere. Support our work today so we can be there for you in 2022 and for whatever else 2021 might throw at us.
Yes, I'll donate today