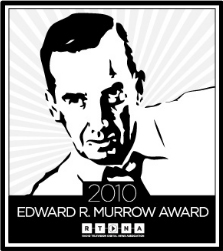 Here at Trib HQ, we're overjoyed to learn that we won two national Edward R. Murrow Awards: for best use of video by a local news operation — for Elise Hu's Stump Interrupted series — and for best website. For a not-yet-8-month-old organization, this is a big deal. The Murrows honor excellence in electronic journalism and bear the name of the gold standard for our profession's enterprise and integrity. And we're in good company. The other winners this year include the three network news divisions, The Associated Press and National Public Radio, along with a host of local entities that have been around much, much longer.
It's easy to take this stuff too seriously, to mistake recognition for substance, yadda yadda. Let's just say: We're psyched. Special props to Elise, who had a thought bubble about thought bubbles before there was a Texas Tribune, and sincere congrats to the whole Trib staff.
Texas Tribune donors or members may be quoted or mentioned in our stories, or may be the subject of them. For a complete list of contributors, click here.