Out of State Kids May Suffer in Texas Care Facilities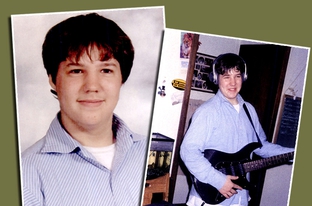 Alaska officials sent 16-year-old Richard DeMaar 4,000 miles away from his parents to a Texas psychiatric facility because his home state wasn't equipped to handle his severe depression. Within six weeks, he had tied a bed sheet over the bathroom door, climbed up onto a trashcan and slipped the makeshift noose around his neck, strangling to death.
Richard was one of roughly 900 out-of-state kids sent to a Texas residential treatment center in the last five years — part of a national compact that allows states that don't have adequate psychiatric or mental health services to send kids to states that do. The practice is designed to help troubled kids get the level of care they need, regardless of where they call home. But it's increasingly coming under fire from children's health advocates, who say it takes kids away from their families and their communities — two things they need to make a full-fledged recovery.
"It's not fair to the parents, to the kid, to send them out of the state, to send them too far for people to visit," Richard's mother, Elizabeth DeMaar, said from her home in Fairbanks, fighting back sobs. "He was so scared to be so far away."
Child welfare experts say the Interstate Compact on the Placement of Children — known more familiarly as the "icky picky" — is often a necessary tool. In some cases, a troubled child in the custody of one state has kin or a potential guardian in another state. In other cases, the closest care facility to home is actually across a state line. And then there are states with low populations or limited resources, which simply don't have the level of treatment an extremely sick or disturbed child needs.
"Alaska is a classic example," said F. Scott McCown, a former state district judge who runs the Austin-based Center for Public Policy Priorities. "They've got to find a placement that wants the kid, a placement that can meet the kid's needs and a placement that they can afford. And to some extent, whether that placement is in Washington State or in San Antonio, it doesn't much matter."
But some advocates say the strategy is completely misguided. Alison Barkoff, a senior staff attorney with the Washington, D.C.-based Bazelon Center for Mental Health Law, said residential treatment centers are already a troubling environment: Kids pick up the behavioral problems of their peers, get disconnected from the real world and regress when they're back in their own homes, schools and communities. Add an out-of-state placement to the mix, she said, and these problems are only exacerbated — especially since parents and guardians have no way to monitor care or living conditions.
"Not only can you not address your needs in your home environment," said Barkoff, who noted that many inner-city D.C. kids are placed in residential treatment centers as far away as Utah and Minnesota. "You can't even make meaningful contact with your family."
Richard's story
Richard's troubles began in his early teens. He was kicked out of school twice. He got high and drunk while his parents worked nights at the local hospital. And he slept more than half the day. Still, family pictures show a floppy-haired, baby-faced teen with a bashful smile and the last remnants of adolescent acne.
Richard's condition spiraled out of control in late 2005, when the 16-year-old sank into a deep depression and started considering suicide. First, he was taken to Fairbanks Memorial Hospital after he was found intoxicated and cutting his wrists in the street. The next month he took more than a dozen painkillers out of the family medicine cabinet and had to be admitted to an Anchorage youth psychiatric facility. But when workers there found Richard had made a noose out of his torn bed sheet and had plans to hang himself, they moved him by stretcher to yet another facility, the Alaska Psychiatric Institute in Anchorage. At API, Richard told counselors he wished he was dead, that he had no will to live. "High risk [for] suicide," the therapists wrote on his intake forms. "Dangerous to self."
Richard needed long-term care, more than API — or any other Alaska facility — could provide. With all their in-state options depleted, Alaska officials used the interstate compact in February 2006 to transfer Richard to the Laurel Ridge Treatment Center in San Antonio — one of 25 out-of-state facilities, from Utah to South Carolina, covered by Alaska Medicaid.
The DeMaars were hesitant. Texas was so far, and Richard was so resistant. But they figured that with his suicidal tendencies and with Alaska's confidence in Laurel Ridge, their son would be monitored around the clock. "The only option was to send him out of state," DeMaar said. "We just tried to cooperate. The only thing we wanted was for him to get well."
Yet quickly, Richard's parents felt something wasn't right. Every time they called, Richard was asleep or "out on activities." They played endless games of phone tag with facility therapists who, when they connected, told the DeMaars that Richard was improving. But on April 9, 2006, the DeMaars received a call telling them Richard had committed suicide.
"We searched the internet frantically to find out what we did wrong," said DeMaar, whose husband died unexpectedly three months after her son. "We trusted completely the people who deal with this on a daily basis."
A "discharge summary" Laurel Ridge prepared after Richard's death stated that the suicide was "totally unexpected given his apparent good adjustment at the program." But an investigation by the Texas Department of Family and Protective Services revealed Laurel Ridge had violated its own facility policy by failing to check on Richard every 15 minutes. Officials with Laurel Ridge and its parent company, Psychiatric Solutions, Inc., did not return phone calls or emails seeking comment.
"So many red flags"
In the years since Richard's death, Alaska has dramatically curbed out-of-state placements through a project called Bring The Kids Home — a statewide effort to provide care within Alaska's borders. State officials realized they had to: Between 1998 and 2004, Alaska's out-of-state residential treatment center placements grew by nearly 800 percent, from 80 to nearly 750 a year.
Brita Bishop, the coordinator of the Bring The Kids Home program, said the out-of-state placements led kids to feel disconnected and to have weaker outcomes, all at a high cost to the state. When the state stopped sending so many kids out of state, she said, it saw recidivism rates drop and expenditures plummet — and officials were able to invest more resources into intensive community care and therapeutic foster homes.
"What we recognized was, it was culturally disconnecting for kids from Alaska to be in Texas," she said. "… Now, we stop and say, 'Wait a minute. We haven't exhausted all of the in-state options yet.'"
DeMaar, meanwhile, is left with nothing but questions. Why was her suicidal son left with sheets, with a trashcan, with anything that could be used to help him take his own life? Why were the 15-minute checks overlooked? And most chilling, would it have been different if he'd remained close to home, where his parents and siblings could visit and participate in his care?
"The director [at Laurel Ridge] told me some suicides are inevitable, that sometimes there's nothing you can do," DeMaar said. "But there were so many red flags."
Texas Tribune donors or members may be quoted or mentioned in our stories, or may be the subject of them. For a complete list of contributors, click here.