Solar Opposites
In the West Texas outpost of Marfa, Malinda Beeman is waging war. Her target: a company that plans to erect at least 1,000 three-story mirrored satellite dishes designed to harness energy from the blisteringly bright desert sun.
From her front yard, Malinda Beeman can see the round pinkish-brown dome of Chinati Peak rising out of the desert miles away. It's so quiet most days that she can yell at her five dogs and hear the echo reverberate off some cactus-covered mesa who knows how far from home. "It's just a different life experience," Beeman says.
In what she describes as an all-encompassing obsession, Beeman is fighting to preserve that lifestyle, which she and hundreds of other artists have discovered in the West Texas town of Marfa, by waging war with a company that has plans to erect at least 1,000 three-story mirrored satellite dishes — designed to harness the energy of the blisteringly bright desert sun and turn it into electrical power.
Presidio County Judge Jerry Agan and others in this tiny outpost find the opposition from the solar-fighters puzzling. Over the past two decades, creative spirits like Beeman have effectively transformed Marfa from a boarded-up dot on the map into a mecca for writers, painters and sculptors inspired by the desolate landscape. Most of the newcomers are the type you might expect to champion an investment in clean, alternative energy. "It's astounding to me, because most of the people involved [in the opposition] are pro green power," Agan says.
Tessera Solar, a London-based company with American headquarters in Houston, plans to install the solar power generation site — the first of its kind in Texas — on about 200 acres of land two miles east of Marfa. Power generated there will help keep the lights on and the air conditioning running some 400 miles east in San Antonio. The company plans to break ground on the project later this year. In its first phase, Tessera plans to install 1,080 of the huge mirrored discs — called SunCatchers — that will generate about 27 megawatts of power. CPS Energy, which supplies gas and electricity for San Antonio, will buy the energy from Tessera. Raul Cardenas, manager of renewable energy programs at CPS, says the initial phase will generate enough power for an average of about 4,000 homes. The project could eventually expand to include twice as many SunCatchers and take up some 600 acres, though Tessera says it's unlikely the project would grow that large.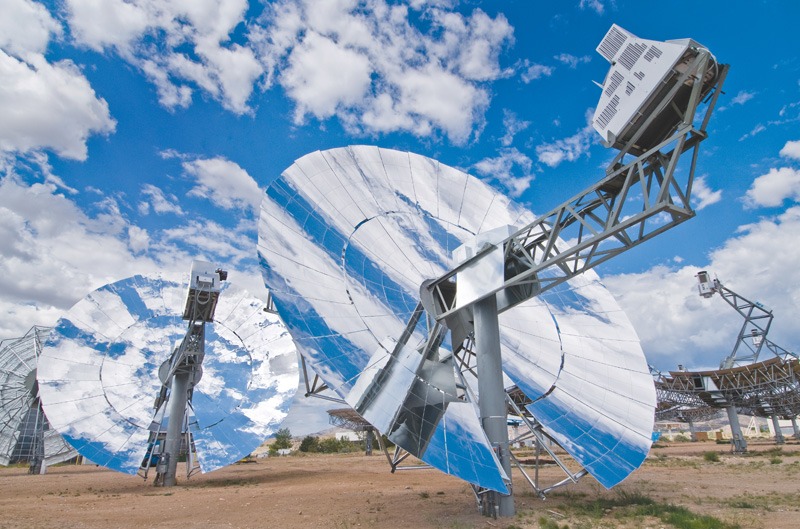 Neither CPS nor Tessera officials would disclose the cost of the 20-year contract they signed in May 2009. But Randy Etheridge, development director for Tessera, says they are still looking for ways to fund the project. The company has applied for both state and federal grants. And Tessera may seek property tax incentives from Presidio County, though Etheridge says it's too soon to know. "It looks like it's going to be a tremendous project," he says.
Agan and other longtime locals support the solar initiative; they support most anything that will bring jobs and tax revenue to an area that has long languished economically. But some residents of Antelope Hills — the rural neighborhood next door to the Tessera site — don't view the project so positively. "The placement of this right here essentially is killing the subdivision," Beeman says as she drives up to a freshly painted green gate that marks the private property where the solar plant will be erected. "People were going to build their little houses, they were going to add to the tax base, but now they see their property being worthless. It's a horrible shock."
An artist who moved from Colorado to Marfa more than a decade ago, Beeman has a small farm on her 15 acres of desert. She raises llamas, milk goats, chickens and those five dogs, and she works on her art, which now seems to always turn into mirrored discs, a consequence of her obsession with the Tessera project, she says. The plot of land Tessera plans to use for its solar project is about a half-mile from her home on the edge of Antelope Hills subdivision. Like her, many of the subdivision residents either moved from afar to live in the idyllic Texas desert or purchased second homes to get away from bustling city life.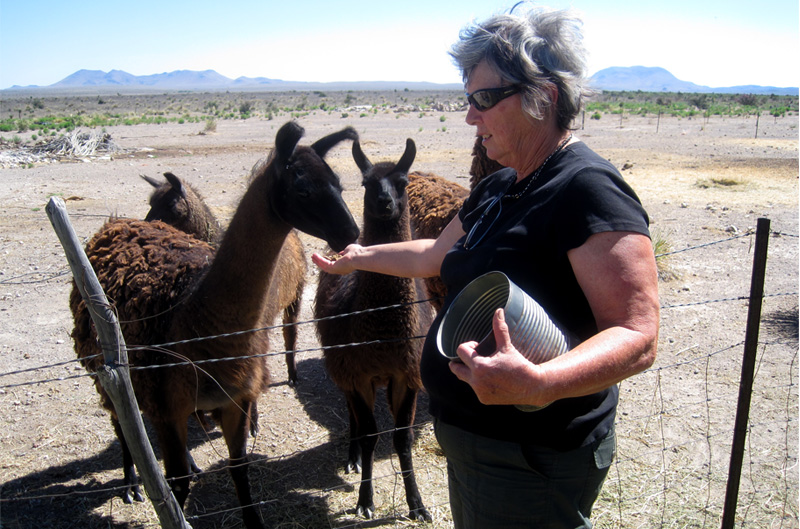 Beeman says she's all for green energy, and she's not opposed to the idea of the solar plant. But she objects to the location of Tessera's project right on the edge of Marfa. She worries about noise that the giant discs might produce and light pollution that could mar the brilliant moonlit night sky. "Instead of coming to a little gem of a town in the middle of the prairie, you're going to see a power plant for miles," she says.
She's gathering signatures from her neighbors who oppose the solar installation, and she plans to present Presidio County commissioners with a sheaf of names opposing the Tessera project. She wants the county to do all it can to prevent Tessera from using the site in her neighborhood, or at least minimize the impact. "You can't just let this happen," she says.
Elizabeth Redding and Dirk Vaughan live in Antelope Hills, too, just up the road from Beeman. They moved there about four years ago from Arizona and Utah, respectively, to start a new life together in the "weird Marfa combination of culture and Dairy Queen chili dogs," Vaughan says. Their house is a stark, gray, two-story stucco structure, and they've tried to keep their footprint on the desert environment to a minimum. From their stone patio, Redding and Vaughan take in an expansive panorama of the Davis Mountains. "The view is just priceless," says Redding, who owns the Marfa Table, a restaurant on the main drag in between the bookstore and the radio station.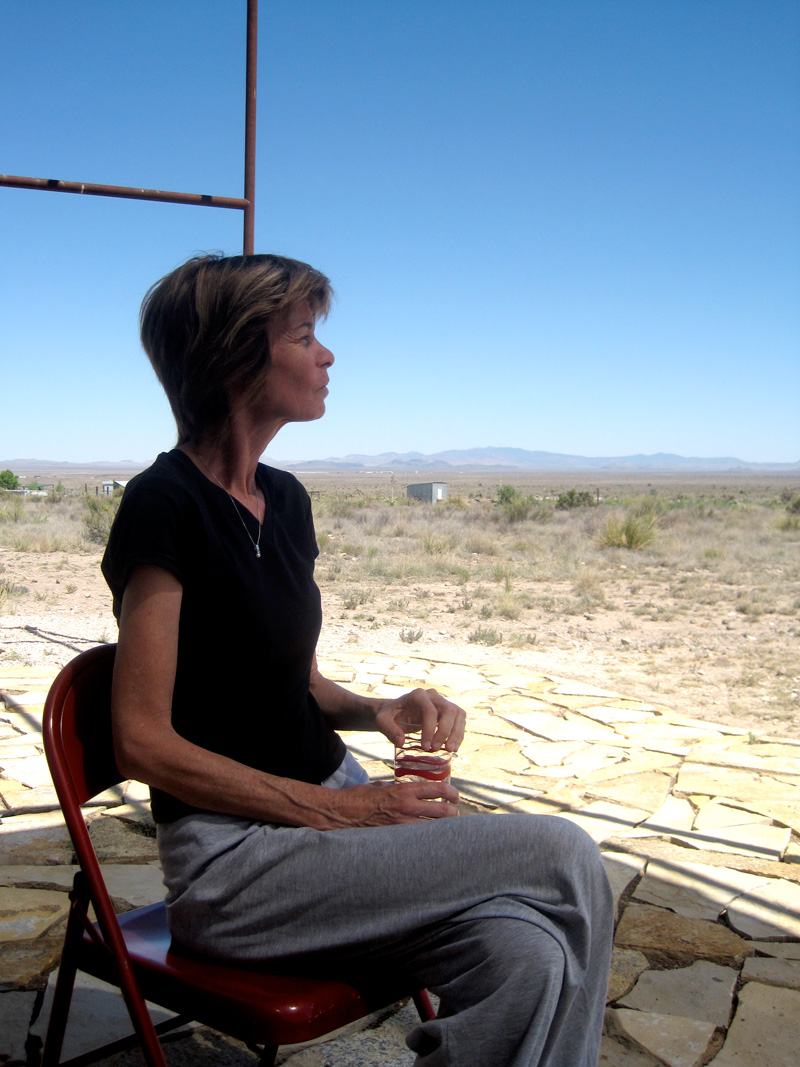 Redding was livid when she learned about Tessera's plans, describing the company as a sleazy profit-monger that presented its project as a done deal instead of first engaging with the community. "It just offended me, so I was angry," she says. Her view, though, has tempered some. Tessera agreed not to pave the road through the subdivision, and it agreed to rearrange the solar disc installation to keep equipment farther from the homes in Antelope Hills. And she's pleased that Tessera is working with researchers at the McDonald Observatory in Fort Davis to limit light pollution from the solar installation. "Ideally, I would like them to be somewhere else," she says. "I think it's inevitable, unfortunately."
Vaughan has a more pragmatic take and says he was astounded at the "naïve idealism and hypocrisy" some of his neighbors have shown. "These are all liberal, recycle, take-your-reusable-bag-to-H-E-B [types], and everybody is taking this immediate not-in-my-backyard, close-minded, contentious" stance, Vaughan says. The power plant, he says, will be tolerable. The solar discs might even be better neighbors than a potential homeowner who could buy the acreage and put in obnoxious fountains or a huge estate that uses massive amounts of water and other natural resources, he says. And in a nation that uses such gargantuan amounts of energy, alternative, renewable sources are a must, Vaughan says. Tessera doesn't want to be a "flash in the pan" company in Marfa, he says, and he hopes to get one of 20 permanent jobs that will be created at the solar installation. "A lot of this is about change, and Marfa is really hard to change," Vaughan says. "The new liberals are as intransigent as the conservatives they're fleeing from."
The solar project near Marfa is one of four that Tessera has in the works, but it's not the only one that has sparked controversy. It has plans to install 34,000 solar discs in southern California's Mojave Desert. That project has drawn the ire of environmental groups that worry the solar discs will disturb the pristine land and damage the habitat of endangered species in the region.
Michael Webber, associate director of the Center for International Energy and Environmental Policy at the University of Texas, calls the clash between conservation groups and clean-energy developers a "crazy conundrum." Both are trying to do right by the environment, but they end up at odds because solar installations require so much land. But Webber says the potential for noise and light pollution from the Marfa project is minimal, and the prospect of Texas-based environmental groups launching major opposition is unlikely. Plus, the solar plant could be a windfall for a small, poor county like Presidio, he says. In addition to about 100 initial construction jobs and 20 long-term jobs at the site, the company will have to pay property taxes on potentially many millions of dollars worth of solar equipment it installs. "It might be a game-changer for them," Webber says.
The Marfa project could also be good for Texas as it delves into the solar power industry, Webber says. Texas is by far the largest wind power generator in the nation, but it has lagged in producing solar energy. The Marfa-San Antonio solar power marriage, he says, is a "match made in heaven." The sun shines brightest and hottest in Marfa, producing the most energy at the exact time of day when San Antonio's air-conditioned homes reach their peak electricity demand. "The good news is I think this is the front tip of a quickly growing curve," Webber says.
For their part, Tessera officials say they are doing all they can to accommodate their new neighbors in Marfa. Etheridge, the development director, says the company is conducting studies to ensure light and noise pollution are minimal. It is working with the city to use the least amount of water possible to clean and maintain the solar discs. And when it comes time to hire workers at the plant, he says, Tessera will give priority to qualified local applicants. "Everybody has questions because they're not familiar with the technology," Etheridge says. "We want this to be a win-win situation for everyone."
Texas Tribune donors or members may be quoted or mentioned in our stories, or may be the subject of them. For a complete list of contributors, click here.
---
Information about the authors
Quality journalism doesn't come free
Perhaps it goes without saying — but producing quality journalism isn't cheap. At a time when newsroom resources and revenue across the country are declining, The Texas Tribune remains committed to sustaining our mission: creating a more engaged and informed Texas with every story we cover, every event we convene and every newsletter we send. As a nonprofit newsroom, we rely on members to help keep our stories free and our events open to the public. Do you value our journalism? Show us with your support.
Yes, I'll donate today