TribBlog: Making a Buck Off "Kill Obama" — Updated
The Victoria Advocate, like many other papers, uses a photo service that allows readers to buy the pictures it publishes in a variety of formats. So now readers can purchase T-shirts, mouse pads, coffee mugs, even a puzzle featuring a photo of the words "Kill Obama" spray-painted on pavement.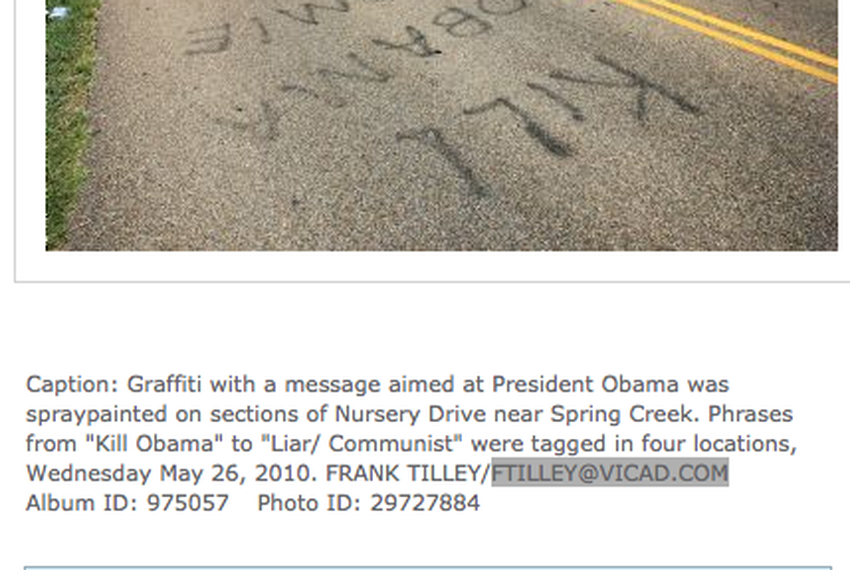 The Victoria Advocate published a story today about some local miscreants with a political message: They've been spray-painting anti-Obama graffiti around town, labeling the President a communist and a liar and calling for him to be killed.
Of course, a photo of the graffiti accompanies the story: a shot of the scrawl on a street that reads "Kill Obama Comie [sic]." And, like just about every other photo the newspaper runs, the graffiti picture is available for purchase. The Advocate — like many other papers — uses a photo service that allows readers to buy its pictures in a variety of formats. So Advocate readers who sympathize with the sentiments of the graffiti can purchase "Kill Obama" T-shirts, mouse pads, coffee mugs, even a puzzle.
Advocate photographer Frank Tilley, who took the photo, said there's no editorial decision-making about which of the paper's photos go up for sale. "It doesn't make any difference if it's a shot of somebody getting shot in the head or somebody's kid getting their hair cut," Tilley said. He said he's had numerous discussions with the paper's technology department about coming up with some way to give the newsroom the ability to prevent photos that might be inappropriate for such purposes from being purchased on a T-shirt or coffee mug, but to no avail. "No matter how many times I suggest we can't sell this, we can't sell that, [they say] they're short-handed and swamped like everyone else," he said.
The photo service that sells the pictures, St. Louis-based Second Street Media Solutions, said no one has purchased the Obama graffiti photo ... yet.
[UPDATE] The Advocate this afternoon removed the option to buy the Obama graffiti photo. Click here, and you'll notice the link that used to say "Buy This Photo" is gone.
[UPDATE 2] Chris Cobler, the editor of the Advocate, tells the Tribune that, contrary to what Tilley said earlier today, the paper does, in fact, have to the ability to make specific photos unavailable for sale, as it has now done with the Obama photo.
Texas Tribune donors or members may be quoted or mentioned in our stories, or may be the subject of them. For a complete list of contributors, click here.
Support public-service journalism that gets the context right
Your donations make our reporting possible and keep it free for all to access. Support our nonprofit newsroom by May 11, and your gift will help us unlock $25,000 in matching funds from our partners at Tito's Handmade Vodka, the Bernard & Audre Rapoport Foundation and the Suzanne Deal Booth Charitable Trust.
Yes, I'll donate today