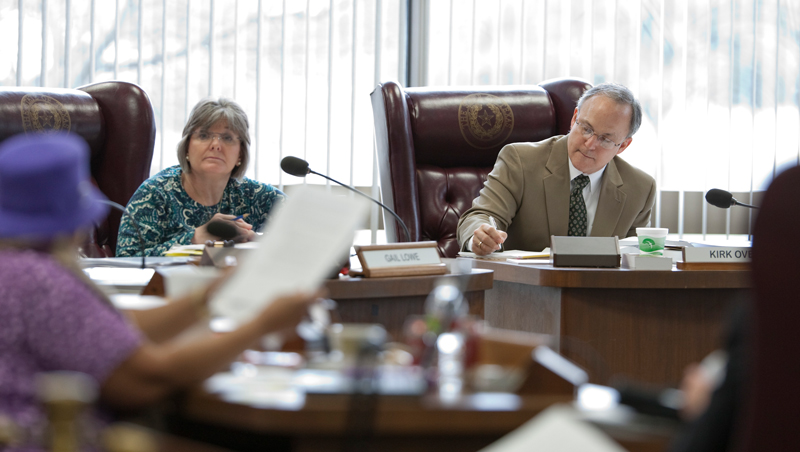 After a series of bombastic speeches, the State Board of Education just approved the high school portion of the social studies curriculum on a party line vote of 9-5, with Geraldine Miller, R-Dallas, absent. Soon after, the board approved the middle and elementary standards by the same margin, without debate.
Democrats once again accused the board of papering over the darker periods of American history in an effort to downplay atrocities against minority groups. Mary Helen Berlanga, D-Corpus Christi, who at one point started throwing Hispanic history and civil rights books from her desk to the floor, said: "I'm sorry I'm a part of this board … What we have done, a classroom teacher would throw in the trash. As for Hispanic kids, I feel worse. I feel like I've let you down, more than 2 million kids in Texas schools. When they go to college, they'll learn the real information for the first time. If you look at this history, you might as well say Hispanics don't exist."
Conservatives remained unmoved, and before the vote beat back a motion to delay the final vote until July by a vote of 6-8, with moderate Republican Bob Craig, R-Lubbock, joining the board's five Democrats on the losing side.
Conservatives, save for one extended rant against the media by Ken Mercer, R-San Antonio, in general said less before the vote — they didn't have to, they had the votes locked down. Terry Leo, R-Spring, summed up their position this way: "The buck stops at the board," which has the legislative authority to write the standards as it pleases. "This has been vetted by the entire nation … The end of the process is always with the board. I would ask that you (opposing members) consider that we've added more minorities than ever before, and more events involving minorities."
The Texas Tribune thanks its sponsors. Become one.
The board approved the economics portion of the standards by a unanimous vote.
Texas Tribune donors or members may be quoted or mentioned in our stories, or may be the subject of them. For a complete list of contributors, click here.