TribWeek: In Case You Missed It
Grissom on the transgender marriage conundrum, Hu on the workers' comp whistleblowers, M. Smith on the Texas GOP's brush with debt, Garcia-Ditta on why student regents should vote, Aguilar on the tripling of the number of visas given by the feds to undocumented crime victims, Hamilton on the paltry number of state universities with graduation rates above 50 percent, Ramshaw and Stiles on the high percentage of Texas doctors trained in another country, Ramsey and Stiles on congressmen giving to congressmen, Galbraith on how prepared Texas is (very) for a BP-like oil spill, and my conversation with Lt. Gov. David Dewhurst: The best of our best from May 10 to 14, 2010.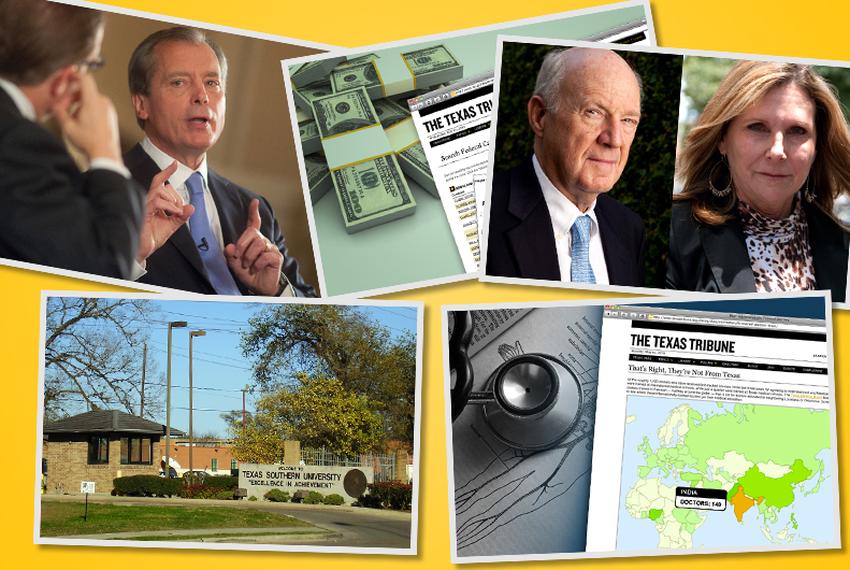 In Texas law, marriage and gender are a simple affair: Born a man, always a man, never marry another man. Same for a woman. But sexual identity and love in the modern world are rarely so black and white. So what's the state to do when a woman who was born a man wants to marry another woman?
Former employees of the Division of Workers' Compensation at the Texas Department of Insurance say their higher-ups have failed to sanction or remove dozens of physicians accused of fraudently overbilling and overtreating patients, costing insurers millions of dollars. The allegations of stalled enforcement action have sparked an inquiry by the State Auditor's Office, records show.
Don't look now, but the Texas GOP, the party of budgetary teetotalers, has been piling up debt like a college kid with his first credit card — and that has put chair Cathie Adams in the hot seat a month before she seeks re-election at the state Republican convention.
It took decades to get Texas lawmakers to allow students to sit on each university system's board of regents — and only on the condition that they can't vote. But most other states with student regents do grant voting privileges.
The federal government has more than tripled the number of visas granted to undocumented victims of such crimes as domestic violence and rape. The policy change is designed to aid prosecutors in securing witnesses and convictions, but some fear the incentive of legal status will spur false accusations.
For years, Texas universities have focused on getting more students onto to their campuses. The hard part, it turns out, is getting them to leave in no more than six years.
That's right — they're not from Texas. Newly licensed physicians enlisting to treat the state's Medicaid and Medicare patients are more likely to have been trained at international medical schools, according to a review of state medical licensing data.
It's not only rich people and lobbyists and interest group activists who make political contributions. Texas congressional candidates gave at least $1.3 million to other campaigns and causes over the last 15 months, according to itemized records of campaign expenditures released for the first time by the Federal Election Commission.
Could a BP-style oil spill happen closer to our shores, threatening our fisheries and beaches? Of course. But Texas reformed its process for dealing with such a catastrophe two decades ago, and state officials say we're better prepared than other states to respond to — or better still, prevent — a major spill.
For the ninth event in our TribLive series, Evan Smith interviewed Lt. Gov. David Dewhurst about the budget shortfall, state-federal tensions, immigration, why he doesn't release his taxes, and his future plans.
Texas Tribune donors or members may be quoted or mentioned in our stories, or may be the subject of them. For a complete list of contributors, click here.
Readers like you make our journalism possible.
Our Fall Member Drive is underway, and we need your support. With midterm elections less than two months away, our reporting will be a critical source of truth and information for Texans across the state and beyond. If you value our work, donate to support us today so our newsroom can be there for you in 2023 — and for whatever else this year brings.
Give now