Dallas DA Campaigns Nationally to Hold Local Seat
Dallas County District Attorney Craig Watkins won't go so far as to compare his support to the near-divine fervor of President Obama's. But Watkins, who gained national prominence for using DNA evidence to exonerate nearly two dozen wrongfully convicted people in one of Texas' notoriously tough-on-crime jurisdictions, will come close. "It's a religious experience to vote for Craig Watkins," Texas' first African-American D.A. says without irony. Like Obama, he says, other Democratic candidates are "hanging their hats" on his re-election — and on the minority voters he draws to the polls. Like Obama, he's got "a big target" on his back. "I've got to fight the political attacks coming at me from all directions," he insists. "I'll say it publicly: If you throw punches at us, we'll drop a bomb on you."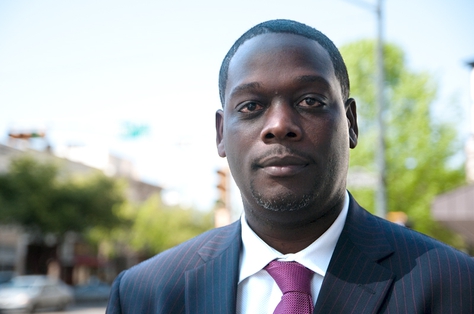 Dallas County District Attorney Craig Watkins won't go so far as to compare his own campaign to the near-divine fervor behind President Obama's. But Watkins, who gained national prominence for using DNA evidence to exonerate nearly two dozen wrongfully convicted people in one of Texas' notoriously tough-on-crime districts, will come close. "It's a religious experience to vote for Craig Watkins," Texas' first African-American DA says without irony.
Like Obama, he's got "a big target" on his back, he says. Like Obama, other Democratic candidates are "hanging their hats" on his re-election, and on the minority voters he draws to the polls. It's why he feels an intense responsibility to take his November re-election campaign to the next level — using his national popularity and statewide connections to hang tight to a local seat Republicans would love to seize.
"I may be criticized for this, but there's a political process, and I'm going to be a part of it," Watkins says without apology, crossing his trademark cowboy boots — the pair mentioned on late-night political comedian Stephen Colbert's show — in front of him. "I won't stop dispensing justice. But I've got to fight the political attacks coming at me from all directions. I'll say it publicly: If you throw punches at us, we'll drop a bomb on you."
Watkins has good reason to play defense. While his national reputation remains largely intact, he's battling intense criticism at home: about his campaign spending, an alleged conflict of interest and suspicions that he has intentionally stalled what some call an in-the-bag corruption investigation.
The Texas Tribune thanks its sponsors. Become one.
He's been skewered in The Dallas Morning News and the Dallas Observer for taking no public steps to prosecute two Democratic Dallas County constables facing accusations of bribery and kickbacks from their colleagues, and for seeking a restraining order when Republican county commissioners hired their own investigator to look into the charges. (His Republican opponents say he's protecting the constables, who are fellow Democrats.) His latest power play? Watkins shunned two separate offers from the Texas attorney general to help investigate the constables.
"If the Dallas DA is vulnerable in November, it's mainly because he's mishandled this fiasco surrounding the constables so badly," says Scott Henson, the former policy director of the Innocence Project of Texas who writes the criminal justice blog Grits for Breakfast. "Everyone investigating this case knows it's not credible to believe he's performing a diligent investigation."
Watkins has also made headlines over his campaign finance spending habits — paying tens of thousands of dollars to family members or the businesses they operate. And he's caught heat for an alleged conflict of interest: His wife's political consulting firm represents judges who preside over the same county courts where his office prosecutes cases. Watkins counters that ethics rules don't prohibit hiring family members or using family businesses to run campaigns (in fact, it's a common occurrence). And his wife's political consulting business has checked out all the way up to the State Commission on Judicial Conduct. He staunchly refutes the toughest allegation against him — that he was using campaign funds to pay the utility bills for the family businesses that share his campaign office space. "I have only ever paid my share," he says.
Watkins won't confirm or deny whether he's investigating the constables; it wouldn't be appropriate, he says. But he notes that he has just two prosecutors in his public integrity unit, both of whom have other cases on their plate. If they happened to be working on the constable case, hypothetically speaking, he says he wouldn't expect them to be done yet. "Look at the Dallas City Hall corruption investigation. That took years," he says. "There's no timetable — we don't rush an investigation."
In the meantime, he says, he's the only one with legal authority to prosecute the case — and he wants everyone else to stay out of it. He accuses the Republican county commissioners of using the allegations against the Democratic constables to unfairly discredit him before an election. And he says there's no way he could trust their handpicked investigator anyway ("He's a hired gun, hired to get a certain result"). Watkins sees Republican Attorney General Greg Abbott's repeated offers of assistance as "encroaching" on his territory.
"What I want the citizens to know is that I'm not dragging my feet, and I would never do that in any case," Watkins says, noting that he has charged one of the constables' deputies with numerous felonies as part of a criminal investigation. "It's politically beneficial for them to say the Dallas DA is not doing this quick enough."
The Texas Tribune thanks its sponsors. Become one.
Dallas County Republican Party Chairman Jonathan Neerman says he doesn't question Watkins' ethics — but he does question his judgment. While Watkins still rides high on the national profile his innocence work provides, Neerman says he thinks perceptions locally, at a minimum, have started to change. "In the past two years, there have been a lot of very troubling incidents involving him, so many silly things that, taken together, blemish what the national perception is of him," he says.
Democratic political strategist Matt Angle chalks up the attacks against Watkins to nasty campaign politics — a sign Republicans are threatened by the DA's "unlimited potential." Watkins has proven an exceptional public servant, cleaning up a troubled DA's office, Angle says. Now, he must defend himself against GOP party operatives who would love nothing more than to unseat him. "He's certainly moved to another level with this campaign, building a more sophisticated political operation, and I think Republicans can take some credit for that," Angle says. "There's nothing more threatening to Republicans in Dallas or statewide than an African-American politician who does his job well."
At least publicly, Watkins doesn't see the constable debacle or the campaign finance questions as political liabilities. But as he faces an election challenge from Republican Danny Clancy — a former Dallas county criminal court judge and assistant prosecutor — he wants to remind voters that he's been as effective in locking up the guilty as exonerating the innocent. While he's been given celebrity status on CNN, 60 Minutes and The View for freeing people, he has also fast-tracked prosecutions for career offenders, expanded the sexual assault conviction unit, located more high-risk absconders and started using forensic evidence to track stolen or burglarized vehicles, Watkins says. His office has maintained a 99 percent conviction rate on cases it prosecutes, he says. "They call me a liberal DA," Watkins says, "but this is all about the victims."
Meanwhile, he appears to be studying the playbook for a statewide run. He's got a slick campaign website, and has taken to referring to his re-election bid as "an art, a business." He says he's moving past the grassroots campaign, the "family members sitting around a table," to "a more strategic game." This time, he says, he'll have the resources to do it — he's aiming to raise $1 million or more for the November election.
Watkins appears to be off to a fast start, scheduling high-profile fundraisers in New England and Washington, D.C., and hobnobbing with statewide movers and shakers in Austin. "I know I'm not the be-all-end-all, but it's not just about me anymore," Watkins says. "I have to hold onto the seat I'm in so that all of those [candidates] holding on to me are successful, too."
Texas Tribune donors or members may be quoted or mentioned in our stories, or may be the subject of them. For a complete list of contributors, click here.