Two Hours in Juárez
What I saw was not entirely what I expected. I expected charred buildings. I expected soldiers with automatic weapons everywhere. I expected empty streets and residents skulking around in fear. To be sure, there were signs of danger — but in many parts of Juárez, there were also people determined to remain, to do their best to live as normally as possible.
She went through the drill — the dos and don'ts for travelling into Juárez. Don't bring a purse. Don't wear jewelry or anything flashy. Do bring a camera, a couple of dollars in cash, a notebook and your passport. That's it.

It took a couple days to find someone in El Paso willing to escort me to Juárez. I wasn't stupid enough to go it alone, and there are few El Pasoans left who regularly go. El Paso Times photographer Vanessa Monsisvais had the day off, and she agreed to drive me across. She could tell I was nervous. I told her that I wanted to get a feel for Juárez without getting killed. Not to worry, she said. The biggest risk would be getting mugged, not getting shot by a narco. (That's comforting?) I asked if we should go in the morning; someone had told me there aren't usually shootings early in the day. It doesn't matter, she said. The cartels don't pay much attention to the time. We decided to go at noon.

On Good Friday, I slid off my wedding ring, put on a plain white T-shirt, a denim jacket, a pair of jeans and tennis shoes and stuffed my notepad and pen in one pocket and my camera in the other. Vanessa picked me up, and we drove to her house to get another reporter from El Paso, Stephanie Sanchez. Vanessa ran inside. She always stops in to give her 8-month-old daughter Penelope a kiss before she ventures into Juárez. Just in case.
What I saw in two hours of touring Juárez was not entirely what I expected. I expected charred buildings. I expected soldiers with automatic weapons everywhere. I expected empty streets and people skulking around in fear. To be sure, there were signs of danger — and a fair number of automatic weapons. Areas once shining with the glitz of fancy restaurants and clubs fat with the cash of tourists who came to enjoy the famous nightlife are deserted. Homes in the ritziest neighborhoods sit empty, listed for sale. Both are economic side effects of the drug war that has scared away tourism and its monetary benefits. But in many parts of Juárez, there were also people determined to remain, to do their best to live in their home as normally as possible, almost thumbing their noses at the cartels who ruthlessly rule this place.
The baby kissed, we took the short drive through downtown El Paso and across the Bridge of the Americas to Juárez. There was a longer line than usual to cross, probably because of the Easter holiday, Vanessa said.

A Mexican soldier in camouflage brandishing an assault rifle — a balaclava and sunglasses on his face, leaving only his nose and a sliver of his cheeks exposed — was the first sight that greeted us in Juárez. Mexican President Felipe Calderón has sent thousands of soldiers here since 2008 to fend off the warring drug cartels. Still, the violence has not abated. Since 2008, there have been at least 4,800 killings, including about 600 this year. There would be three on Good Friday, 10 the following day.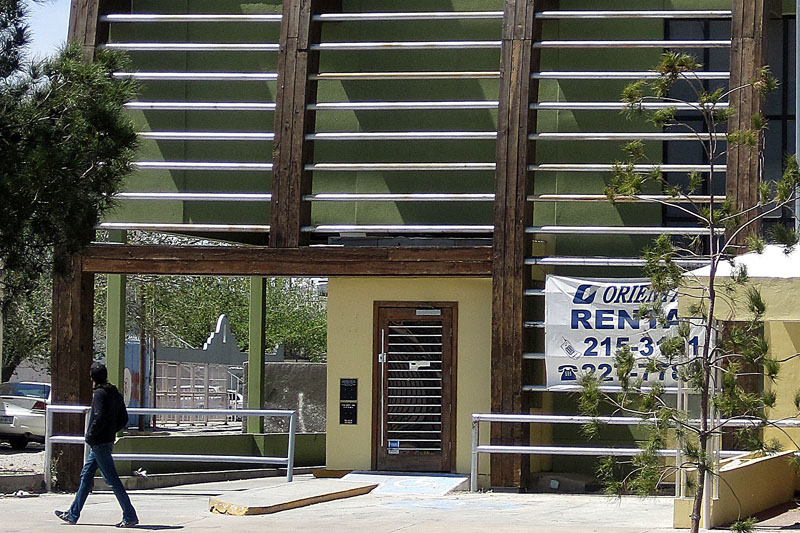 The Pronaf District was our first stop. Big, white arrows on a green highway sign directed us to what had been home to the city's buzzing nightclubs and some of its finest restaurants. It was a shadow of its former self. From the sleek, modern facade that used to welcome diners to the upscale Maria Chuchena hung a "RENTA" sign with a phone number. Rhino's, the fancy hot dog place next door, where revelers used to gather after hours for drinks, sat empty, its patio overgrown with weeds. Across the street, one car sat next to ours in the parking lot of a liquor store. The owner, an older man with shoulder-length gray hair, came out for a moment to survey the traffic. "There's just no business here," he said in Spanish and shook his head. He gave us directions to our next destination and went back inside the empty store.

As we drove down Abraham Lincoln Avenue, "se renta" signs hung from just about every other building, torn and tattered and not likely to produce much in the way of results. Shopping centers were dark and empty. Tourists don't come here anymore to eat, drink, dance or shop. Instead, Juarenses looking for an escape from their troubled city now head north for nightlife.

We turned a corner into a poor neighborhood near downtown. Small homes that lined the streets were covered in graffiti, stucco falling off the sides, black iron gates guarding the windows. But that had nothing to do with the drug war, Vanessa said: That's just life in this poverty-ridden area. The federal police, again with automatic rifles, stood guard at the next corner, lights flashing on top of a black pickup truck. That's new, and it has everything to do with the cartels. There are at least three different entities policing this city now: the municipal police, the federal police and the military.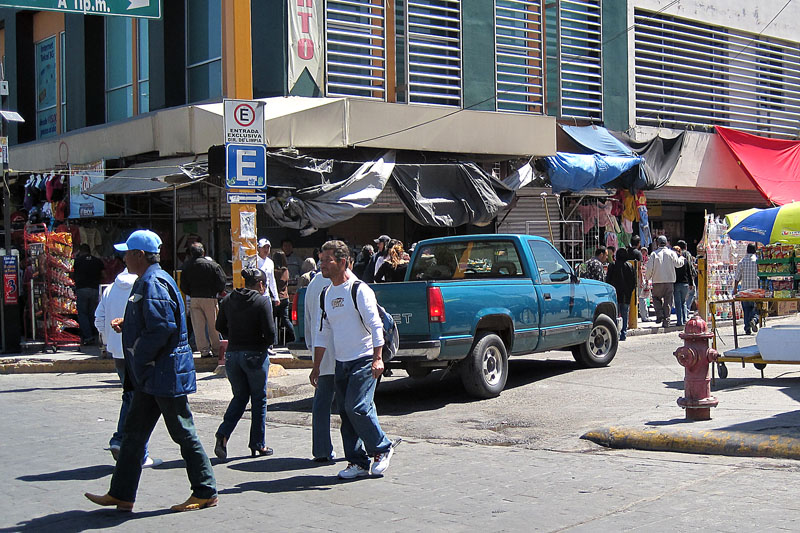 As we drove closer to downtown Juárez on Avenida 16 de Septiembre, more and more people were on the streets, shopping in small, colorful stores, walking with their children, waiting in long lines at ATMs. It looked like a normal city. And when we got to the Juárez Cathedral and the Plaza del Armas, it was positively packed. Juarenses jammed the plaza, spilling out into the streets and the surrounding shops. An Easter bunny waved to the crowds, and vendors hawked their wares.

Vanessa explained as we drove that a lot of the crime in Juárez right now is not from the cartel war. The police and soldiers, she said, are so busy warring with the narcos that small-time criminals are mostly unchecked. A few months back, she said, her aunt in Juárez was kidnapped and held for ransom by a neighborhood thug. I took another look around the car to make sure all the doors were locked.

Next, we drove to the Plaza Benito Juárez and the massive statue of the city's namesake. This is where authorities have discovered many of the cartel's threatening notes warning of attacks on public officials and police. On this day, though, there were no notes — just a small crowd of people waiting for buses on the edge of plaza. One couple sat on a bench in the sun, cuddling.

Our next destination was the Campestre neighborhood, the ritzy section of Juárez, where the well-heeled live, or used to live, in mansions, with Lexuses and BMWs parked in the driveways. On the way, we drove down narrow streets lined with small businesses and homes, a few boarded up, some with windows broken out. Again, Vanessa reminded me, this is how this neighborhood usually looks. Except, of course, again, for the federal police guarding one corner, their automatic rifles gripped close to the chests.

But it wasn't the soldiers that made Vanessa nervous. It was waiting at traffic lights. She checked out all the vehicles around us, looking carefully for vans, SUVs and pick-ups, examining the stickers and decals for indicators that the occupants belonged to gangs like the Aztecas, enforcers for the Juárez drug cartel.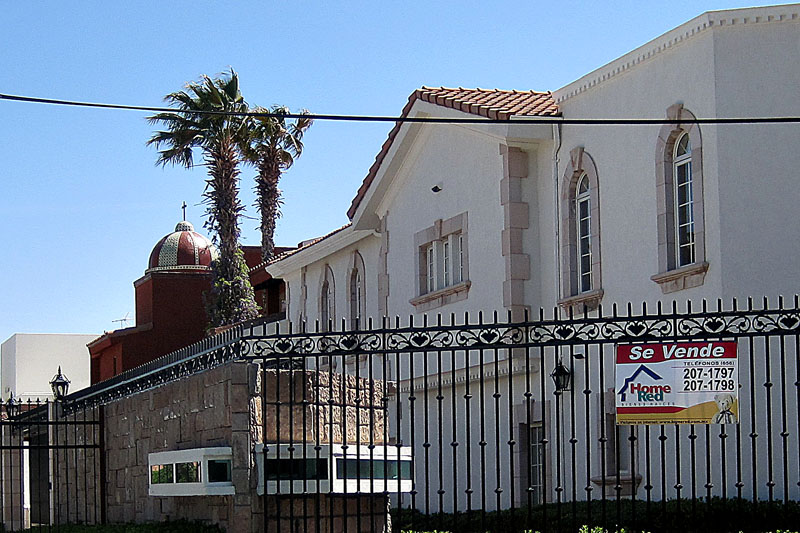 We arrived at Campestre. The massive maquiladoras that are a major economic driver in Juárez and El Paso sit on one edge of the neighborhood. On another is a street that could be mistaken for one in any border city in the United States, with a Starbucks, Chili's, Applebee's and strip malls. Turning into Campestre, we were immediately reminded we were not north of the border. Razor wire lined the top of brick and stucco walls in the wealthy community. Uniformed guards stood watch at gated entryways. A guard allowed us behind one of the gates to see the sprawling estates. Gold doors on one home reflected the sun. Out of another home rose gigantic domes with mosaics of the sun and moon. Parked in the driveways were BMWs and Lexuses, many with Texas license plates. But many of the mansions were empty, the familiar "se renta" and "se vende" signs waving over beautiful doorways. This city's affluent residents have largely fled, seeking not only safety but also a better business environment just to the north in El Paso.

There were more dangerous areas of the city than ones we visited, but we didn't come looking for trouble. We decided to head back to El Paso, driving down a major four-lane highway, and the city of 1.5 million just looked like another city. There were car dealerships with shiny vehicles in the lots, banks, hotels, fast-food restaurants, and I thought, "You know, this really isn't all that scary of a place." Then we saw a truck full of soldiers with their ever-present automatic rifles racing in the other direction. Two more trucks followed, sirens blaring.

Before we crossed the bridge that connects Juárez to downtown El Paso, we passed through the Mercado district. The street is lined with colorful shops, cheap pharmacy stores and little restaurants and bars. The famous Kentucky Club, an old haunt of Ernest Hemingway, is here. The tourists, the economic lifeblood of this area, were missing, though. Americans used to flock here to buy inexpensive prescription drugs, grab some good Mexican food and a libation — or two or three. There were plenty of people in the Mercado on Good Friday, but most were Juarenses. And here again, there were police in black uniforms patrolling on foot, the ever-present reminder that this city is one of the most dangerous in the world.

We reached the end of the Mercado district and the foot of the bridge back to El Paso. Soldiers, here again. We drove up to the pay station, forked over our $2 to cross and picked a place in one of the long lines to go through customs and back home.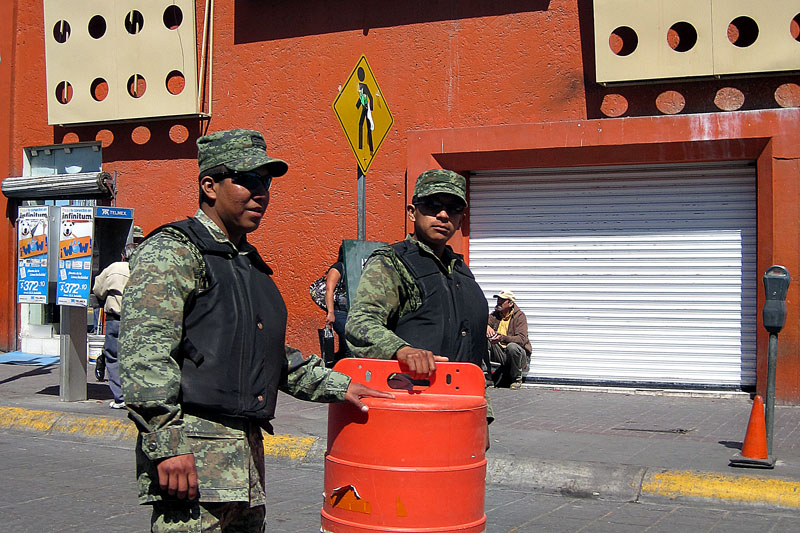 Customs and Border Patrol agents with German Shepherds paced up and down the lines of cars, randomly stopping to search a mini-van or a beaten-up old truck. On the pedestrian bridge leading back into Juárez from El Paso, agents with another intimidating dog stood in the middle of the sidewalk, making sure that each crosser — gray-haired feeble ladies and toddlers toting Easter balloons not excepted — got a good sniffing for contraband.

After about a half-hour, it was our turn to present our passports and return to U.S. soil. A few minutes later, we were back in El Paso, gabbing over pizza at Ardovino's. What struck me most, I told Vanessa and Stephanie when we were in Juárez, was how relatively normal life seemed to be in some parts of the city. People were shopping, taking buses, driving around — just living. Those are the people Vanessa said she admires, the thousands of Juarenses who have decided to stick it out, to defend their home against the thugs who are trying to destroy it. But at night, she said, the place is a ghost town, and even those brave souls who are determined to live on in Juárez hunker down and stay out of the way.
(Editor's note: Mexican military forces use a number of firearms, but they do not use the AK-47 as indicated in a previous version of this story.)
Texas Tribune donors or members may be quoted or mentioned in our stories, or may be the subject of them. For a complete list of contributors, click here.
Quality journalism doesn't come free
Perhaps it goes without saying — but producing quality journalism isn't cheap. At a time when newsroom resources and revenue across the country are declining, The Texas Tribune remains committed to sustaining our mission: creating a more engaged and informed Texas with every story we cover, every event we convene and every newsletter we send. As a nonprofit newsroom, we rely on members to help keep our stories free and our events open to the public. Do you value our journalism? Show us with your support.
Yes, I'll donate today
---
Information about the authors