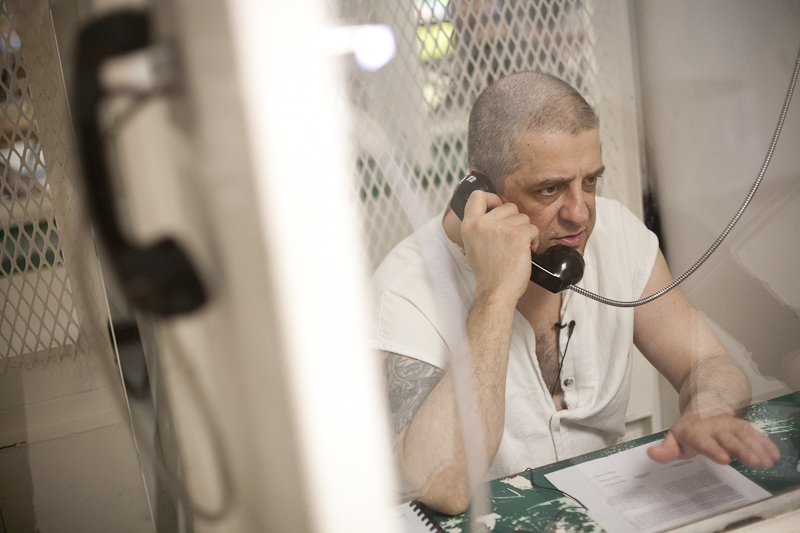 The seven-member Texas Board of Pardons and Paroles today unanimously rejected death-row inmate Hank Skinner's request for a reprieve from his execution, which is scheduled for Wednesday.
Skinner says he did not commit the three murders he was convicted of in 1995. For more than a decade, he has asked the courts to allow DNA testing on a slew of evidence from the crime scene that Skinner says could prove he did not kill his girlfriend and her two adult sons in the small Panhandle town of Pampa in 1993. The courts, though, have repeatedly denied his requests, arguing that Skinner should have had the evidence tested during his original trial.
With the board's decision today, Skinner's last hopes for testing on that evidence before he dies are Gov. Rick Perry and the U.S. Supreme Court. Skinner's attorneys have asked Perry to grant a one-time, 30-day reprieve to allow the testing. Perry has granted such a reprieve only twice before, and spokeswoman Allison Castle said today he had not made a decision yet about Skinner. The attorneys have also asked the Supreme Court to issue a stay and order testing on the DNA.
An Arizona-based lab has offered to do the testing for free and within 30 days.
The Texas Tribune thanks its sponsors. Become one.
Rob Owen, Skinner's attorney and co-director of the University of Texas at Austin School of Law's Capital Punishment Clinic, said he was disheartened by the board's decision.
"It is now more urgent than ever that Gov. Rick Perry not allow Wednesday's execution to proceed until all of the facts are in," he said. "We urge the governor to take the reasonable and fair action of halting Mr. Skinner's execution so that readily available scientific evidence can be tested before he is put to death on Wednesday. To do anything less means that the state of Texas is willing to risk the execution of an innocent man."
Texas Tribune donors or members may be quoted or mentioned in our stories, or may be the subject of them. For a complete list of contributors, click here.
Reference Material