The Brief: Top Texas News for Mar 15, 2010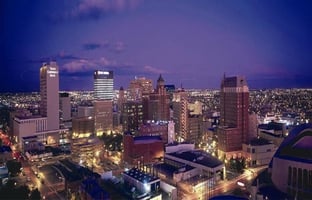 Enlarge
http://jdlong.files.wordpress.com/2009/09/nighttime-downtown-el-paso.jpg
THE BIG CONVERSATION
The weekend slaughter in Mexico of two U.S. citizens with ties to the consulate's office in Ciudad Juarez has sparked outrage from Washington, D.C. President Barack Obama and Secretary of State Hillary Clinton have publicly condemned the attacks that left a pregnant consulate employee, her husband and a Mexican national dead. The Mexican national was killed in a separate incident within minutes of the attack on the couple, according to local reports. State Department officials are allowing family members of U.S. staff in other Mexican cities to leave the country if they choose.
The El Paso Times reported that Lesley Enriquez, who worked at the consulate's office in Juarez, was four months pregnant when she and her husband, Arthur Redelfs, a detention officer with the El Paso County Sheriff's department, were attacked in broad daylight near the troubled city's city hall. The third man, Jorge Alberto Salcido Ceniceros, was married to another consulate employee.
Daily murders are commonplace, and often times occur by the double digits, in Juarez. Despite their frequency, however, some argue there is a lack of attention to the problem because of the common perception that those gunned down, even in the most horrendous fashion, have ties to the criminal element. But these weekend murders could produce more attention from U.S. officials and more backlash from an already nervous population that isn't used to U.S. citizens, and government employees, being tracked, ambushed and gunned down miles away from the international port of entry.
The attacks also came one day after a Mexican military helicopter reportedly entered U.S. airspace in Zapata County in South Texas, heightening the anxiety of residents who have been forced to proceed cautiously in that area due to a recent surge in border violence in the area.
CULLED:
U.S. Census employees will be out in full force in Texas this month as the decennial head count begins regionally this week. New, 10-question short forms will begin arriving in mail boxes soon and every effort is being made to boost participation. Analysts posit an accurate count could mean as many as four additional congressional seats for Texans. State leaders have been criticized by some who perceive the outreach should have been conducted sooner and more thoroughly. Texas Secretary of State Hope Andrade, the state's U.S. Census Ambassador, said on Friday that local census committees hold the key to turnout and that the message to participate is well-timed. "Grassroots organizations are really what local communities listen to, and let's face it, the form is just being mailed out," she said at a rally at the Capitol. "So our message, at least right now, will stay with them."
Four more years? Despite rumors and reports that supporters of Texas Gov. Rick Perry are pushing for his bid as the GOP nominee for president in 2012, the Fort Worth Star-Telegram is reporting Perry has no interest in the job. The story indicates his recent primary victory over Texas Sen. Kay Bailey Hutchison was the catalyst for the recent discussion, but affirms that Perry, at least for now, is content with his current role.
MUST READ:
Congressional candidates expected to spend at least $3.7 billion for midterm elections — Fort Worth Star-Telegram
Dallas police seek blood tests for all DWI suspects — The Dallas Morning News
The SBOE vs. Itself — Texas Tribune
State seeks to ease water quality rules — Austin American-Statesman
A reprieve from jailhouse chow — San Antonio Express-News
Texas Tribune donors or members may be quoted or mentioned in our stories, or may be the subject of them. For a complete list of contributors, click here.