2010: Newspaper Endorsements: Star-Telegram for KBH, White
The laggard of the big five papers finally calls, "Bingo!" — joining its edit board counterparts elsewhere in supporting the senior U.S. senator and the former Houston mayor in the upcoming party primaries for governor.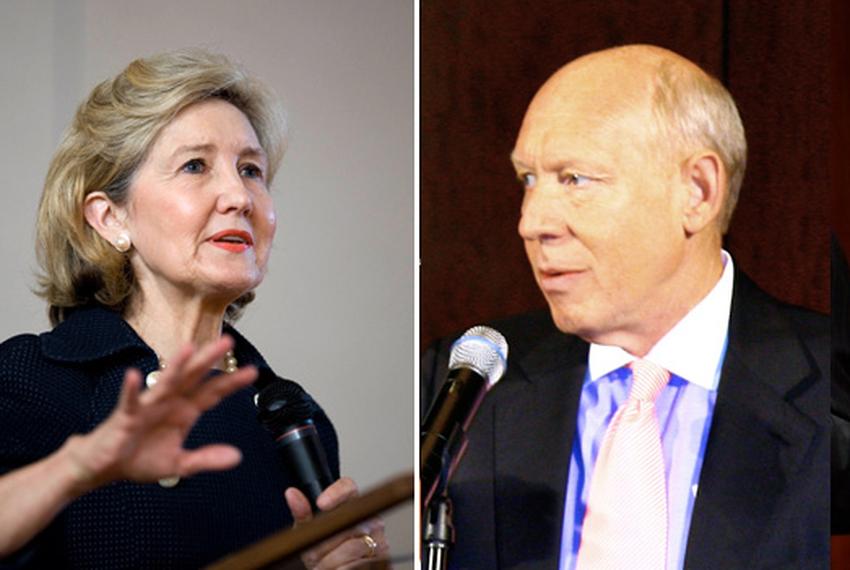 The laggard of the big five papers, the Fort Worth Star-Telegram, has finally announced its endorsements in the governor's race -- and the paper's editorial board is in sync with its counterparts at the other four.
In the Republican primary, the Star-Telegram is backing Sen. Kay Bailey Hutchsion over Gov. Rick Perry and Debra Medina:
Hutchison, 66, brings fresh eyes and a measured approach that would benefit Texas after years of Perry's heavy-handed and often myopic tactics. Despite his public posturing on issues such as mandating HPV vaccines, Perry was often MIA during legislative sessions. Only after the sessions ended did he emerge, veto pen in hand, to undo what a majority of legislators favored.

Hutchison's willingness to work with lawmakers as bills are crafted would be a welcome change. The state needs a governor who will reach across party and ideological lines to build coalitions that tackle the thorny issues of a balanced budget, education and transportation.
In the Democratic primary, the Star-Telegram is for former Houston mayor Bill White over businessman Farouk Shami and five other challengers:
White, 55, stands out as bright, serious and experienced in business and public service.

During six years as mayor of the state's largest city, White worked to make the Houston area the nation's leader in job growth while orchestrating a budget reorganization that reduced the city's unfunded employee pension liabilities. His pragmatic approach to air-quality issues related to natural gas drilling reveals a reasonable balance between public safety and economic development. And his direction of Houston's response to the migration of Hurricane Katrina refugees from New Orleans followed by those fleeing the threats of Hurricanes Rita and Ike highlighted his logistical deftness and humanitarian understanding.

White's appeal to voters -- he was re-elected mayor twice, with 86 percent and 91 percent -- is that he's not a partisan ideologue but someone with an intellect who listens as well as he leads.
Texas Tribune donors or members may be quoted or mentioned in our stories, or may be the subject of them. For a complete list of contributors, click here.
Support public-service journalism that gets the context right
Your donations make our reporting possible and keep it free for all to access. Support our nonprofit newsroom by May 11, and your gift will help us unlock $25,000 in matching funds from our partners at Tito's Handmade Vodka, the Bernard & Audre Rapoport Foundation and the Suzanne Deal Booth Charitable Trust.
Yes, I'll donate today