Case Open: The Investigation
It took a crew of eight Northwestern University students to bring national attention to questions about Hank Skinner's death sentence. But his legal pleas for more DNA testing of crime scene evidence — and his lawsuit against the Gray County district attorney — have gone nowhere. Unless the U.S. Supreme Court intervenes, he'll be executed on Feburary 24.
[Editor's note: Hank Skinner is set to be executed for a 1993 murder he's always maintained he didn't commit. He wants the state to test whether his DNA matches evidence found at the crime scene, but prosecutors say the time to contest his conviction has come and gone. Now he has less than a month to change their minds. We told the story of the murders and his conviction and sentencing in the first part of this story.]
It makes sense to Greg Jonsson that police in Pampa set their sights on Hank Skinner when they found Skinner's girlfriend and her two sons violently murdered on New Year's Eve in 1993. Skinner was a hard-drinking, hard-partying guy who had seen the inside of a jail cell more than a few times. He was in the house at the time of the killings, he had blood all over his clothes, and police found him hiding out in an ex-girlfriend's house. "If I was a police officer, I would have looked at Hank Skinner, too," says Jonsson, one of eight Northwestern University students who traveled from Illinois to Texas to investigate the case in 2000.
A decade later, Jonsson worries the authorities decided too quickly that Skinner was their man. "I didn't come away knowing he's innocent, but I didn't come away knowing he's guilty," Jonsson says. "You'd hope that was the case with someone about to be put to death."
Skinner is scheduled to be executed on February 24 for the murders of Twila Busby and her two mentally disabled adult sons. Skinner and his lawyers insist he was too intoxicated from liquor and pills that New Year's Eve to have killed three people, and they contend his defense lawyer — a former district attorney who had previously prosecuted Skinner for theft and assault — did a shoddy job representing him at trial. They've been pleading with the state for 15 years to release DNA evidence they believe could exonerate Skinner and keep Texas from killing an innocent man.
Prosecutors in Gray County and lawyers for the Texas Attorney General's Office argue that Skinner had his chance in 1995 to have the DNA tested at his original trial. "There were 12 people that sat in the jury and they listened to the evidence and they found him guilty beyond a reasonable doubt," said Gray County District Attorney Lynn Switzer, the third Pampa DA to deal with the case.
Protess's Probe
Northwestern University professor David Protess got acquainted with Hank Skinner in 2000 as then-Texas Gov. George W. Bush was running for president. Protess teaches a journalism class in which students investigate inmates' innocence claims. The work of his students led to the exoneration of 11 Illinois inmates, including five who were on death row, between 1996 and 2000. The Republian governor of Illinois during that period, George Ryan, cited their work when, in January 2000, he declared a moratorium on the death penalty in Illinois.
Amid rising national questions about the death penalty that were largely raised by the students' investigations, Bush was defending Texas' death chamber, the busiest in the nation. He insisted that Texas had not and would not kill an innocent person under his watch.
To test that proposition, Protess sent a crew of eight journalism students to Texas to investigate Skinner's case. They spent time in Pampa, interviewed residents about the heinous murders and visited Skinner on death row. Today, they say they came away with more questions than answers about what happened to Busby and her sons. And they have grave lingering concerns about the state's plans to execute Skinner.
Jonsson, now a reporter for the St. Louis Post-Dispatch, was a senior at Northwestern's Medill School of Journalism when he visited Pampa. "It's just small, like a rough-around-the-edges town," Jonsson says, nursing a cup of coffee at a St. Louis coffee house and recalling his first and only time in Texas. He and his classmates interviewed Andrea Reed, the state's star witness, who at trial testified that Skinner admitted to killing Busby. They talked to the widow of Robert Donnell, Busby's uncle, who had an incestuous relationship with her and stalked her at a party the night of the murders. They visited friends and neighbors of Skinner and the victims. They dug through case files, reviewed evidence and tried to reconstruct the case to see whether their investigation led to the same conclusion as the jury. "We didn't come in thinking he's innocent," Jonsson says. "We did come in thinking it's possible mistakes were made."
The students came away with three big questions. First, why didn't law enforcement more fully investigate Donnell as a suspect? Second, why didn't Skinner's lawyers test what they saw as crucial DNA evidence from the crime scene: Busby's fingernail clippings, a rape kit, two knives, a bloodstained dish towel and a man's windbreaker with hair and sweat on it. "There was a pile of it here that hadn't been tested," Jonsson says. "That was sort of disconcerting." Third, what about the potential conflict of interest with the lawyer appointed to represent Skinner at trial? Harold Comer was a former Gray County District Attorney who had previously prosecuted Skinner for car theft and assault.
Donnell was already dead by the time the Northwestern students got to Pampa: He died of massive head injuries in a wreck on Interstate 40 in Oklahoma in January 1997. But they interviewed his widow, who said he became violent when he drank. Others in the community claimed Donnell had raped Busby. They said he often wore a windbreaker similar to the one found at the crime scene. Neighbors also reported seeing Donnell cleaning his truck with a hose and stripping the carpet from it within a week of the murders.
During the trial, though, jurors heard little about Donnell's violent past. They heard nothing about his sudden desire to have a tidy vehicle. And neither prosecutors nor Skinner's attorney tested DNA on the fingernail clippings or the windbreaker or the rape kit or the knives found at the scene, which could have revealed whether Donnell, or another person, could be implicated in the crime.
The students also interviewed Reed, Skinner's ex-girlfriend. Skinner spent about three hours at her house before police arrested him the night of the murders. When they interviewed her, Jonsson says, she explained that she felt intimidated by police and worried that she could somehow be implicated in the crime if she didn't testify against Skinner. In 1997, she recanted her incriminating testimony, writing in an affidavit that she had lied at trial, and that Skinner's admission that he kicked Busby to death was one of several fantastic stories he made up in his drunken stupor the night of the murders. "She'd basically been given guidelines for what she was going to say" at trial, Jonsson says. "To us, she seemed sincere."
Comer, Skinner's court-appointed attorney, failed to find and fight for evidence that could have vindicated Skinner at the trial, says professor Protess. "My students found on one trip to Pampa … more information than the former prosecutor did," he says. And no wonder, he says, when the very lawyer who had worked to convict Skinner twice before was now expected to defend his innocence. Comer was the DA in Pampa from 1988 until 1992, when he resigned. That same year, the State Bar of Texas suspended Comer for mishandling public money from a seized drug fund. "He basically didn't put up a defense," Protess says.
Emily Probst, another of Protess's students, interviewed Skinner on death row and spent time investigating the case in Pampa. She came away not convinced that Skinner was innocent but persuaded that too many questions remained unanswered to condemn the man to death. "I still feel like the full truth in this story is untold," says Probst, who is now a producer for CNN's investigative and documentary unit.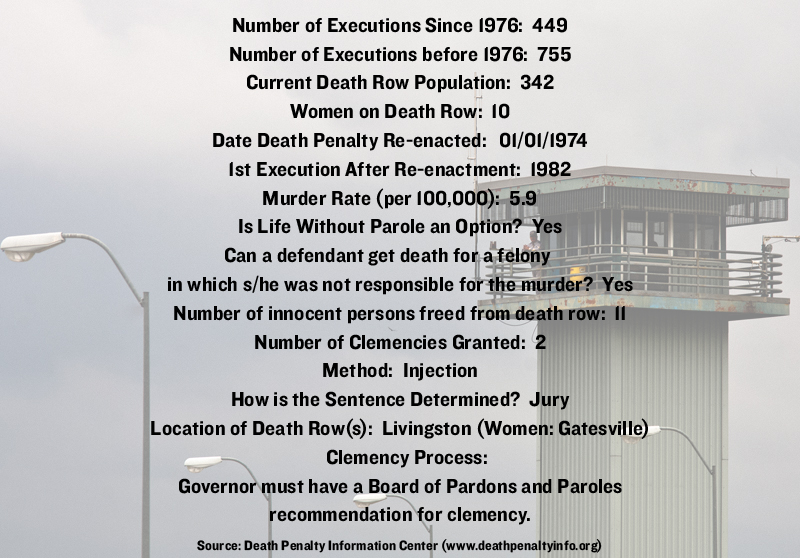 The students' investigation and Associated Press reporting on the case drew national attention in 2000 to Pampa and Gray County District Attorney John Mann, who succeeded Comer and prosecuted Skinner. Facing national scrutiny, Mann agreed to test more of the DNA collected from the crime scene.
Mann, who has since died, sent blood from a notebook at the crime scene, hair from Busby's hands, bloodstained gauze and other items to private testing company Gene Screen Inc., in Dallas. The knives, Busby's fingernail clippings and rape kit, the windbreaker and bloody dishtowel were not tested. When Skinner's appellate lawyers requested additional testing, according to a 2000 Associated Press story, Mann said, "Be careful what you ask for, because you might get it." But they never did get it, and the report from Gene Screen's tests provided little new information about Skinner or any other potential suspects.
Court fight
Since 1998, Skinner has filed appeal after appeal seeking to prove that his defense was inadequate and begging the courts to force testing of the additional DNA. Each time, the courts have ruled against him.
In a July 2009 opinion, justices on the 5th U.S. Circuit Court of Appeals in New Orleans said that Comer provided constitutionally adequate representation for Skinner. The court said Comer did present Donnell as a potential suspect to jurors, and although he did not dig up all the evidence Protess's students found, the attorney performed within legal standards. Skinner has appealed that decision to the U.S. Supreme Court.
Contacted at his home recently, Comer, who is still a practicing lawyer in Pampa, says he was proud of the case he built for Skinner and disappointed that jurors sentenced him to death. "My opinion as a lawyer was the evidence was insufficient to convict him. I still feel that way," Comer says. His defense of Skinner in 1995 was based on convincing jurors that the state did not have enough evidence to prove he was the killer. What little DNA testing the prosecutor had done was incriminating, showing that Skinner was at the scene the night of the murders. Comer didn't want to take the risk of poking holes in his own case by testing more evidence that might come back with Skinner's DNA. "I'm not new at this. I've tried four or five capital cases. I've been at it 50 years, so I have an instinct, or a feeling, for what's good for my client," Comer says. "I don't second-guess that decision at all." He says he respects the decision of Skinner's new attorneys, Rob Owen co-director of the University of Texas at Austin's Capital Punishment Clinic and Doug Robinson of Washington, D.C., to go after the DNA. But he doesn't agree with it. "I guess the proof's in the pudding. If the courts allow the testing, and it does come out exculpatory, we got egg on our face," Comer says, "but I still would have made the same decision.
So far, though, the courts have not allowed additional DNA testing. When legislators in 2001 passed a law allowing for post-conviction DNA testing in cases where such evidence existed but had never been examined, Skinner hoped the measure would finally force the state to turn everything over. The law allows for testing in cases where technology wasn't available at the time of the trial or where untested evidence has the potential to exonerate. State and federal courts so far have ruled that Skinner's case doesn't meet those guidelines.
Skinner's first motion for post-conviction DNA testing was denied, and on appeal the Texas Court of Criminal Appeals ruled that new testing was unlikely to show anything different from previous DNA tests that put Skinner at the scene of the crime. Skinner filed a second request for DNA testing in 2007, citing new legal developments and evidence that Gene Screen's DNA tests in 2000 were flawed. Again, the Court of Criminal Appeals denied the motion. The court said Skinner was at fault for not having requested testing of the DNA at his original trial in 1995. Skinner then sued current Gray County D.A. Switzer, hoping a federal court would force her to turn over the DNA. "The fact of the matter is he had very good trial attorneys, and they made decisions and strategies at the time that the courts have upheld and said, 'Yes, that is good trial strategy,'" Switzer says. "There are steps in place that he could have employed and some of which he did employ, and they've been handled." A federal judge dismissed the case against Switzer this month, and Skinner attorney Rob Owen says he plans to appeal.
When legislators adopted the 2001 post-conviction DNA law, they worried the measure would start a flood of requests for testing. State Sen. Robert Duncan, R-Lubbock, who wrote the bill, says guidelines were implemented to ensure fairness and prevent abuse in the system. John Bradley, chairman of the Texas Forensic Science Commission and the Williamson County District Attorney, says Skinner's case is a perfect example of why those criteria are necessary. "There's 155,000 people in prison," he says. "If you change the rules so you can having testing any time, you're going to get 155,000 applications tomorrow, because what have they got to lose?"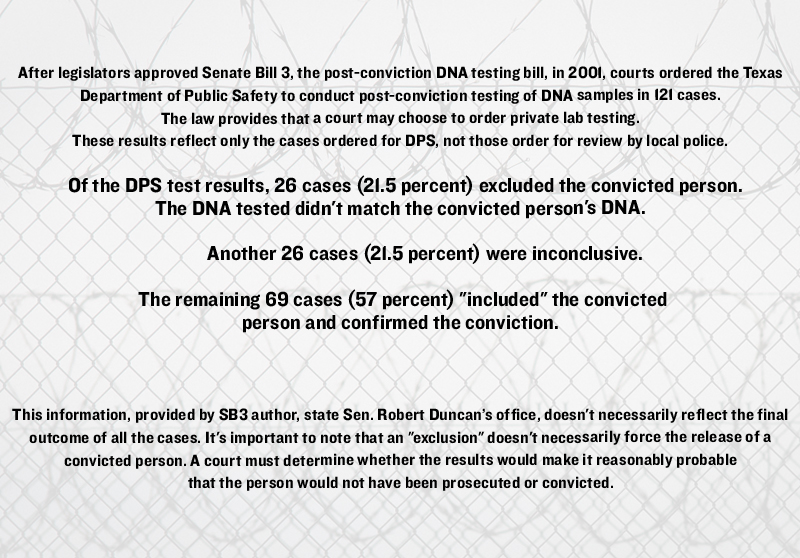 Owen says he is hopeful the U.S. Supreme Court will intervene in Skinner's case. "It's about a one-in-100 shot," he says. The decision not to test the DNA back in 1995 was one ex-prosecutor Comer made, Owen says, and Skinner shouldn't be executed for a wrong that could be righted now. "There was good reason to doubt Hank's guilt even then, and the concerns have only grown," he says. Besides, he wonders, what has Texas got to lose? If the DNA tests don't exonerate Skinner, the execution can go forward as planned. If the evidence proves he didn't do it, then Texas avoids killing an innocent man. "The idea that we're going to not find out, that's … irresponsible," he says.
As the February 24 execution date draws near, Skinner says he's beginning to tire of this 15-year fight to prove his innocence. He's tried to accept the possibility that needles filled with a lethal chemical concoction will take him to his end. But, he says he can't. "Every time I try to think about them trying to kill me, I just think next, well, I didn't do it."
Texas Tribune donors or members may be quoted or mentioned in our stories, or may be the subject of them. For a complete list of contributors, click here.
Quality journalism doesn't come free
Perhaps it goes without saying — but producing quality journalism isn't cheap. At a time when newsroom resources and revenue across the country are declining, The Texas Tribune remains committed to sustaining our mission: creating a more engaged and informed Texas with every story we cover, every event we convene and every newsletter we send. As a nonprofit newsroom, we rely on members to help keep our stories free and our events open to the public. Do you value our journalism? Show us with your support.
Yes, I'll donate today
---
Information about the authors