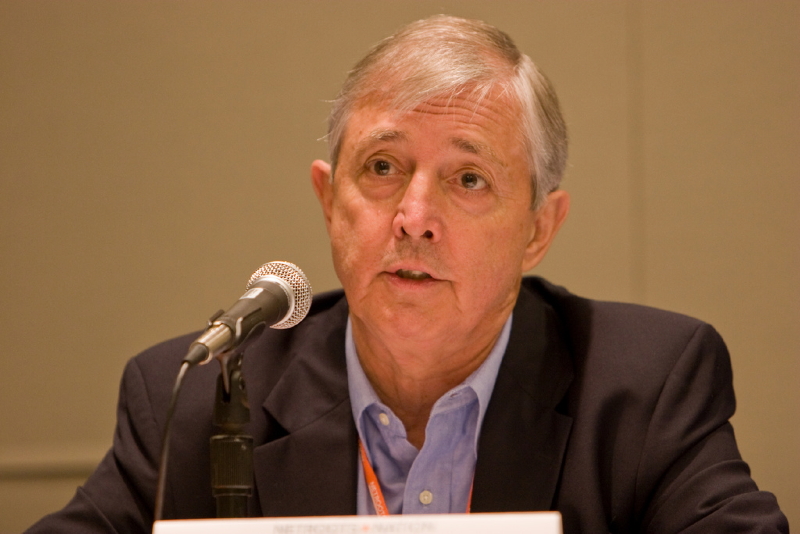 In the attached audio clip, former Travis County District Attorney Ronnie Earle, a Democrat, explains his thought process in deciding to run for lieutenant governor.
Most money was on a run for governor or attorney general, but — as you'll hear — Earle wants to be a part of the legislative process and thinks the Lite Guv position suits him best.
Earle, who retired at the end of 2008 after over three decades as a DA, says he spent most of the last year enjoying his retirement, but ultimately felt compelled to run. "I see policies being enacted at the Capitol that endanger our children and grandchildren," he says.
He places a lot of emphasis on the importance of cooperation, which will likely be a major campaign theme. "Effective law enforcement and effective government means teaming up, " Earle says. "You have to have a high level of cooperation among various federal, state, and local agencies and go after the problem together."
The Texas Tribune thanks its sponsors. Become one.
He credits inter-agency cooperation for lowering Austin's murder rate from 41 murders in 1991 to 23 in 2008. Earle intends to bring this cooperative spirit to state government, which he believes is currently somewhat lacking. "Right now, I'm not sure if the right hand and the left hand even know each other," he says.
Of course, there's one question on everybody's mind when it comes to Ronnie Earle: Did he see former U.S. House Majority Leader Tom DeLay (against whom Earle famously brought campaign finance fraud charges) on "Dancing With the Stars"?
"Well, I had to organize my sock drawer when he was on," Earle says. "So, I had a more important engagement that I attended to."
Texas Tribune donors or members may be quoted or mentioned in our stories, or may be the subject of them. For a complete list of contributors, click here.