2011 Texas Tribune Festival
-
9 a.m. - 6 p.m.
University of Texas at Austin
Various venues on campus, Austin, Texas 78705 (map)
We welcome you to join us for the inaugural TEXAS TRIBUNE FESTIVAL, a full weekend of debate, discussion and dialogue, featuring some of the biggest names, and the biggest brains, in the world of politics and public policy.
Confirmed participants include former U.S. Secretary of Education Margaret Spellings, San Antonio Mayor Julián Castro, former U.S. Ambassador to Mexico Tony Garza, U.S. Rep. Michael Burgess, R-Lewisville, Planned Parenthood Federation of America President Cecile Richards, energy magnate T. Boone Pickens, Texas Commissioner of Education Robert Scott, Texas Health and Human Services Executive Commissioner Tom Suehs, former Director of U.S. Census Bureau Steve H. Murdock, and Barry T. Smitherman, the Chairman of the Public Utility Commission of Texas, along with more than a half-dozen chairs of major committees in the Texas House and Texas Senate.
Register today! A pass to both days costs $125 and $50 for students. The Texas Tribune's member price is $100. Not already a member? Join today for your discount!
Follow the link below to receive email updates on programming, scheduling and last-minute changes and additions.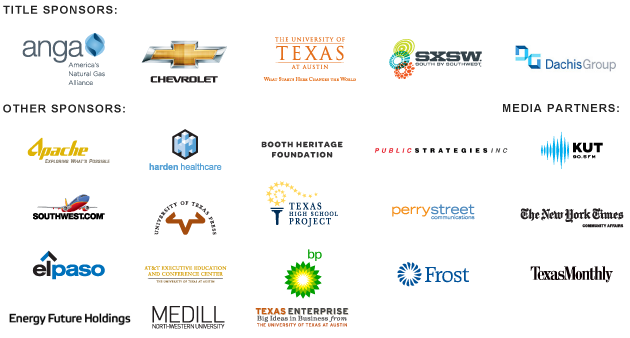 Disclosure: though donors and corporate sponsors underwrite our events, they play no role in determining the content, panelists or line of questioning.