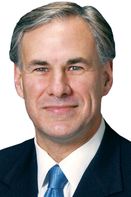 Industry

Lawyer, State Government
Education

B.B.A., University of Texas at Austin; J.D., Vanderbilt University Law School
Spouse

Cecilia
Financial Statements
Tax Returns
Sources of Income
Abbott worked at the Butler & Binion law firm in Houston from 1984 until 1992, when he was elected a state trial judge.

In 1984, when he was 26, Abbott was struck by a falling tree limb while jogging and was partially paralyzed, requiring the use of a wheelchair. He sued the owner of the Houston property where the tree fell and won a tax-free settlement; a Houston plaintiff's lawyer told the San Antonio Express-News in 2002 that it was more than $10 million.

He was appointed to the Texas Supreme Court by then-Gov. George W. Bush in 1995.

He was first elected attorney general in 2002, and was the longest-serving attorney general in state history before being elected governor in 2014.

His wife, Cecilia, is an educator and has worked for Harden Healthcare, a senior health network.

Abbott has earned income from West Services, a legal publisher, as the co-author of Texas Practice Guide: Business and Commercial Litigation.
Property
His private residence has been held as confidential by the Travis County Appraisal District (meaning it is not listed by the appraisal district, as is often the case with prosecutors and law enforcement). It was last valued in 2012 by the district at $895,500. The homes on either side of Abbott's range from $1.3 million to $2 million in value.
Analysis
Abbott, who settled a personal injury suit after the accident that paralyzed him, has championed tort reform, something his opponents in past attorney general campaigns have argued presents a conflict. Abbott has argued that the legal remedies available to him at the time are still available to plaintiffs today.

Abbott has never been required to disclose how the money in his lawsuit settlement is invested. A spokeswoman told The Texas Tribune that "Abbott fully complies with all financial reporting requirements including the listing of investments on his annual personal financial statements."

In 2006, the Dallas television station WFAA-TV reported that Abbott's campaign commercials used video footage obtained by his office using taxpayer dollars. Abbott's campaign director defended the use of the material, telling The Associated Press that anyone can obtain the footage through an open records request.

As Texas neared the end of a decade-long legal fight over homeowners' insurance rates with Farmers Insurance Group in 2013, the company's employees PAC gave $50,000 to Abbott's gubernatorial campaign. At the time, Abbott was the top lawyer in the state's case against the company. Abbott's campaign told The Texas Tribune that he did not treat donors differently when it came to applying the law and that accepting the campaign money was not a conflict of interest.

During Abbott's gubernatorial campaign, the Houston Chronicle and the San Antonio Express-News reported that Abbott, who signs off on Texas bond deals as attorney general, received more than $200,000 in campaign donations over the course of two years from the political branches of law firms serving as bond counsel. Abbott's staff said the AG's role in bond approval amounted to "a strictly legal review."