How High is the Water? A Data Visualization Party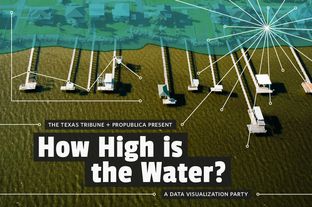 The Texas Tribune and ProPublica are proud to present a new data visualization project illustrating Houston's vulnerability to powerful storms. Run on powerful supercomputers and using NASA satellite imagery, it predicts how high the water will rise during any number of possible hurricane scenarios, right down to a specific address.
Join Tribune and ProPublica reporters during SXSW for drinks, Tex-Mex from Austin's own Maudie's and a short demo of this groundbreaking app. The party will run from 5 - 7 p.m. on Sunday, March 13 at Umbel.